Nipsey Hussle 'Family Guy' Joke Sparks Fiery Debate—'They Not Wrong'
Nipsey Hussle fans were divided over a joke about the late rapper in an episode of Family Guy.
The 33-year-old West Coast rapper was fatally shot outside a Los Angeles store on March 31, 2019.
In the Family Guy episode, parents Peter (Seth McFarlane) and Lois (Alex Borstein) are by the pool when a hipster version of their children, Meg (Mila Kunis) and Chris (Seth Green), come over to tell them about the music festival they're attending near the hotel they're staying at.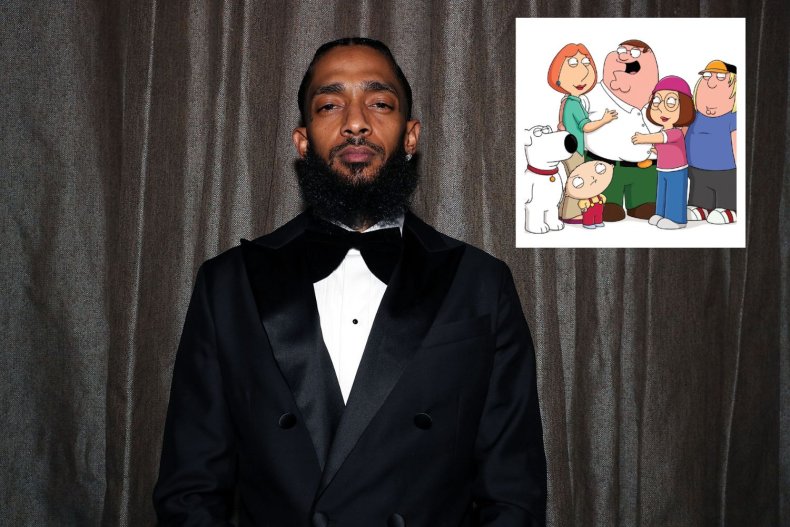 "You think the Von Trapps will stick around to pick up their award this time?" Peter asked his kids.
To which Chris replied: "I don't know about them, but they're gonna have holograms of 2Pac and also Nipsey Hussle, who I'd never heard of and then was told to care immensely about."
The joke played on the trend of having late celebrities appear at concerts and festivals by hologram after their death, but also the fact that while Hussle was widely esteemed in hip hop circles, he did not have the same mainstream success as some of his counterparts.
Some people posted the clip to Twitter, with many quickly weighing in on whether it was an appropriate joke.
"Family guy made a nipsey joke that was so out of pocket bruh [crying emoji]," tweeted one user.
"They not wrong," tweeted another.
Journalist Insanul Ahmed wrote: "That Family Guy/Nipsey Hussle joke stings because it's true: Nipsey never really got his flowers when he was here and he's been eulogized more in death than in life."
While another added: "Nipsey probably would've laughed at this too... this is funny, and if anything boosted his streams to a new audience."
And one wrote: "'Family Guy' has made jokes about religion, race, homosexuals, mass shootings etc but people want to draw the line at Nipsey Hussle? I'm crying."
Eric Holder Jr. was found guilty of first-degree murder in June 2022 of Hussle's murder and will be sentenced on February 22.
Los Angeles Police Department Chief Michel Moore said Nipsey Hussle was shot after a "dispute" between the two me who were believed to be known to each other.
Two months after Holder was found guilty, Nipsey Hussle was honored with a Hollywood Walk of Fame star on what would have been his 37th birthday.
Lauren London, Hussle's longtime partner, spoke at the August event.
"I think I speak for the entire city of L.A. when I say that we've always known that Hussle was destined for greatness. This moment only amplifies that for us," she said. "Nip would've been honored by this moment."
Hussle released his debut studio album, Victory Lap, in 2018 and was nominated for the best rap album at the 2019 Grammy Awards. He won two posthumous Grammys in 2020 for best rap performance, for "Racks in the Middle," featuring Roddy Ricch and Hit-Boy, and best rap/sung performance, for "Higher" with DJ Khaled and John Legend.