Nipsey Hussle Given Special Honor on What Would've Been His 37th Birthday
The late rapper Nipsey Hussle on Monday was honored with a Hollywood Walk of Fame star on what would have been his 37th birthday.
"I think I speak for the entire city of L.A. when I say that we've always known that Hussle was destined for greatness. This moment only amplifies that for us," Lauren London, Hussle's longtime partner, said during a ceremony for the unveiling of the star. "Nip would've been honored by this moment."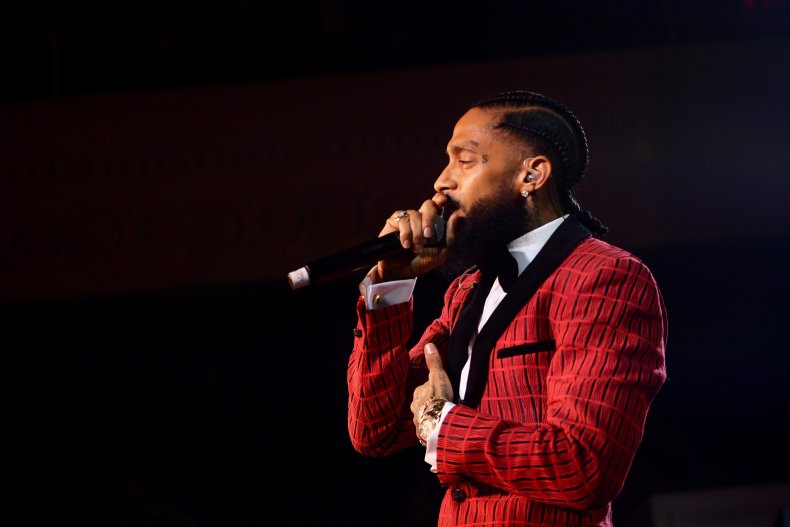 Who Was Nipsey Hussle?
Hussle was a famous rapper of the West Coast hip-hop scene who initially achieved acclaim based on numerous mixtapes he released. His debut studio album, Victory Lap, came out in 2018 and was nominated for the Best Rap Album in 2019. Hussle went on to win two posthumous Grammy Awards for Best Rap Performance and Best Rap/Sung Performance categories in 2020.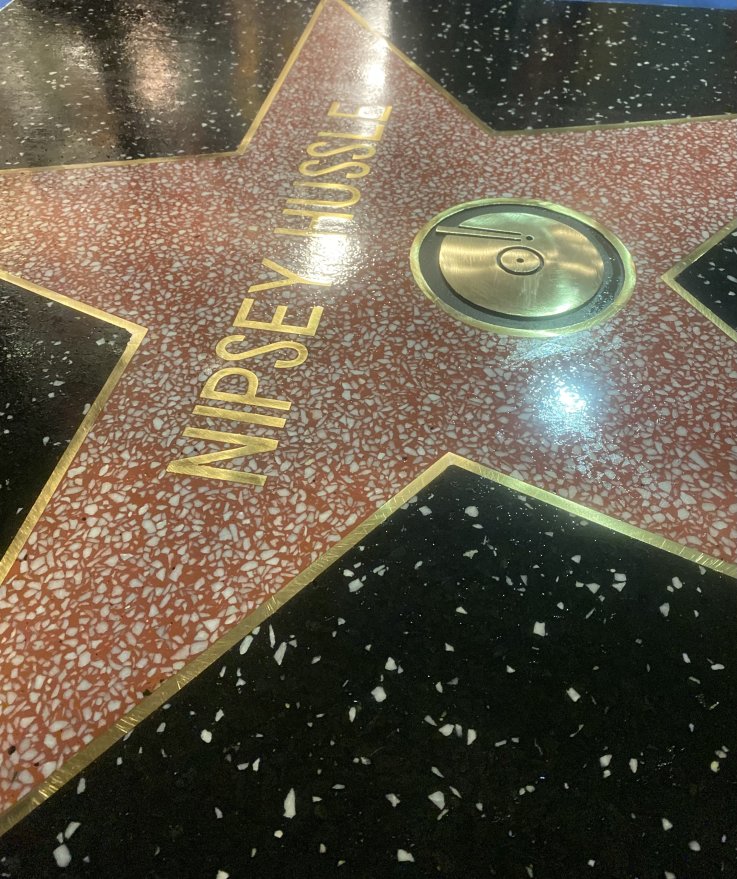 This photo shows Nipsey Hussle's star on the Hollywood Walk of Fame.
Vince Godinez for the Hollywood Chamber of Commerce
Ana Martinez, producer of the Hollywood Walk of Fame, pointed out the artist's work in the community in a statement provided to Newsweek.
'More Than Just A Creative Genius'
"Nipsy Hussle was more than just a creative genius, he was committed to helping his community through savvy business moves and charitable contributions," Martinez said.
Hussle was fatally shot in front of a clothing store he owned in Los Angeles on March 31, 2019. A suspect, named Eric Holder, was arrested days after the shooting. Following Holder's arrest, Los Angeles Police Department Chief Michel Moore told reporters the crime occurred after a "dispute" between Hussle and Holder and that the two men were believed to have known each other. Last month, Holder was found guilty of murder.
The Hollywood Chamber of Commerce tweeted about Hussle's placement on the city's historic landmark, noting his star is the 2,729th.
During the ceremony, London said she hopes the star will be used as an inspiration for others.
"So whenever you're in the city of angels, and you see this star, I hope that it encourages you to break away from whatever might be holding you back, and for you to run your marathon until God says that it's finished," she said.
During the ceremony, city council member Marqueece Harris-Dawson also presented Hussle's grandmother with a proclamation that Los Angeles will now recognize August 15 as Nipsey Hussle Day.
Fans of the rapper also wished Hussle "Happy Birthday" on Twitter, including famous devotees like actress Kerry Washington (ABC's Scandal, Django Unchained) and basketball star Isaiah Thomas.