'Nipsey Hussle Square' Proposed in L.A. to Memorialize Slain Rapper: 'A Rock Helping to Build an Empire'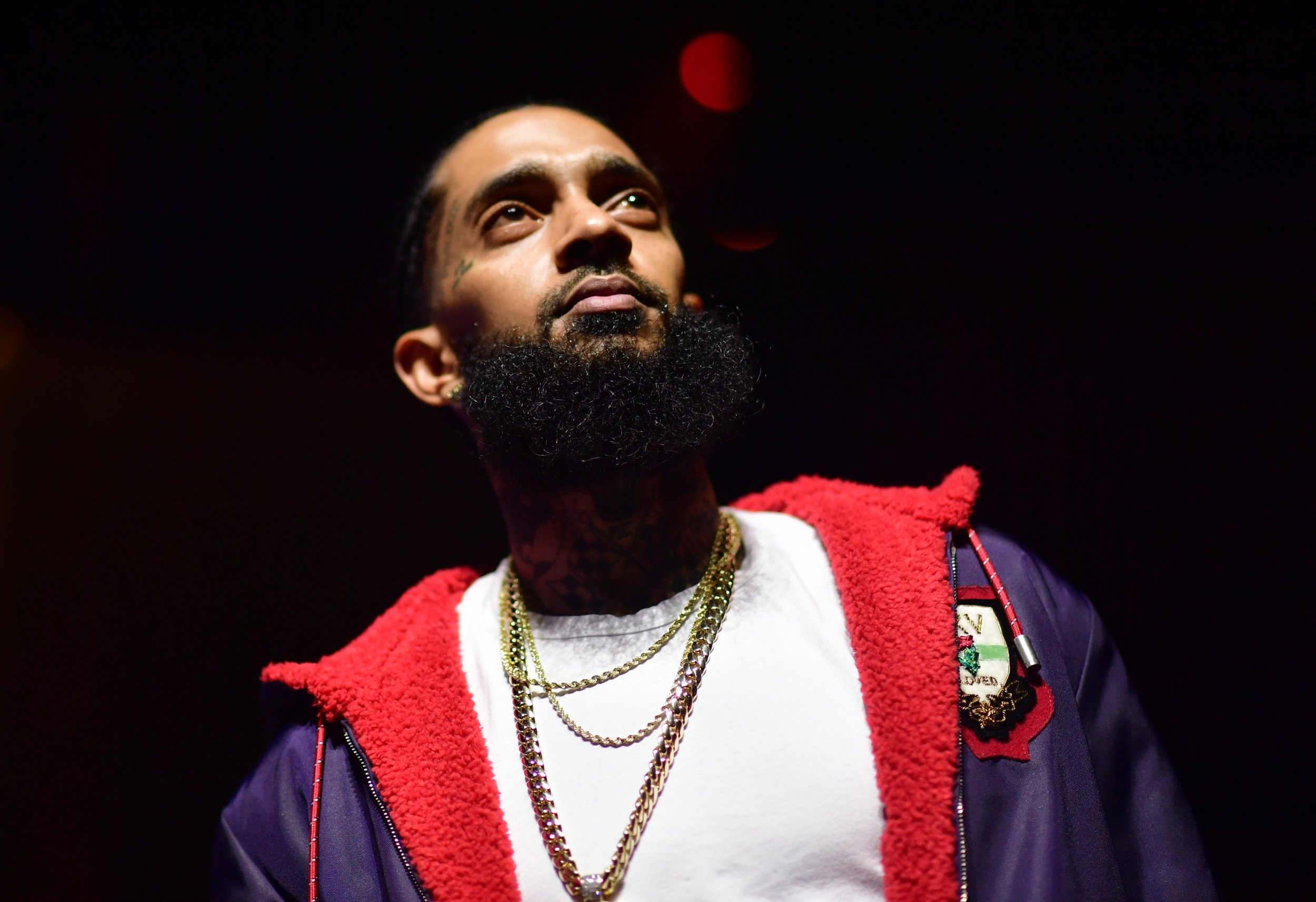 A South L.A. City Council member wants to rename an intersection after the Grammy-nominated rapper Nipsey Hussle (real name Ermias Joseph Asghedom), 33, who was killed in a shooting near the junction on March 31.
Councilman Marqueece Harris-Dawson said he will submit a proposal to name the intersection of Crenshaw Boulevard and West Slauson Avenue as "Ermias 'Nipsey Hussle' Asghedom Square." Initially reported by The Shade Room, Harris-Dawson confirmed the news on Twitter Tuesday.
After Hussle's death, activist Najee Ali set up a Change.org petition to name the intersection after the rapper. As of 7:00 a.m. ET today, the petition had more than 486,000 signatures, on its way to the 500,000 goal. "I knew Nipsey Hussle personally. He wasn't just a rapper. He was a community icon," Ali wrote on the petition webpage.
The musician, who was gunned down outside his store, Marathon Clothing, was an advocate for local regeneration. He supported "Destination Crenshaw," a project that aims to create a "1.3 mile long outdoor art and culture experience celebrating Black Los Angeles," on Crenshaw Boulevard.
"Ermias Asghedom, known as 'Nipsey Hussle,' was an icon and West Coast hero," Harris-Dawson said in a statement, per The Los Angeles Times. "Nipsey's genuine nature allowed him to be a light to everyone he interacted with, from family, friends, fans and his larger community.
"As a father, brother and son, Nipsey was a rock helping to build an empire that will continue through generations. Nipsey will always be remembered for delivering a pure, authentic Los Angeles sound; his numerous philanthropic efforts; his innovative, community-focused business mindset; and his humble heart."
Harris-Dawson did not immediately respond to Newsweek's request for comment.
Hussle's brother, Samiel Asghedom, praised the philanthropist and rapper in an interview with ABC News on Thursday. "He was a brother, a musician, an entrepreneur, a people's champ. He was somebody that believed in the process of hard work, determination and just the positivity of somebody staying in the area that he grew up in and making something out of nothing."
Police arrested Eric Holder, 29, in relation to the shooting. He was charged with one count of murder, two counts of attempted murder and one of possession of a firearm by a felon on Thursday. Two other men were injured in the shooting.
A memorial for the rapper—Nipsey Hussle's Celebration of Life—is due to take place Thursday morning in Downtown L.A.'s Staples Center. Free tickets for the event sold out within minutes of going live, as noted by local ABC affiliate station KABC.