What Is the Saturday Night Massacre? Decades Since Pivotal Watergate Event, History Could Repeat Itself Under Trump
It is 45 years since one of the most shocking days in American political history: The Saturday Night Massacre.
Today, with President Donald Trump, his campaign, family and friends under the microscope of special counsel Robert Mueller, will we witness history repeating itself?
Back in the early 1970s, with Republican President Richard Nixon in the White House, a huge crisis was brewing—the Watergate scandal.
Special Prosecutor Archibald Cox was overseeing an FBI investigation into a break-in at the Democratic National Committee's offices in Washington, D.C.'s Watergate Hotel in 1972.
It transpired that the group caught burgling the DNC were there to steal documents and wiretap the phones—and they had links to Nixon's campaign.
Nixon denied publicly that he or his staff had anything to do with the break-in. It was a lie that would soon unravel thanks to tapes the president kept of every conversation he had in the Oval Office.
Cox repeatedly demanded access to Nixon's tapes. So Nixon sought to get rid of Cox.
On October 20, 1973, President Richard Nixon's Attorney General Elliot Richardson and his deputy William Ruckelshaus both resigned instead of carrying out his order to fire Cox.
Nixon then instructed his Solicitor General Robert Bork instead, who despite having reservations, fired Cox at the president's behest.
The day became known as the Saturday Night Massacre.
Eventually, Nixon was forced by the Supreme Court to hand over the tapes to federal investigators.
Those tapes incriminated Nixon, showing he was complicit in the Watergate break-in and subsequent attempts to cover up what went on by impeding the FBI investigation. Nixon resigned in disgrace in 1974.
Fast forward to 2018 and President Trump is under scrutiny from the Mueller investigation for obstruction of justice.
Mueller's team is investigating Russian interference in the 2016 election, including suspicions of collusion between Trump's campaign and the Kremlin.
The president openly calls the investigation a political witch hunt against him and his allies. He wants the investigation to be scrapped, and branded Mueller "disgraced and discredited."
He is furious at his own Attorney General Jeff Sessions for recusing himself from oversight of the Russia investigation at the Department of Justice.
Sessions passed the responsibility down to Deputy Attorney General Rod Rosenstein because he was involved with Trump's campaign, making it a conflict of interest.
So far the investigation by Mueller—a former FBI director—has led to dozens of indictments, guilty pleas, and convictions. Among those are the Trump campaign's former chairman Paul Manafort and the president's longtime personal attorney and fixer Michael Cohen.
Trump fired former FBI director James Comey, who was then in charge of the Russia investigation now led by Mueller, ostensibly for competence reasons.
Comey had been criticized for his handling of an investigation into the former Secretary of State Hillary Clinton's use of a private email server for official business.
But Trump's critics accused him of firing Comey to disrupt the Russia investigation and argue it is evidence of his attempts to obstruct justice. It is just one part of the case building against Trump that he obstructed justice.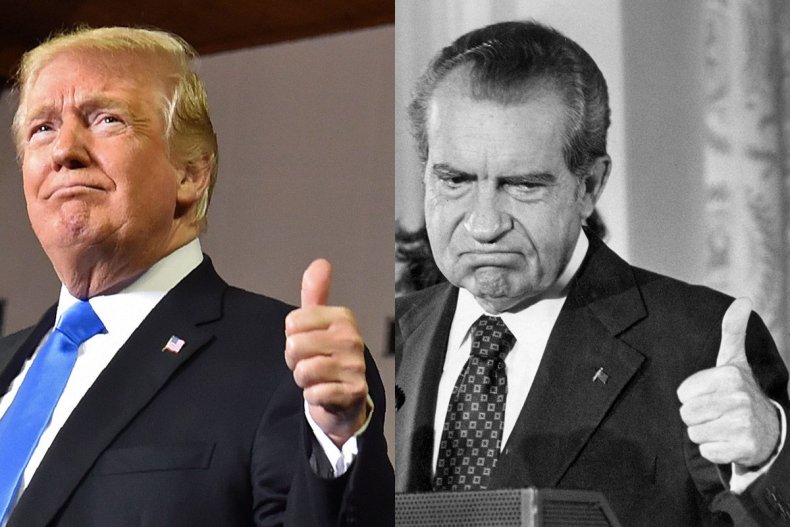 According to the think tank Brookings Institution, "it has become apparent that the president's pattern of potentially obstructive conduct is much more extensive than we knew.
"To take only a few examples, it has since been reported that President Trump: attempted to block Attorney General Sessions' recusing himself from the Russia investigation despite the AG's clear legal duty to do so; asked Sessions to reverse his recusal decision; demanded and obtained the resignation of Sessions for his failure to contain the Russia investigation (before ultimately rejecting it); twice ordered the firing of Special Counsel Robert Mueller; dictated a false account for a key witness, his son Donald Trump Jr., of the June 9, 2016 Trump Tower meeting between campaign and Russian representatives; publicly attacked special counsel Mueller and key witnesses to the obstruction case; and has repeatedly disputed the underlying Russian attack and Vladimir Putin's role in it despite possessing evidence to the contrary."
Rosenstein, the man now overseeing the Mueller investigation, is also in the crosshairs of Trump and his Republican backers in Congress.
The deputy attorney general narrowly kept his job after a report in The New York Times alleged he spoke of wearing a wire around Trump and using the 25th amendment to force the president out of office.
Rosenstein denied the report and after a meeting with Trump was not fired.
Congressional Republicans unhappy with Rosenstein's handling of the Russia investigation are keen to impeach him or find some other way to force him out of the job.
They accuse him of evading scrutiny by Congress and lacking transparency in his release to them of heavily redacted documents relating to the probe.
All of this has the makings of our generation's very own Saturday Night Massacre should Trump choose the nuclear option on Mueller and try to force the justice department's hand.
But if he does, he risks an almighty backlash from Congress and the American public, and very possibly the same fate as Nixon—a disgraced exit from the White House.