NJ Borough May Not Further Challenge Homeowner's Anti-Biden Signs if It Loses in Court.
The New Jersey borough of Roselle Park may not continue to pursue the removal of vulgar political signs from a resident's yard should it lose an upcoming appeal.
Mayor Joseph Signorello III told CNN on Saturday that the borough is unlikely to continue a costly legal battle should a Superior Court reverse the prior municipal court ruling on the matter.
Roselle Park previously took residents Andrea Dick and Patricia Dilascio to municipal court over anti-Biden yard signs that featured the f-word. The borough has stated that it does not take issue with the expression of political opinions by residents and that the vulgar language merely violated local ordinances.
A municipal court ruled on the side of the borough, ordering that the signs be removed or the residents would face a $250-a-day fine.
Dick and Dilascio are now being represented by the American Civil Liberties Union (ACLU) attorney in an attempt to appeal that ruling in Superior Court.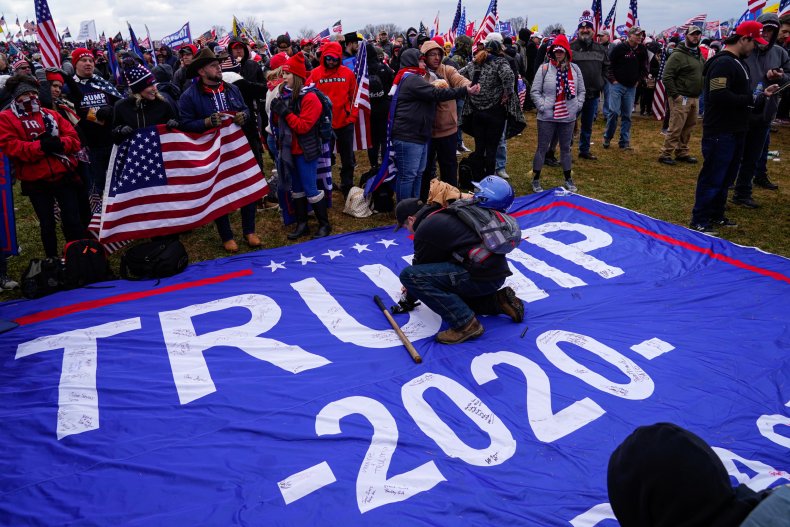 "Quite frankly, if we lose in the Superior Court, I don't think there's any desire for anybody to bring this to the [state] Supreme Court," Signorello said on CNN. "I think that if a Superior Court should rule against us, we'll certainly look to change the ordinance. Because as much outrage as there is in Roselle Park—and I can assure you there is with both Republicans and Democrats—you know, we need to be pragmatic."
Signorello also told NJ Advance that the borough would have to determine how much it would cost if the homeowner appeals the case to the Supreme Court should they lose in Superior Court.
When reached for comment on the story by Newsweek, Signorello said that he had little to add to what he said in his CNN appearance, besides that the case is "really up to the courts now."
The ACLU argues that Roselle Park's vulgar language ordinance for yard signs ought not to apply to the display of political signs, as it impedes the First Amendment rights of the borough's residents.
"All New Jerseyans have the right to express themselves freely under the First Amendment," ACLU-NJ Legal Director Jeanne LoCicero said in a statement to Newsweek. "Roselle Park's ordinance against posting obscene signs should never have been applied to political signs."
"The First Amendment exists specifically to make sure people can express strong opinions on political issues—or any other matter—without fear of punishment by the government, and this is an unambiguous violation of that foundational right," ACLU-NJ Executive Director Amol Sinha said in another statement.
The signs at the heart of the matter display the messages "F*** Biden and f*** you for voting for him!", "F*** Biden" alongside a fake image of Donald Trump appearing to give the middle finger, and "F*** Biden. Not my president."
The homeowners were initially served an ordinance violation notice before later getting served a court summons when they did not remove the offending signs.
A similar situation with flags in Tennessee ended with the vulgar material being allowed to remain in place.
Updated 4:20 PM ET, with a comment from Signorello to Newsweek.
Updated 11:10 AM ET, with a comment from ACLU to Newsweek.