No, China Didn't Threaten to Shoot Down Pelosi's Plane Over Taiwan Visit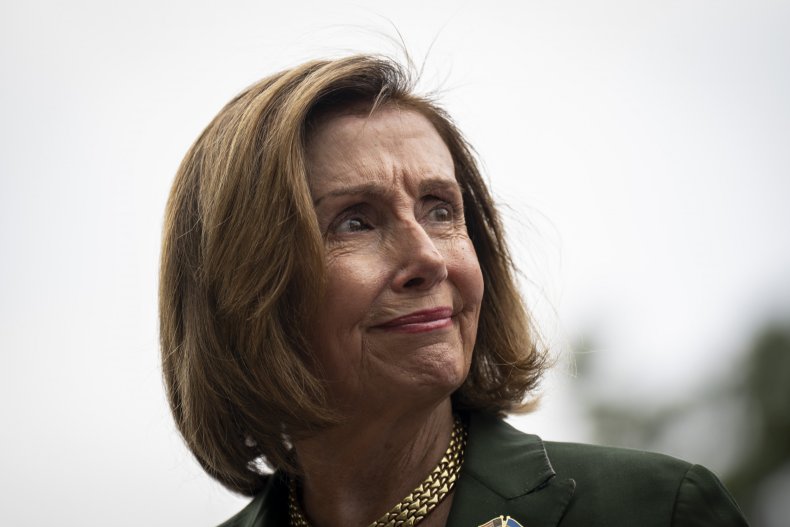 Reports that the Chinese government threatened to shoot down Speaker of the House Nancy Pelosi's airplane if she travels to Taiwan emerged on Friday despite China never making the threat.
Pelosi is expected to soon embark on a tour of Asia alongside a small bipartisan congressional delegation. While the California Democrat has not announced any firm plans to visit Taiwan, many have speculated that she may do so despite warnings about possible "consequences" from China, which claims sovereignty over the island under its "one China" principle.
A strongly worded Friday tweet from a Chinese Communist Party-linked tabloid newspaper columnist prompted some to say that China had directly threatened to shoot down Pelosi's plane if the visit does occur.
"If US fighter jets escort Pelosi's plane into Taiwan, it is invasion," Hu Xijing, who writes for the state-run Global Times, tweeted in response to a CNN article saying that Pelosi plans to depart for Asia on Friday. "The [Chinese Army] has the right to forcibly dispel Pelosi's plane and the US fighter jets, including firing warning shots and making tactical movement of obstruction. If ineffective, then shoot them down."
Although Pelosi's tour itinerary remains uncertain, Chinese officials have repeatedly warned her against making a stopover in Taiwan recently with vague threats of military retaliation.
"If Speaker Pelosi visits Taiwan, the move will seriously violate the one-China principle and the provisions in the three China-U.S. joint communiques, severely endanger China's sovereignty and territorial integrity," Chinese Ministry of Defense spokesman Tan Kefei said earlier this week.
"The Chinese military will never sit idl[y] by, and will certainly take strong and resolute measures to thwart any interference by external forces and secessionist attempts for 'Taiwan independence,' and firmly defend China's national sovereignty and territorial integrity," he added.
However, no Chinese government official has directly threatened to shoot down Pelosi's plane if she does visit. Regardless, several media outlets reported on Hu's tweet as though it were a direct threat on Friday.
A Daily Wire article with the headline "China Threatens To Shoot Down Pelosi's Plane If She Tries To Visit Taiwan" argued that, although Hu is only a "propagandist" for China officially, he is also the "unofficial mouthpiece for the country" and is "able to say what China's top officials want to say, but often can't."
A headline published by the Daily Mail warned that "China says it WILL shoot Pelosi's plane down IF she travels to Taiwan under US fighter escort."
While a direct threat has not yet been made, there have been legitimate concerns that a Taiwan visit by Pelosi could spark a military conflict between the U.S. and China, especially given the already high levels of tensions between the countries and sensitivities surrounding Taiwan.
President Joe Biden said last week that the potential trip was "not a good idea right now." Meanwhile, several lawmakers of both major parties have argued that Pelosi should follow through with a visit or risk the U.S. losing "credibility" over the issue.
Pelosi is a longtime critic of the Chinese government. If she does visit Taiwan, she would be the highest-ranking U.S. official to visit the island since former Speaker of the House Newt Gingrich visited for three days in 1997.
Newsweek has reached out to the Embassy of China in Washington, D.C., for comment.