Republicans and Democrats Press Nancy Pelosi to Make Good on Taiwan Visit
Neither Nancy Pelosi nor the White House has confirmed the House Speaker's intention to visit Taiwan next month. But lawmakers on both sides of the aisle are already warning about the strategic costs to U.S. credibility if she backs down.
Republican Rep. Michael McCaul of Texas became the first lawmaker to publicly confirm Pelosi's plans when he told NBC News on Wednesday that he'd been invited as part of her bipartisan congressional delegation, which is eyeing a wider trip across Asia.
McCaul, a ranking member on the House Foreign Affairs Committee, confirmed that the stopover in Taipei was to take place during August's Congress recess. A scheduling conflict means he won't travel, McCaul said, but the committee's chairman, New York Democrat Gregory Meeks, was also asked to join.
Meeks' office didn't return a request for comment in time for publication.
"Any member that wants to go, should. It shows political deterrence to [Chinese] President Xi," McCaul told NBC. "But she should also pay attention to the military if it's going to cause a blowback and escalate things."
President Joe Biden, whose team is arranging a crucial call with his opposite number in Beijing in order to stabilize the U.S.-China relationship, sounded a note of caution last week. The military, he said, believed the trip was "not a good idea right now."
Defense Department spokesperson Lt. Col. Martin Meiners said told Newsweek it "wouldn't be appropriate to comment on any congressional travel possibilities."
China claims Taiwan as part of its territory, but the democratic island has governed itself for more than seven decades with its public showing a declining interest in political future dictated by Beijing. The significance of bringing the island under Chinese rule is such that Beijing refuses to rule out the use of force to achieve its objective.
The United States doesn't take a position on sovereignty over Taiwan, but insists differences between Taipei and Beijing be resolved peacefully in the best interests of the island's population. Under the Taiwan Relations Act of 1979, Washington is obligated to help Taiwan maintain a credible self-defense capability. But whether American forces would intervene in a Chinese invasion is a subject of constant debate.
Observers believe Pelosi—viewed in China as the "No. 3 figure" in the U.S. government because of the presidential line of succession—could add uncertainties to the already uneasy dynamic across the Taiwan Strait. Beijing warns the visit cannot take place, but her peers in Congress are making a potential U-turn increasingly difficult.
"If she wants to go, I certainly think she should go," Republican Senator Roy Blunt of Missouri told NBC. "I think she should be more motivated to go now that she's been discouraged, and colleagues should join her."
At a GOP press conference on Tuesday, Senate Minority Leader Mitch McConnell of Kentucky said it was more important for the U.S. to ensure that Taiwan had the adequate weapons systems to deter or defend against a Chinese attack.
He then added: "If she doesn't go now, she's handed China...a victory of sorts."
McConnell's office didn't respond to Newsweek's offer to elaborate on the remarks, but in the House of Representatives, opinions have been more blunt.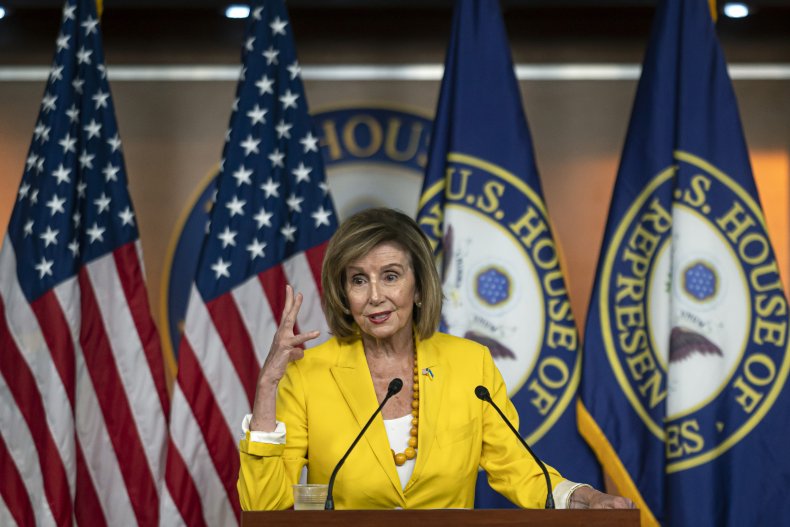 "In some meaningful respect, the invasion of Taiwan by China has already begun. This coercion is part of the process," Congressman Mike Gallagher, a Wisconsin Republican on the House Armed Services Committee, told Fox News on Wednesday.
"It's a phase-zero operation designed to intimidate the Biden administration into backing down, which they appear to be doing, as well as collapse the will of the Taiwanese people," he said. "Because the question is, if we can't even let a congressional delegation go to Taiwan, how are we gonna expedite arms sales to Taiwan before the invasion?"
"Any American can get on a plane and fly to Taiwan, so she cannot back down," he argued. "Though I disagree with her on almost every other issue, on this issue, she actually does have a long track record of calling out the Chinese Communist Party for their human rights abuses, so I urge her not to back down."
Congressman Ro Khanna—also on the House Armed Services Committee—told CNN earlier in the week that his fellow California Democrat shouldn't reverse her decision.
"We're not going to let the Chinese Communist Party dictate where the speaker of the House should go," he said. "We shouldn't allow them to buff and dictate to America, the greatest nation in the world, where our speaker of the House should travel. I mean, who are they to say that Speaker Pelosi shouldn't go to Taiwan?"
Analysts argue Pelosi, 82, genuinely wants to show solitary with Taipei in the most symbolic way possible. But in the runup to November's midterms, there's a real risk the debate could turn partisan, with support for Taiwan and perceived weaknesses in dealings with Beijing likely to become a cudgel with which Republicans can beat Biden's Democrats.
"Biden should tell Xi that Speaker Pelosi and any other member of Congress will travel to Taiwan when they want to, as they have for decades," Arkansas Republican Senator Tom Cotton tweeted on Wednesday. "Biden must not let China unilaterally change the terms of our engagement with Taiwan."
Republican Senator Marsha Blackburn of Tennessee wrote the same day: "If Pelosi does not go to Taiwan, Communist China is winning."
Republican Newt Gingrich, the last sitting House Speaker to visit Taiwan a quarter-century ago, has backed Pelosi's travel plans, which remain unconfirmed.
"What is the Pentagon thinking when it publicly warns against Speaker Pelosi going to Taiwan? If we are so intimidated by the Chinese Communists we can't even protect an American Speaker of the House why should Beijing believe we can help Taiwan survive. Timidity is dangerous," he tweeted on Monday.
Former Secretary of State Mike Pompeo, who visited Taiwan in March, wrote over the weekend: "Nancy, I'll go with you. I'm banned in China, but not freedom-loving Taiwan. See you there!"