Nancy Pelosi's Taiwan Visit Sets U.S. and China on a Collision Course
Nancy Pelosi's rumored visit to Taiwan in the coming weeks has rung alarm bells in Beijing as well as Washington, while Taipei—caught once more in the crosshairs of rival powers—is keeping mum.
As both Joe Biden and Xi Jinping jostle for power in their respective capitals and for influence in the wider Indo-Pacific, the House speaker's plans are quickly becoming the first real test of the "guardrails" the American president has been trying to establish with his Chinese counterpart for the last 18 months.
Experts told Newsweek the Taiwanese government is right to keep a low profile—Taipei is yet to receive Pelosi's itinerary, a Foreign Ministry spokesperson said—but few can safely predict the scale of the fallout that might ensue if Pelosi lands in the island's capital in August as part of her bipartisan congressional delegation's wider trip across Asia.
When it comes to dealings with the Chinese Communist Party, Pelosi, 82, has experience. The California Democrat has been a long-term critic of China's ruling party over its human rights record and its trampling of civil liberties in Hong Kong. In 2020, she claimed to be "the most hated American in China," a reputation she reinforced last year by becoming the first U.S. leader to back the eventual diplomatic boycott of the 2022 Winter Olympics in Beijing.
But her decision to show support for Taiwan—which Pelosi has done in the past—couldn't come at a worse time in the U.S.-China relationship. Both governments, already at odds over conflicting positions on Russia's invasion of Ukraine, are trying to set up for Thursday what would be only the fifth summit between Biden and Xi, part of an anxious coexistence as competition between the major powers intensifies.
Next month, CCP leaders will gather in the northern beach resort of Beidaihe before the party convenes its twice-a-decade national congress when Xi is expected to tout the historic achievements of his leadership to justify an unprecedented third term in office. A high-profile visit to Taiwan by Pelosi would be considered politically sensitive, to say the least.
Pelosi is yet to publicly acknowledge her travel plans—her press secretary cited security protocols—but Biden all but confirmed that plans were in motion when he hinted last week at the Pentagon's opposition to a stopover in Taipei. Now, amid sharp cautions out of Beijing for Washington not to facilitate Pelosi's engagement with the Chinese-claimed island, the speaker of the House faces growing calls from both chambers of Congress, on both sides of the aisle, to follow through.
"The domestic American politics of her visit makes it difficult for her to postpone the trip, and she fears that the U.S. could lose credibility," says Bryce Barros, a China analyst with the Alliance for Securing Democracy think tank at the German Marshall Fund of the United States.
He's among many who have expressed frustrations at the gap in understanding between Biden and Pelosi. "U.S. relations across the Indo-Pacific are too important and delicate not to ensure coordination across all parts of government," he said. The lack of harmony between the two senior Democrats in the executive and legislative branches is further highlighted by China's consistent messaging on the matter: Beijing disapproves of Pelosi's plans and Biden should stop her.
On Wednesday, China's Foreign Ministry spokesperson Zhao Lijian repeated earlier warnings about Washington's crossing Beijing's red lines. "It will be met with resolute countermeasures. The U.S. must assume full responsibility for any serious consequence arising thereof."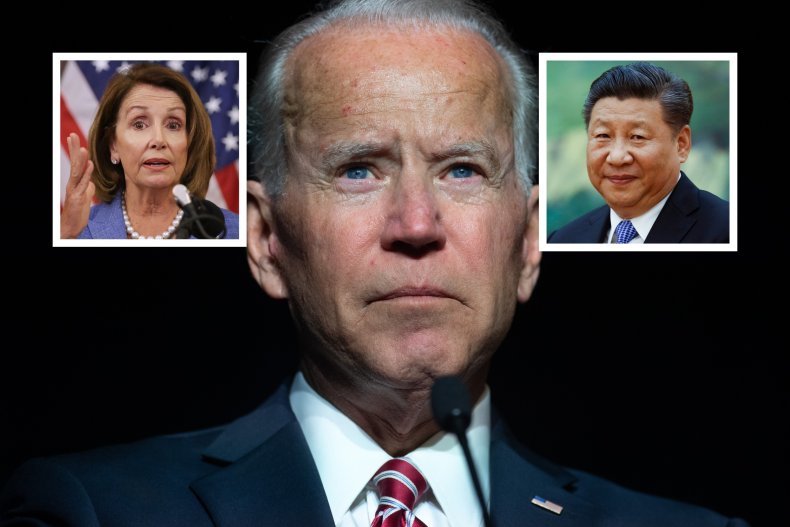 The U.S.'s "one China" policy was enacted in the 1970s when Washington recognized Beijing's legitimacy but only acknowledged its territorial claim to Taiwan, helped normalize relations between the two countries. It also perpetuated the uneasy cross-Taiwan Strait status quo, which has become hotter or colder as the Washington-Beijing-Taipei dynamic fluctuated in the intervening decades.
Chinese officials say Xi takes seriously Biden's commitment not to change China's political system or support Taiwan's independence. Amid concerns the U.S. president is unable to effectively enforce his pledges due to the co-equal powers of Congress, Beijing is ramping up its military pressure against Taipei—and the Pentagon is preparing for all contingencies if Pelosi is to travel.
Beijing has long resented U.S. laws governing relations with Tiawan, but the historical gulf in military capabilities between the two nations meant there was little to be done beyond protest. In recent years, however, that power balance has swung dramatically in Beijing's favor, said Adrian Ang, research fellow and U.S. program coordinator at the S. Rajaratnam School of International Studies at Singapore's Nanyang Technological University.
"Congress is a co-equal branch of the U.S. government with responsibilities, so to have an incumbent speaker of the U.S. House of Representatives visit Taiwan is a big deal—the first time since Newt Gingrich in 1997. My sense is that Beijing views this as further 'salami slicing' of the U.S.'s one China policy," Ang said.
"I think here we have to take Beijing's statements on visits by U.S. government officials (both executive and legislative branch) as undermining Chinese sovereignty and encouraging Taiwanese independence. Since Beijing has consistently declared that the Taiwan issue is one of the brightest of its so-called red lines, China's reaction is understandable," he said.
Washington and Beijing have always disagreed on their respective interpretations of policy when it comes to Taiwan, but unlike Gingrich's visit in 1997, which Ang described as "a mere road bump in the bilateral relationship" at the time, China now is in a stronger position—economically and militarily—and can credibly assert its preferred vision.
The Pelosi saga shows the U.S.-China relationship to be in a "downward action-reaction spiral," Ang said. "So, given the security dilemma and the deterioration in the bilateral relationship, it is unsurprising that Beijing views a planned visit by Speaker Pelosi to Taiwan as yet another move by the U.S. to undermine the one China policy and aid in Taiwan's flirtation with independence."
Liang-chih Evans Chen, an associate research fellow at the Institute for National Defense and Security Research (INDSR), Taiwan's top military think tank, said the Biden administration will be seeking to avoid an increase in tensions in the Taiwan Strait during arrangements for the Biden-Xi call. The Chinese leadership, Chen argues, may also be pressing Washington not to support Pelosi's visit.
"However, we should see whether Washington tries to balance between Taipei (Pelosi's visit to Taiwan) and Beijing (Biden's talk with Xi), or tries to use Pelosi's visit to Taiwan to check and balance China," said Chen, who added he felt the upcoming summit will do little to improve the U.S.-China relationship.
"Beijing will definitely reemphasize its opposition to [Pelosi's visit] and try everything to threaten Taipei and Washington, including military pressure. So, absolutely, Beijing has great advantage if Biden can stop Pelosi's trip. But the question is: does Biden really want to block the speaker's trip in exchange for some merit for the talks with Xi? I doubt it, because the Biden administration would gain little by doing so."
Lin Pu, a former INDSR staffer who is now pursuing a Ph.D. in political science at Tulane University in Louisiana, disagreed with suggestions that Pelosi wants to visit Taiwan in order to boost the Democratic Party's polls ahead of the midterms. "The Democrats won't benefit from it, given the fact that most Americans care about domestic issues, such as the inflation crisis, rather than foreign affairs."
"No evidence indicates Pelosi's trip involves other intentions related to political or economic interests. The possible answer is that she sincerely wants to show America's support for its democratic allies after the onset of the Russian invasion of Ukraine," he said.
But Biden, who will be seeking to avoid any form of confrontation with Beijing, does face such a domestic dilemma, Lin said. If he pressures Pelosi into canceling her trip, the Republican Party will reinforce its narrative that he is weak on China.
With no off-ramp in sight, and pressure mounting from within Congress, Pelosi's choices are no less challenging. Unnamed U.S. officials have spoken of the possibility of China's escalating its military maneuvers if Pelosi flies to Taiwan; analysts have also predicted the likelihood of another Taiwan Strait crisis.
What's certain is that the U.S. and China's need to demonstrate resolve in the face of topics dominating their domestic agendas will test the Biden administration's crisis management skills like no other time in his presidency.