House Speaker Nancy Pelosi reaffirmed Washington's "unshakable bonds" with Taiwan in a letter to her counterpart in Taipei on Thursday, as the country hosted a democracy forum amid mounting political and military pressure from China.
Taiwan's Legislative Speaker, You Si-kun, who was recently blacklisted by the Chinese government, shared the contents of the letter on Facebook before opening the two-day Open Parliament Forum, aimed at democratic governance and responses to COVID-19.
In her letter, Pelosi said the promotion of "pro-democracy parliaments" are essential for advancing shared values and interests between Taiwan and the U.S.
"The United States of American continues to stand with Taiwan, and we remain steadfast in our commitment to uphold the freedom, security and human rights of the people of Taiwan," Pelosi wrote. "As we strive to deepen our unshakable bonds, the United States Congress looks forward to promoting peace and progress between the United States, Taiwan, and the rest of the world."
Speaker You thanked Pelosi for the message and said support from Congress further strengthens already "rock-solid" U.S-Taiwan relations. Taiwan's foreign ministry, one of the organizers of the event, said it also received well-wishes from Britain's Commons Speaker Lindsay Hoyle.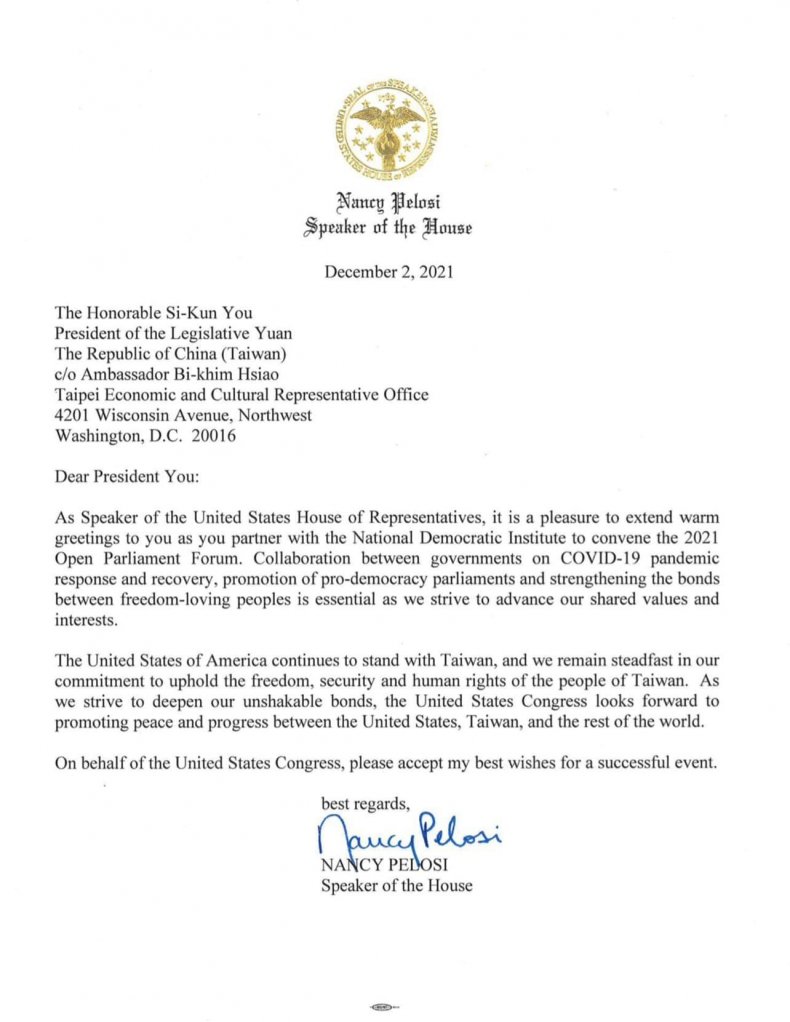 The forum was opened on Thursday by Taiwan's President Tsai Ing-wen and Vice President Lai Ching-te. In attendance are scholars, researchers and parliamentarians from more than 20 countries, including members of a 10-person parliamentary delegation from Lithuania, Estonia and Latvia.
The presence in Taipei of lawmakers from the three Baltic states has drawn considerable pushback from China, which seems to be trying to head off snowballing support for Taiwan in Central and Eastern Europe in particular. On the first day of discussions, members of the European delegation focused in large part on opposition to authoritarianism, especially in Beijing and Moscow.
Support for Taiwan is a rare bipartisan issue on Capitol Hill, although Republicans and Democrats have approached the consensus in different ways. House and Senate GOP lawmakers have pushed to enshrine the defense of Taiwan into law. Democrats, led most notably by Biden administration diplomats, are seeking an enhancement of Taiwan's "international space" in the form of participation in the United Nations and special agencies such as the World Health Organization
U.S. lawmakers who addressed the gathering included Senator Jim Risch (R-ID) and Representatives Young Kim (R-CA-39), Greg Stanton (D-AZ-9), Andy Barr (R-KY-6) and Angie Craig (D-MN-2).
Former Japanese Prime Minister Shinzo Abe also sent a message to the forum's organizers. He angered Beijing this week after warning Chinese President Xi Jinping against using military force against Taiwan.