Gen. Mark Milley, chairman of the Joint Chiefs of Staff, said Wednesday that the U.S. military would ensure the safety of House Speaker Nancy Pelosi if she decides to go ahead with reported plans for a high-profile trip to Taiwan in August.
Citing security protocols, Pelosi's office is yet to officially confirm a trip to Taipei, but rumors of a visit by the U.S. leadership's No. 3 figure have already sparked sharp warnings from China, which considers Taiwan as part of its territory.
President Joe Biden hinted last week at the Pentagon's opposition to the visit, while Pelosi appears to feel it necessary to back a Taiwanese government that is coming under increasing pressure from Beijing.
Speaking at a gathering of regional military leaders in Sydney, Milley told reporters that the Pentagon had always facilitated the safe travel of members of Congress and would do the same for the speaker, but he declined to comment on the merits or otherwise of the move.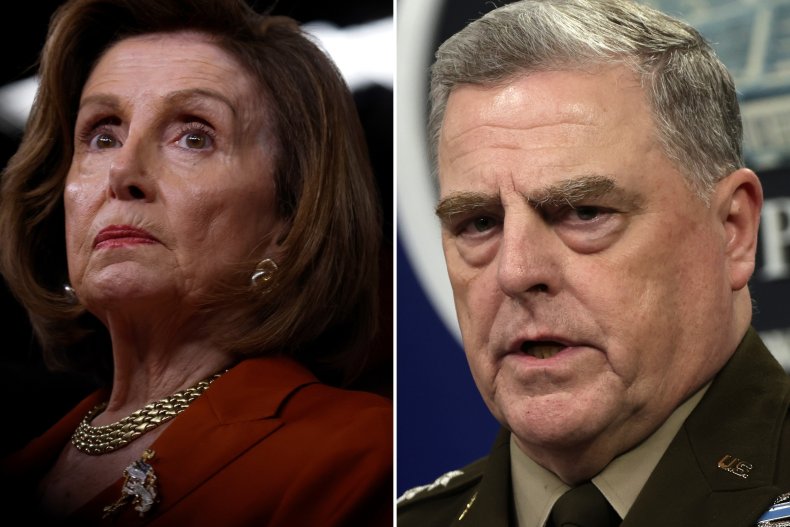 "If there's a decision made that Speaker Pelosi or anyone else is going to travel and they ask for military support, we will do what is necessary to ensure a safe conduct of their visit," he said.
Pelosi's reported plans, which were first revealed by the Financial Times, would be part of a wider trip to Asia. Democratic and Republican lawmakers are expected to join her congressional delegation.
At a press conference last week, Pelosi declined to discuss her travel plans but relayed anecdotal concerns surrounding her reported intention to meet top officials in Taipei, including President Tsai Ing-wen of Taiwan.
"I think what the President was saying is maybe the military was afraid our plane would get shot down or something like that by the Chinese. I don't know exactly," she said.
U.S. officials said on Wednesday that they don't fear a direct attack on the House speaker's aircraft, or attempts by the Chinese military to sabotage the visit. However, they raised the possibility of further military pressure on Taiwan, including incursions of Chinese warplanes into or near Taiwanese airspace—a move that may force Taipei to respond.
The officials also predicted possible shows of force by China elsewhere in the region, hinting at potential escalation in disputed territories in the East and South China seas.
To prepare for any contingency, the Defense Department would shift American forces in the region to protect Pelosi's flight with "overlapping rings" of fighter aircraft, naval vessels and surveillance systems, the officials said.
The Taiwanese government has faced the threat of Chinese aggression for decades. Fresh warnings out of Beijing are unlikely to deter Taipei from seeking closer ties with the United States—its strongest international backer in the postwar era—but its Foreign Ministry told Newsweek it hadn't received details about Pelosi's plans and therefore wouldn't comment further on the subject.
For Beijing, Pelosi's visit—the first by a sitting House speaker since Newt Gingrich in 1997—couldn't come at a worse time. The People's Liberation Army (PLA) celebrates its 95th anniversary on August 1, in a month when Chinese Communist Party leaders hold their annual closed-door gathering at the Beidaihe resort in Hebei province.
All this comes in the lead-up to the CCP's twice-a-decade national congress this autumn, when President Xi Jinping is widely expected to be given a third term as leader—a historic milestone that will necessitate firm reactions to perceived threats to Chinese national interests in order to maintain his legitimacy.
To be sure, predictions about the dangers of Pelosi's visit have been speculative. Last week, an unnamed U.S. official told CNN that the PLA could "seek to declare a no-fly zone over Taiwan" to prevent her plane from landing in Taipei.
U.S. commentators have also latched onto threats made by China's nationalistic firebrand Hu Xijin, who last week tweeted that the PLA could escort Pelosi's plane over Taiwan, essentially one-upping the historic symbolism of her trip. Despite the separation of powers in the U.S., Hu said Biden ought to have "the ability to prevent the reckless visit of Pelosi."
In an editorial, the CCP-published Global Times, the hawkish tabloid once edited by Hu, described Pelosi's unconfirmed plans as "a huge historic mistake for Washington." Her trip to Taiwan would be a "red line," the paper said.
While some of the more dramatic outcomes are unlikely to occur, the risk of an unintended military accident are real. The speaker's trip, should it go ahead, would be the first real test of the "common-sense guardrails" the Biden administration has sought to establish with the Chinese government in the last 18 months.