No, the Ohio Race Wasn't About Hillary v. Bernie or 'Evil Money' | Opinion
If you've spent the past few months watching the special election in Ohio's 11th Congressional District, which held its Democratic primary this past week, you might think the Bernie vs. Hillary wars never ended. High-profile Bernie Sanders ally and former Ohio state senator Nina Turner faced off with local councilwoman Shontel Brown, who earned the support of Clinton, in a race to replace Democratic congresswoman Marcia Fudge, who was elevated to the position of Secretary of Housing and Urban Development.
In a campaign that quickly turned into a proxy war between the Sanders faction and the Democratic establishment, Brown walked away victorious, ultimately winning with 50.2 percent of the vote to 44.5 percent for Nina Turner (a gaggle of lesser-known candidates captured the remaining votes).
Turner didn't finish that far behind Brown, and the race can hardly be considered a blowout. But it's worth noting that internal polling on both sides suggested that Turner had a lead of over 30 points in June. What happened between then and now?
In her concession speech, Turner pointed to outside groups that spent sizable amounts to defeat her. "We didn't lose this race," Turner insisted. "Evil money manipulated and maligned this election." These remarks elicited discomfort from some, including the Anti-Defamation League, who warned that Turner was invoking antisemitic tropes to criticize some of the pro-Israel groups who spent big to defeat her.
But it's worth noting that there really isn't any simple story to tell about campaign financing in the race. While outside groups like the Democratic Majority for Israel (DMFI) spent almost $2 million attacking Turner and supporting Brown, Turner's campaign raised about $2.5 million more than Brown's did. There wasn't a huge difference in the spending between both sides.
There was, however, a significant thematic difference between the two campaigns.
The last-minute barrage of attack ads defined Turner by her agnosticism about the Democratic Party. She declined to endorse Clinton in 2016, and appeared at events with Green Party presidential candidate Jill Stein. In 2020, she made disparaging remarks about Joe Biden that DMFI took pains to highlight in its negative mailers. As she faced criticism from party leaders, Turner was unrepentant. "We got some folks rattled," she said. "But I'm glad they're rattled. I want them to be uncomfortable."
Brown, on the other hand, branded herself around her close relationship with the Democratic Party. "Shontel's a Democrat's Democrat—proudly voted for Joe Biden," her mother said in her first television spot. As HuffPost's Daniel Marans showed in a Tweet comparing campaign literature from both candidates, Brown's mailers leaned heavily on touting the support of party leaders and emphasizing party identification, while Turner focused on national progressive issues like Medicare for All.
We shouldn't exaggerate the importance of a single congressional primary, but it is fair to say that the Turner vs. Brown race was emblematic of a series of other contests where Democratic primary insurgents allied themselves with left-wing ideology while moderates touted their ties to party leaders and organizations. And what's clear is that in most contests, the latter strategy proves to be more fruitful. While ideological progressives lean on the idea of mobilizing a mass of disaffected voters who want to do battle with party leadership and fundamentally reorder social and political affairs, more often than not, party primaries serve as an opportunity for voters to elevate the candidate they feel is most loyal to their partisan tribe.
That's a lesson that's often lost on progressives. David Sirota, a journalist and former Bernie Sanders staffer, took to Twitter to lament that "in general more Dem voters want a corporate government than something else. This is reality."
Is this really how Sirota imagines average voters think about the world? I doubt few, if any, Brown voters went to the polls in Ohio feeling they were doing the bidding of Bank of America or UnitedHealthcare.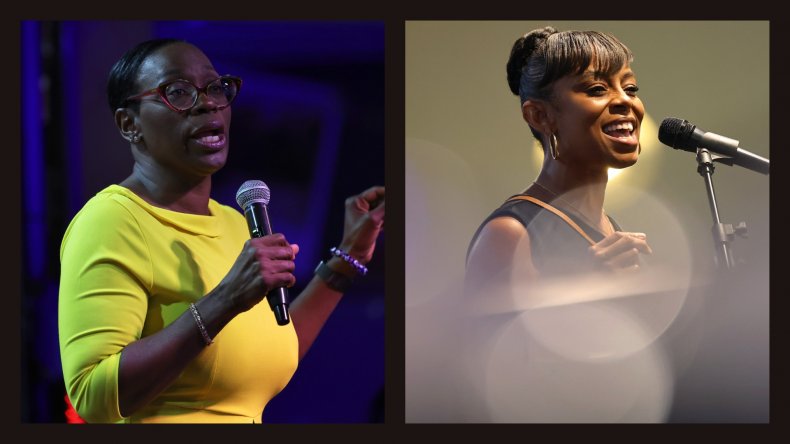 It's more likely that they were turned off by comments Turner made disparaging President Biden, something Marans reports he was told unprompted by voters.
This is an uncomfortable pill for the Democratic Party's left to swallow, but they're unlikely to be able to eke out more than the occasional win (in a very left-wing district) without coming to the realization that most Democratic primaries are dominated by a small cohort of voters who are fans of their own political party. Biden's approval ratings among self-identified Democrats have typically been above 90 percent. You can't win over Democratic voters if you're seen as antagonistic to party leaders who they like.
This rule applies across America's political spectrum. Ohio Republican Senate candidate J.D. Vance has been buried with condemnation from political media for doing an about face on Donald Trump, turning from critic to admirer, but to do otherwise would be political suicide. Embracing Trump doesn't mean that Vance can't push the party to take new positions on a range of issues in the future. In fact, he probably won't be able to unless he embraces the former president first because publicly scorning Trump would ensure he loses his bid to be a Senator.
None other than Congress's longest-serving independent, Bernie Sanders, has understood this pragmatism throughout his life. In his book Outsider in the House, Sanders explained why he decided to vote for Bill Clinton in 1996 despite his many disagreements with him. "Do I have confidence that Clinton will stand up for the working people of this country—for children, for the elderly, for the folks who are hurting? No, I do not," he wrote in that book. "But a Clinton victory could give us time to build a movement, to develop political infrastructure to protect what needs protecting, and to change the direction of the country."
Sanders always positioned himself as a critic of the Democratic Party, but he was careful to never become an opponent of that same party. This enabled him to work within the party to change it from the inside. If progressives want greater success in Democratic Party primaries, they can learn from the man who has given their movement so much energy in recent years.
Zaid Jilani is a journalist who hails from Atlanta, Georgia. He has previously worked as a reporter-blogger for ThinkProgress, United Republic, the Progressive Change Campaign Committee, and Alternet. He maintains a Substack newsletter at inquiremore.com.
The views in this article are the author's own.