No OSHA Penalties for Amazon After Tornado Killed 6 Working in Warehouse
The Occupational Safety and Health Administration (OSHA) suggested improvements to Amazon's severe weather emergency procedures but will not fine the company after a warehouse in Illinois was struck by a tornado, killing six employees and leaving another seriously injured.
In a letter addressed to a manager at the Edwardsville warehouse, OSHA investigators determined that Amazon's safety procedures met the "minimal" federal guidelines for storm sheltering and therefore would not issue any citations or fines. OSHA does not have a standard for severe weather plans but did provide the company with recommendations to reduce risk factors.
On December 10, 2021, a tornado strike collapsed both sides of the Illinois warehouse caused its roof to cave in. Six contractors were killed and another was severely injured. Three additional employees sustained minor injuries.
"These tragic deaths have sparked discussions nationwide on the vital need for comprehensive workplace emergency plans," said OSHA Regional Administrator William Donovan. "Employers should re-evaluate their emergency plans for the safest shelter-in-place locations and prepare before an emergency to ensure workers know where to go and how to keep themselves safe in the event of a disaster."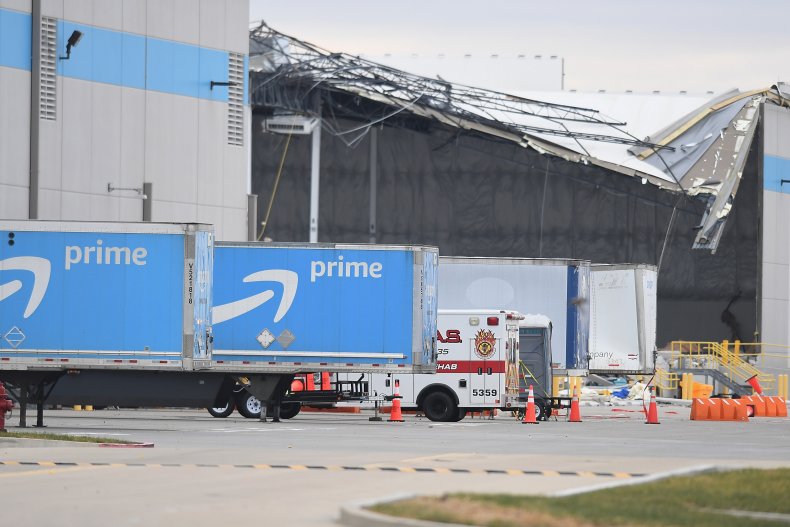 The OSHA investigation found that a megaphone, stored in the warehouse to alert workers during an emergency, was locked in a cage and not accessible at the time of the storm. Instead, managers walked through the 1.1 million-square-foot warehouse and told workers to take shelter in the restroom approximately 10 minutes before the tornado's touchdown.
According to the report, some employees did not know the designated safety area was the restroom in the northern part of the building and took shelter in the bathroom on the southern portion of the building. Other employees could not recall ever participating in any severe weather or shelter-in-place drills.
"The storm in Edwardsville last fall was a tragedy and our teams on the ground continue to support our employees and the broader community as they work to recover," Amazon spokesperson Kelly Nantel said in a statement obtained by Newsweek. "The tornado that hit our delivery station was extreme and very sudden, with winds that were much like the force of a category 4 hurricane, and we believe our team did the right thing, moving people to shelter as soon as the warning was issued."
Amazon said its buildings—including the Edwardsville warehouse—have emergency plans that identify exit routes and shelter areas. The company says it will continue to make safety improvements.
"OSHA's investigation did not find any violations or causes for citations, but we're constantly looking to innovate and improve our safety measures and have already begun conducting additional safety and emergency preparedness drills at our sites and will carefully consider any OSHA recommendation that we have not already," Nantel continued.
Newsweek reached out to Amazon for comment.