Experts have told Newsweek the coronavirus outbreak in the U.S. could get worse in the coming months, in the wake of Labor Day celebrations, schools and colleges reopening, and people retreating indoors as temperatures drop. But any potential spike likely won't peak before the upcoming 2020 election, they said.
The U.S. continues to lead the world for coronavirus diagnoses and deaths, at over 6.5 million and 194,000, respectively, according to Johns Hopkins University. In the past week, the country reported a daily average of over 35,000 cases, down by 17 percent from the average two weeks prior, The New York Times' U.S. COVID-19 tracker found.
But the downward trend may soon be over. On Friday, the University of Washington's Institute for Health Metrics and Evaluation (IHME), which forecasts coronavirus outbreak trends in the U.S., said it expects a "major surge" in daily cases and deaths in November and December as the seasons change and people have become less vigilant. Since the start of August, people traveled more and wore masks less, it said. The IHME predicts daily deaths will hit almost 3,000 in December, after climbing in late November and December, up from 850 in the week prior to September 11.
The graph below by Statista shows the U.S. is the country with the most known COVID-19 cases.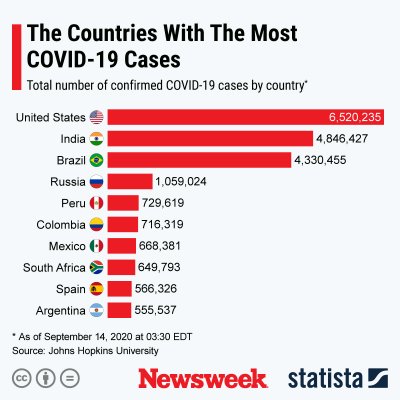 So does this suggest a second wave will hit before the presidential election on November 3, when the Trump administration's handling of the biggest health crisis of a generation will likely be a key issue in voters' minds?
Experts told Newsweek there is no set definition of a second wave and that the vastness and varying demography of the U.S. means the virus has spread at different times in different locations. They offered a range of answers when asked what the future holds both pre- and post-November 3. Andrew Noymer, associate professor of public health at the University of California, Irvine told said the U.S. is dealing with "sub-epidemics" in an interview with Newsweek.
Last week, Dr. Anthony Fauci, a White House coronavirus task force member and director of the National Institute of Allergy and Infectious Diseases, said the U.S. is still in its first surge as it has failed to get cases down to a level from which a second wave might be identified. Trying to control the country's outbreak has been like "whack-a-mole," where one state improves and another worsens, he said. Fauci advised people to "hunker down and get through this fall and winter."
Academics who spoke to Newsweek chimed that cases will likely soon climb, and that the country is in for a rocky few months, and unlikely to be helped by a vaccine in the immediate future. A range of factors may make the coming months better or worse than the earlier phases of the outbreak, which rocked the Northeast in the spring and the South and West in the summer, they said.
Dr. Manisha Juthani, associate professor of medicine and epidemiology at Yale School of Medicine, told Newsweek: "We have bought time and gained experience in the first eight months of this pandemic."
It is known that masking, social distancing and quarantining when necessary are useful public health measures, she said, adding that doctors have learned how to treat patients, using drugs such as dexamethasone and remdesivir.
At the same time, as alluded to by the IHME report, people are suffering from what Dr. Ravina Kullar, a spokesperson for the Infectious Diseases Society of America and an infectious diseases specialist and epidemiologist based in Los Angeles, called "pandemic fatigue" when speaking to Newsweek. This is where people become worn down by closely following guidance. This comes as children—known to spread the virus but not fall as ill as much as adults—return to schools, students attend colleges, people gather due to the colder climate, and the cooler, less humid climate may make it easier for the virus to stay viable.
"It's hard to predict when the next big resurgence will be," David Rubin, the director of PolicyLab at Children's Hospital of Philadelphia, told Newsweek. With the virus continuing to spread at high levels, "it is possible that cases might steadily increase in some areas. But, with colder weather likely after the election, a bigger wave may be delayed until [then]," he said.
Noymer said he expects a second wave to hit after the summer ends, pointing out that the fall wave of the 2009 H1N1 flu pandemic happened as early as October, "so there is absolutely potential for a COVID-19 second wave before the election.
"On the other hand, while I am certainly expecting second waves in the United States before the 2020-21 winter is over, predicting exactly when is difficult," he said. The "sub-epidemics" mean second waves may hit different cities at different times.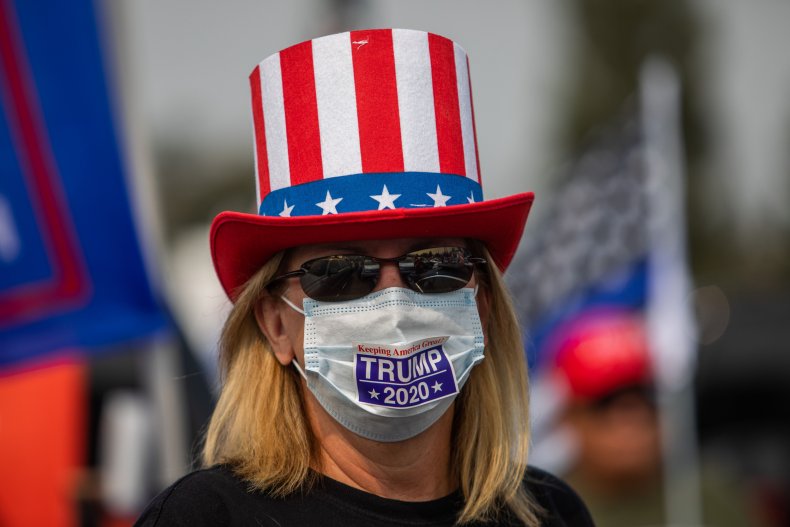 Eili Y. Klein, associate professor in the department of emergency medicine at Johns Hopkins School of Medicine, told Newsweek that while cases may go up as a result of schools re-opening and socializing on Labor Day, "what would really drive a surge in cases would be an environmental change that increases the transmissibility of the virus."
He went on: "I think that, given the past history of influenza and the current social distancing context, that the peak is more likely to be later in November [or] December, but that cases will likely be increasing in early November in many parts of the U.S., and probably Europe as well."
If the virus spreads and more people become sicker in the fall, "then this could make for a volatile situation," he said.
Amira Roess, professor of global health and epidemiology at George Mason University, told Newsweek some think the U.S. as a whole is not out of the first wave, and envisioned a second wave peaking in December or January "depending on what actions are taken by the country and by individuals," starting in about a month's time.
Kullar took a similar position. "We have been on a constant wave," she said. But Kullar said the next wave could peak in the fall, potentially sometime in October, adding: "I do not have a crystal ball to predict when exactly that will be."
In contrast, Andrew Brouwer, assistant research scientist in the department of epidemiology at the University of Michigan, told Newsweek he believes the U.S. is already in its second wave, but said "that's just semantics." He said there is a "strong possibility" there will be a resurgence of cases driven by school re-openings over the next two months. "Even if cases do not spike, there may be extended periods of higher incidence stretching into the fall and winter," said Brouwer.
Rubin's concerns lie ahead of the election, with the holiday season, as students and young adults return home for Thanksgiving, potentially bringing the virus with them to their families and home communities. Christmas has similar risk, he said, with the additional colder temperatures in many locations."
Juthani similarly warned "the holidays will be so challenging this year."
Of course, such dates mean little to the coronavirus itself. "The virus doesn't know it's an election season. It won't change its behavior on Election Day," said Juthani. "People's behavior and the rules government puts in place will alter this course."
About the writer
Kashmira Gander is Deputy Science Editor at Newsweek. Her interests include health, gender, LGBTQIA+ issues, human rights, subcultures, music, and lifestyle. Her work has also been published in the The Independent, The Independent on Sunday, The i Newspaper, the London Evening Standard and International Business Times UK.