Why COVID-19 Deaths Are Rising in Some States and Not Others
As the U.S. continues to battle the its COVID-19 outbreaks, certain states are setting new records for deaths.
Six months into the COVID-19 pandemic, the U.S. continues to lead the world for confirmed cases—at 3.4 million out of 13.3 million worldwide—and in deaths, at over 136,000 of the total 579,509, according to Johns Hopkins University. In the past few weeks, states in the south and west have experienced surges in cases.
This is now being followed by a rise in fatalities. On Tuesday, Florida, North Carolina, Alabama, Nevada and Utah reported record numbers of deaths, according to The Washington Post. And on Monday, The New York Times reported eight states hit single-day death records in the past week: Alabama, Arizona, Florida, Mississippi, North Carolina, South Dakota, Texas and Tennessee. These trends are reflected in the Statista graphics below.
Dr. Vikas Parekh, professor of internal medicine at the University of Michigan, told Newsweek the one-week average of daily deaths in Ohio, Georgia and Washington State are also likely rising "but it's a bit too early to call it a clear trend."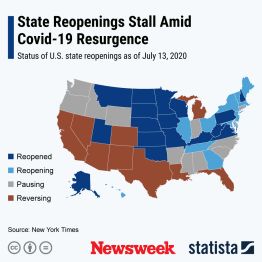 So why are deaths rising in some states and not others?
Parekh said there is a lag between a rise in cases and deaths in a location, because of how long it takes for a person to fall sick and die.
"It is important to note that most of the big recent surges [in cases] started only about four weeks ago, so it is not unexpected that we are just starting to see rising deaths in many of the states that have large surges with clear rising cases and rising hospitalizations," he said.
However, Parekh said some states with increasing cases still have fairly small outbreaks, relatively speaking, and may not see deaths climb by much. Firstly, because at this stage in the pandemic those who are infected are younger and therefore less likely to die, and hospitals are more prepared for dealing with and treating COVID-19 patients.
In addition, better testing means fewer cases are being missed, and this is reflected in hospitalization and death rates, which are both much lower during the surges this summer than those in the spring, he said.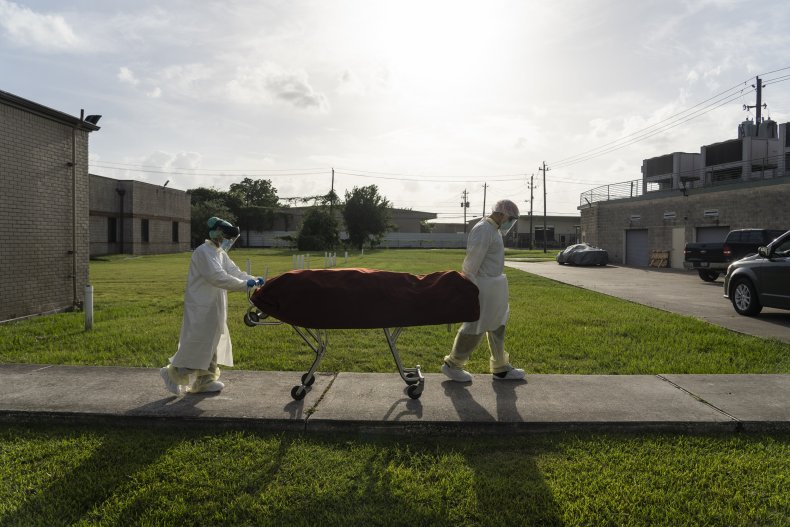 To Dr. Cassandra M. Pierre, medical director of public health programs at Boston Medical Center, interpreting the gap between COVID-19 cases and deaths in different states "may be a short waiting game."
Pierre said that as well as the lag in deaths, as mentioned by Parekh, there may also be a further delay between them being publicly reported.
She said it would be insufficient to argue that increased testing—meaning people with milder cases who are less likely to die are making up the data— the lower average age of COVID-19 patients, and better treatments may explain "a seeming dissociation between the rising rates of COVID infections and low numbers of COVID-19 related deaths."
Pierre said: "To date, we have seen high COVID-19 related death rates in rural towns in Colorado and Oklahoma and witnessed devastating losses in well-resourced states with a relatively robust public health infrastructure and relatively rapid initiation of stay-at-home orders" she said, pointing to Massachusetts and New York.
"COVID-19 has consistently demonstrated its inability to be contained and with time, younger people will transmit the virus to their social networks—including older or medically vulnerable individuals," she said.
Andrew Brouwer, assistant research scientist in the department of epidemiology at the University of Michigan, told Newsweek differences in the demographics of states—such as age, socioeconomic status—may result in differences in the ratio of cases to deaths.
But echoing Pierre, he said "where we see increasing cases, we expect increasing deaths to follow."
Brouwer said states where the virus is spreading will put pressure on nearby states and the rest of the county. "So states that have low numbers of cases and deaths now will likely also see increases in the near future," he said.