U.S. COVID-19 Cases Are Skyrocketing, so Why Are Deaths Down?
States across the U.S. are being hit by surges in new COVID-19 cases as the country's first wave continues, but the death rate appears to be down. Experts told Newsweek a number of factors play into this seemingly contradictory trend.
On Tuesday, over 60,021 new coronavirus cases were reported in the U.S., according to a Johns Hopkins University tracker, marking another record. As the graph by Statista below shows, the U.S. is the country with the most known COVID-19 cases.
Meanwhile, coronavirus deaths are below their peak levels, as evidenced by a New York Times database.
In April and May, up to 3,000 people were dying each day, with a case fatality rate of 7 to 8 percent. More recently, with around 600 people dying per day, the death rate has fallen to less than 5 percent.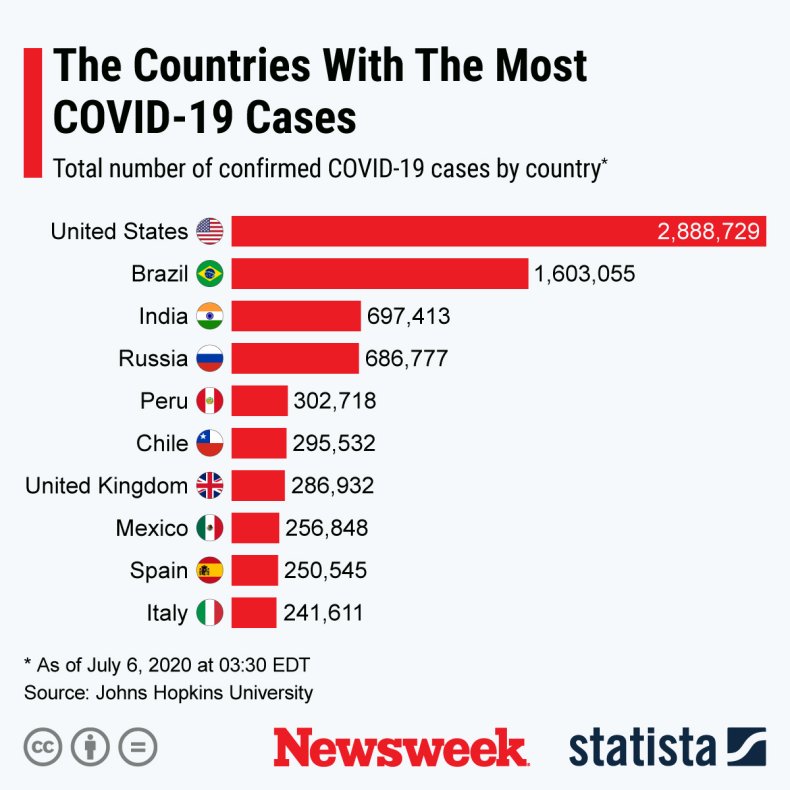 During a press conference with Sen. Doug Jones of Alabama on Tuesday, Dr. Anthony Fauci, member of the White House coronavirus taskforce and a top infectious disease expert, said: "It's a false narrative to take comfort in a lower rate of death."
He said: "There's so many other things that are very dangerous and bad about this virus, don't get yourself into false complacency."
Fauci made his comments the day that Arizona, Mississippi and Texas reported their highest daily coronavirus death tolls, at 117, 44, and 60, respectively.
Andrew Brouwer, assistant research scientist in the Department of Epidemiology at the University of Michigan, told Newsweek via email the U.S. should expect deaths to rise in the coming weeks. That's because it typically takes several weeks for a person to die after falling ill with COVID-19.
This forecast is backed by a surge in hospitalizations and ICU admissions, Peter Drobac, a physician and specialist in infectious diseases and public health at the Saïd Business School at the University of Oxford, U.K., told Newsweek.
On Wednesday for example, 56 hospitals in Florida had no available ICU beds, with dozens of others at 90 percent capacity. This came after hospitals in at least five regions in Texas reported having fewer than 10 ICU beds available on Tuesday.
"It's devastating to contemplate, but I anticipate the daily death toll will rise into the low thousands by the end of July—unless we take more aggressive steps to stop the spread of the virus," said Drobac.
According to Brouwer, there are other important differences between the initial outbreak and this current stage.
Firstly, testing capacity has expanded, meaning the case count includes more people who are yet to show symptoms and will never show symptoms despite being infected, or presymptomatic and asymptomatic.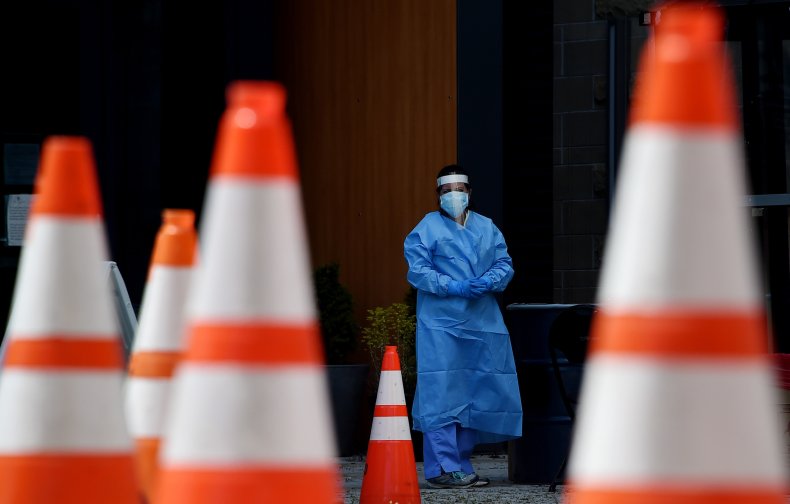 As well as more presymptomatic and asymptomatic cases being identified, the surge in new cases is driven by infections in younger people who are less likely to die than older people and more vulnerable populations, such as those in nursing homes, he said.
A better understanding of how to treat patients since the COVID-19 virus first emerged also contributes to the lower death rate, according to Brouwer.
Keith Frey, Chief Medical Officer for Dignity Health, which has six hospitals in the Phoenix metropolitan area, recently told Newsweek: "We've benefited, unfortunately, from what happened in China, then Northern Italy and then definitely New York. We did have some time to prepare."
A problem, however, lies in whether the health system can cope, said Drobac. "We are beginning to hear concerning reports that ICUs are at capacity. If we reach a situation where, for example, ventilators need to be rationed, one would obviously expect a higher fatality rate."
Drobac said it is clear that the U.S. has a "raging, out-of-control" COVID-19 epidemic.
The country is seeing "extraordinary amounts of preventable suffering and death. And the key word is preventable. It doesn't have to be this way," he said.