Norfolk Southern CEO Speaks Out After Yet Another Deadly Rail Accident
The CEO of rail company Norfolk Southern has pledged to invest more in safety after one of its employees was killed in Cleveland, Ohio, saying the current practices were "not acceptable."
Alan Shaw said that the company was "going to rebuild our safety culture from the ground up" after multiple federal agencies announced investigations. The conductor's death is the latest in a series of incidents to befall the company since December 2021.
Operational procedures at Norfolk Southern and other rail operators have been under greater scrutiny since one of its trains derailed near the town of East Palestine, Ohio, on February 3, leaking toxic chemicals into the surrounding environment. Since the crash, Transportation Secretary Pete Buttigieg has been calling for improved safety standards.
In a statement on Tuesday, Shaw identified the conductor who was struck by a dump truck while his train was moving through a rail crossing at an industrial site as Louis Shuster, from Broadview Heights in Ohio.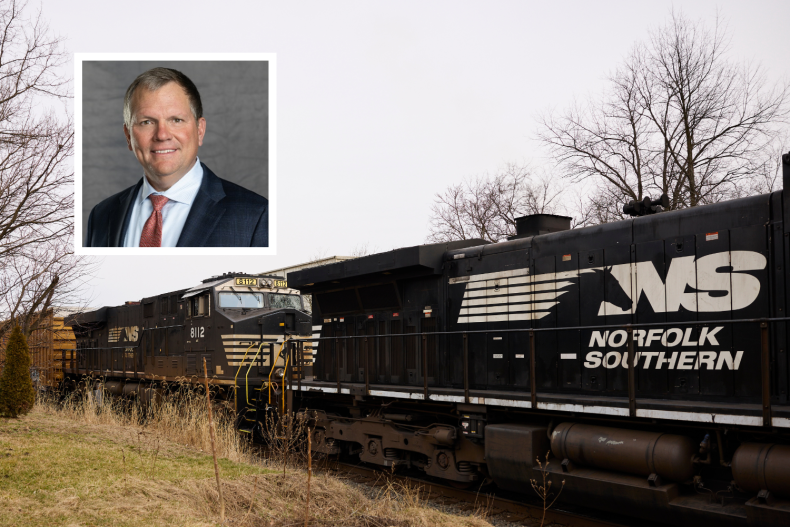 The Norfolk Southern president said it was a "tragic accident," and noted after speaking with Shuster's co-workers that he was "respected and liked by his colleagues."
"This is an awful day that leaves a hole in our company's spirit. We have reached out to Lou's family to offer our condolences," he said.
The same day, the National Transportation Safety Board (NTSB) announced it was conducting a "special investigation" into Norfolk Southern over its "organization and safety culture," listing the conductor's death among five "significant" accidents to occur on the company's watch in the past 15 months.
These include the toxic chemical spill, but also the death of a track worker who was struck by a reversing spike machine on December 8, 2021, in Reed, Pennsylvania; the death of a trainee conductor and the injuring of another conductor on December 13, 2022, when a train struck a steel angle iron protruding from another train in Bessemer, Alabama; and the derailment of a 2.5-mile long freight train on March 4 near Springfield, Ohio.
As part of the investigation, the federal agency said it would also review a derailment of a further Norfolk Southern train in Sandusky, Ohio, on October 8, 2022.
Buttigieg said that the Federal Railroad Administration (FRA) and the Occupational Safety and Health Administration (OSHA) would also be investigating the company following the March 7 death. "Now more than ever, it is time for stronger freight railroad accountability and safety," he said.
The FRA will conduct a 60-day safety assessment and issue a public report, adding with the NTSB that Norfolk Southern should act now to improve its safety procedures.
While Shaw said the cause of the accident in Cleveland was not yet known, he said the company would "of course cooperate fully" with the NTSB probe.
"Moving forward, we are going to rebuild our safety culture from the ground up," he said. "We are going to invest more in safety. This is not who we are, it is not acceptable, and it will not continue."
The day before the latest accident, Norfolk Southern had pointed to a March 3 statement by the Association of American Railroads (AAR) which said new data from the FRA showed U.S. railroads "continue to maintain a strong safety record."
It said that the rate of train accidents was down 28 percent since 2000, and derailments were down 31 percent in the same time period—but noted this had risen recently.
Ian Jefferies, AAR president and CEO, said that the data "clearly reflects railroads' steadfast safety commitment."
The FRA statistics show that accidents across all railroads had increased year-on-year since 2020, as had the number of fatalities. Derailments had dropped to a ten-year low of 1,095 in 2021, before rising slightly to 1,168 in 2022.
Jefferies said that there "is more work to do." The AAR previously wrote to Buttigieg expressing its shared commitment to rail safety.
Newsweek has reached out to the AAR for comment.
Since the derailment in East Palestine—which saw 38 of 150 rail cars go off the tracks, 11 of which contained hazardous materials—officials on the ground have found toxic chemicals in the soil surrounding the derailment site, as well as in nearby waterways, and residents have complained of symptoms associated with exposure to toxic chemicals.
A preliminary report by the NTSB attributed the derailment to the failure of a wheel bearing.
Norfolk Southern has invested millions into the clean-up operation, and on Monday announced a six-point safety plan, including measures to improve wheel bearing safety and joining the FRA's close-call reporting system.