Normani Slams Critics Who Say She's No Longer Passionate About Music
Normani has lashed out at her detractors on social media, after she was accused of no longer being passionate about music.
The Fifth Harmony star, 26, became a topic of discussion on Twitter on Tuesday, when apparently exasperated fans discussed the fact that since the 2019 release of her debut solo single, "Motivation," she has yet to unveil her album.
The singer, full name Normani Kordei Hamilton, has also released the singles "Wild Side," featuring Cardi B in 2021, and "Fair" in March. In June, "WE (Warm Embrace)," her musical collaboration with Chris Brown, was released.
Additionally, she made an appearance on Megan Thee Stallion's "Diamonds" from the Birds of Prey soundtrack in 2020, and most recently joined Tinashe and Offset on Calvin Harris' single "New to You," from his album Funk Wav Bounces Vol. 2.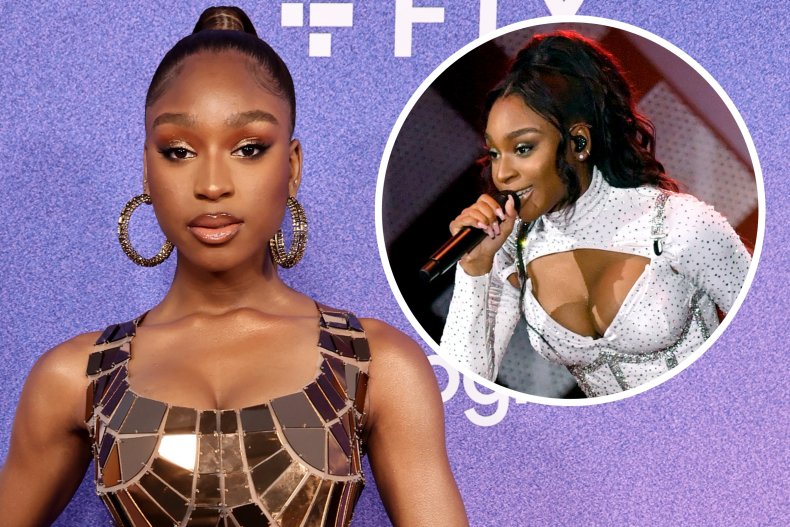 With a release date for her debut album not yet announced, Normani found herself on the receiving end of some criticism and accusations on Tuesday.
"No idea where Normani's motivation (no pun intended) has gone but I just [don't] see the same passion from her as I used to," one person wrote on Twitter. "Before [y'all] start, [it's] not depression so [don't] even go THERE!"
Responding to the tweet, which was shared from an account that has since gone private, another commented of Normani: "What happens when you've gotten comfortable and you're not HUNGRY anymore."
The tweets soon caught the attention of Normani, who quote tweeted her detractors as she ordered them to "just shut the f*** up."
Normani's terse response brought on an onslaught of comments from others doubling down on the criticism—in addition to a strong wave of support.
Fashion illustrator and designer Hayden Williams was among those who backed Normani, touching on the "complexities" of the music industry.
"It's so interesting that people that have no clue what it's like to be in the music industry & the complexities that can come with that, but will dish out unwanted & rude opinions all the time smh," Williams wrote.
Agreeing with his point, Normani added that those factors were to be considered "on top of real life s*** going on in my personal life."
During an appearance on The Ellen DeGeneres Show back in December, Normani told guest host and fellow singer Ciara that her album was "almost done."
She also spoke about the pressure she felt with putting out her first solo project without having the ability to "hide" among her fellow Fifth Harmony members.
"People underestimate how hard it is and how much effort we put into one project, one body of work," she said, per Billboard. "And coming out of a girl group, there was a lot that I had to figure out about myself and fears that I had to deal with head on.
"I was always so safe being in a girl group. I remember my mom when I was little, she was like, 'Why do you want to be in a girl group so bad?' Is it so you can hide?' And I think that that was pretty much the answer. But God had other plans for me and by His faithfulness and His grace, He's really, really kept me."