Videos of Cara Delevingne, Megan Thee Stallion at BBMAs Confuse Fans
Video footage of Cara Delevingne crashing Megan Thee Stallion's red carpet moment at Sunday's Billboard Music Awards has gone viral on social media.
Model Delevingne, 29, and rapper Megan, 27, were photographed arriving at the star-studded event—held at Las Vegas' MGM Grand Garden Arena—at a similar time.
But as Megan, full name Megan Jovon Ruth Pete, posed on the expansive carpet in her midriff-baring ensemble, Delevingne was caught on camera peeping at the star and shouting encouragement from behind the step and repeat banner.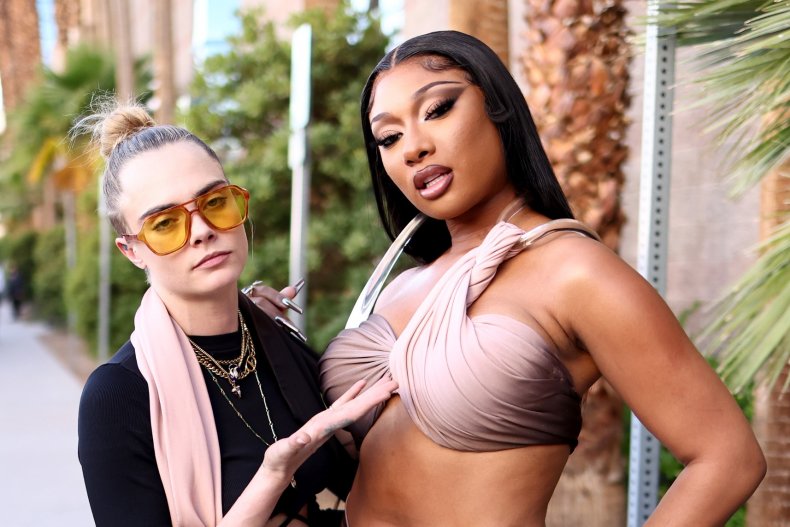 In different clips shared on TikTok and Instagram, London-born Delevingne then placed her bag and small water bottle on the ground so that she could step out onto the red carpet and attempt to improve on Megan's photos by lifting her train.
As Megan looked on, Delevingne threw Megan's floor-length train into the air, in an apparent attempt to give the musician's images a more dramatic flair. Delevingne then held onto the train for several seconds before throwing it up again.
While Megan initially appeared confused by the model's gestures—which came after handlers had adjusted her ensemble for the cameras—she was eventually seen laughing as Delevingne threw her train up for a second time.
Clips of the moment have been shared across social media in the hours that followed, with E! News posting it on its verified Instagram account.
"Hotties look after hotties on the red carpet," read a caption for the clip, which has been viewed more than 190,000 times since its Sunday upload.
Fans flooded the comments section with a barrage of talking points, including one who wrote: "I need a friend like that... Love this female energy and togetherness!"
The moment also sparked a wave of memes on Twitter, where fans jokingly portrayed Delevingne as having an obsession with "WAP" hitmaker Megan.
Questioning why Delevingne was so close to Megan in so many shots from the night, one fan wrote: "why in every piece of media i see of megan at this awards i see cara delevingne 5 inches away from her."
Others expressed confusion over Megan and Delevingne's suddenly close friendship.
Commenting on a video of Doja Cat telling the pair, "I love you guys together," one fan wrote: "Why is Cara all of a sudden attached to Megan? Like I'm confused."
Video footage was also recirculated of the pair at Cardi B's Met Gala afterparty earlier this month in New York City.
In the clip, the stars were seen hitting the dancefloor together, before the model got closer to seemingly say something to the rapper, prompting Megan to hold her back.
Despite the online ribbing, it would appear that the two are friendly, as they arrived at the event together and were shown seated next to one another at the show.
The Billboard Music Awards proved to be a celebratory night for Megan, who took home a Top Rap Female Artist trophy, beating Cardi B and Latto.
Switching out her gown for a racy one-piece, Megan also hit the stage to entertain the audience with a performance of her latest single, "Plan B."