North Carolina Paper Rips Madison Cawthorn After He Attacks Ukraine Leader
A North Carolina newspaper strongly condemned Republican Representative Madison Cawthorn on Saturday after he attacked Ukrainian President Volodymyr Zelensky while speaking to a group of supporters last week.
The Winston-Salem Journal published an op-ed titled "Our view: Cawthorn is deplorable," in which they blasted the North Carolina Republican for calling Zelenksy a "thug" and "evil." He also claimed that the Ukrainian government is "incredibly corrupt" and that Zelensky pushes "woke ideologies."
"Of all the many, many, many reasons we could find to legitimately criticize North Carolina's gift to Crazytown, Rep. Madison Cawthorn...it's perhaps his latest exploit that has us truly seeing red," the Journal wrote in its op-ed.
"This is Ukrainian President Volodymyr Zelensky that Cawthorn was bad-mouthing, who has been leading his nation against a foreign invasion conducted by an unhinged dictator," it added. "This is the Zelensky who has defied an invasion force probably a hundred times mightier than Ukraine—one that has committed atrocities and war crimes by destroying hospitals and schools and homes, sending at least 2.5 million refugees to other countries."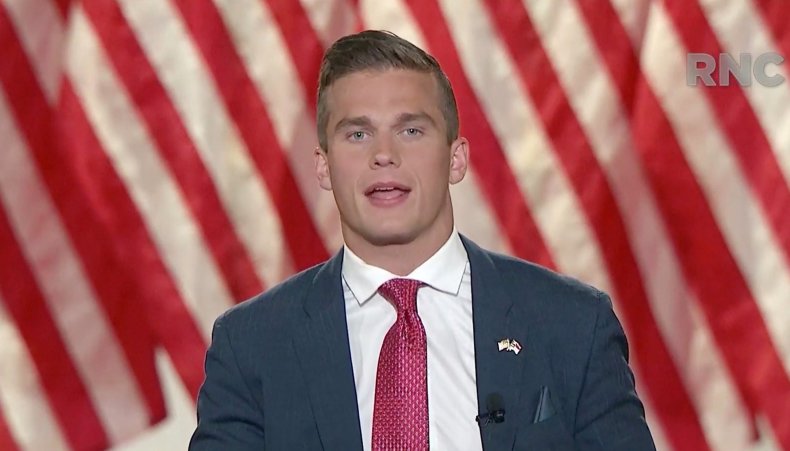 The op-ed continued by noting that several other Republicans—including North Carolina Senator Thom Tillis and South Carolina Senator Lindsey Graham—quickly criticized Cawthorn's comments.
Republican Iowa Senator Joni Ernst even went as far as giving him a lecture on the Russia-Ukraine war during a meeting in the Senate on Thursday. Meanwhile, Representative Adam Kinzinger, a Republican from Illinois, tweeted that Zelenksy is "three times the man" that Cawthorn and former President Donald Trump are combined.
However, Trump-backed congressional candidate Joe Kent, issued his support.
"Zelenskyy was installed via a US backed color revaluation, his goal is to move his county west so he virtue signals in woke ideology while using nazi battalions to crush his enemies," he tweeted Friday.
Cawthorn took to Twitter this week to distance himself from his comments, calling Russian President Vladimir Putin's invasion "disgusting," and that he is "praying for Ukraine and the Ukrainian people."
Even so, the Journal's op-ed said that North Carolina constituents "would do better to elect a representative" who addressed issues related to the opioid crisis, education, and economy, rather than "one who repeats Russian talking points and distracts them with culture wars."
Ukraine and Russia have been at war for more than two weeks, after Putin launched a full-scale attack against the country on February 24. Since then, thousands of troops have been killed and more than 2.5 million Ukrainians have fled the country.
Newsweek contacted a representative for Cawthorn for additional comment, but did not hear back in time for publication.