Adam Kinzinger: Zelensky 'Three Times the Man' Trump, Cawthorn Are Combined
Representative Adam Kinzinger, an Illinois Republican, took aim at former President Donald Trump and GOP Representative Madison Cawthorn of North Carolina—saying Ukraine's President Volodymyr Zelensky is much more manly than the two of them are.
Trump has faced backlash for calling Russia's President Vladimir Putin a "genius" and "smart" as he ordered his military to launch a full-scale invasion of Ukraine at the end of February. Cawthorn faced substantial criticism this past week after he called Ukraine's president a "thug" and the Ukrainian government "evil" during an event last weekend.
Kinzinger, a staunch Trump critic who voted to impeach the former president, has repeatedly praised Zelensky and the Ukrainian military as it fights back Russia's unprovoked and internationally condemned invasion. The GOP congressman has criticized Trump, Cawthorn and other conservatives who have spoken favorably of Putin or against Ukraine. He reiterated this criticism in a Saturday morning tweet.
"It's amazing when you think about it: Trump is obsessed with this idea of manliness, and he is the most soft coddled person I've met. Not kidding. BUT This has to drive him crazy: Vladimir [sic] Zelensky at 5'7" is three times the man both he and @CawthornforNC are combined," Kinzinger tweeted. He quickly corrected the misspelling of Zelensky's first name, writing in a follow-up post, "•volodymyr."
Zelensky has emerged as a heroic figure for the Ukrainian people as they've united to fight back Putin's aggression against their nation. The Russian president has absurdly claimed that Ukraine is led by "neo-Nazis" to justify his decision, but Zelensky is Jewish and lost family members in the Holocaust perpetrated by the Nazis during World War II. When he was first elected (with over 73 percent of the vote) in 2019, Ukraine's prime minister was also Jewish.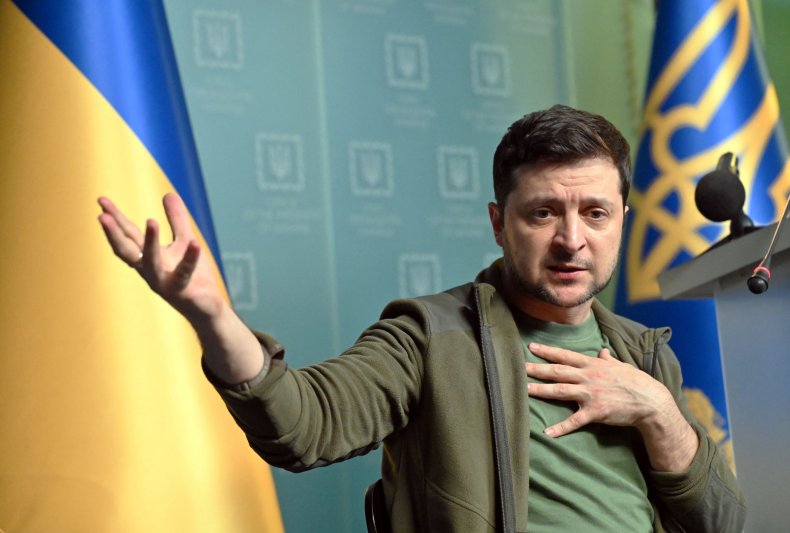 Just ahead of Putin's invasion, Trump praised the Russian leader.
"Here's a guy that says, you know, 'I'm gonna declare a big portion of Ukraine independent.' He used the word 'independent,' 'and we're gonna go out and we're gonna go in and we're gonna help keep peace.' You gotta say that's pretty savvy," the former president told The Clay Travis & Buck Sexton Show on February 22.
Days later, Trump reiterated his praise of Putin at a Mar-a-Lago event, saying, "I mean, he's taken over a country for $2 worth of sanctions. I'd say that's pretty smart. He's taking over a country, really a vast, vast location, a great piece of land with a lot of people and just walking right in."
In reality, Putin's forces have significantly underperformed analysts' expectations as they've faced fierce resistance from the Ukrainian military and ordinary citizens who have joined the fight.
Cawthorn at an event last weekend said: "Remember that Zelensky is a thug. Remember that the Ukrainian government is incredibly corrupt and is incredibly evil and has been pushing woke ideologies." The GOP congressman later published tweets criticizing Russia and saying that he was "praying for Ukraine and the Ukrainian people."
After Cawthorn's remarks were reported, Kinzinger tweeted on Thursday: "This is the sad but successful impact of Russia's cyber operation that we've seen pushed and promoted on conservative outlets. The threat is real and it's dangerous. Case in point: a sitting US Congressman is echoing Putin propaganda."
Newsweek reached out to Trump's and Cawthorn's spokespeople for comment, but did not immediately receive responses.