Former President Donald Trump arrived for a South Carolina rally on Saturday as legal experts say it's increasingly likely he will face criminal charges related to January 6, 2021, and as his remarks about Russian President Vladimir Putin draw backlash.
Thousands of supporters were expected to show up at the Florence Regional Airport, where Trump was slated to take the stage at 7 p.m. As is the norm, the event will last for several hours with doors opening at 2 p.m. and the first speakers scheduled to start at 4 p.m.
During the event, the former president is expected to attack South Carolina's GOP Representatives Tom Rice and Nancy Mace. Rice was among the 10 House Republicans to join with Democrats to impeach Trump for inciting the January 6, 2021 attack against the U.S. Capitol. While Mace declined to back impeachment, the Republican congresswoman condemned Trump and said she may have voted in favor if a longer House probe took place.
Meanwhile, legal experts have said in recent days that it appears increasingly possible that Trump will face criminal charges related to the events of January 6. Hundreds of the then president's supporters violently stormed the federal legislative building that day after he urged them to "fight like hell" to save their country.
That riot occurred as Trump pressured then Vice President Mike Pence to unconstitutionally overturn the election results in several key swing states. The former president and some of his allies wanted Pence to reject the slate of electors sent by these states and allow them to be replaced with alternatives that supported Trump—despite the will of the voters in their states. Pence declined and has reiterated that the plan was unconstitutional in recent weeks.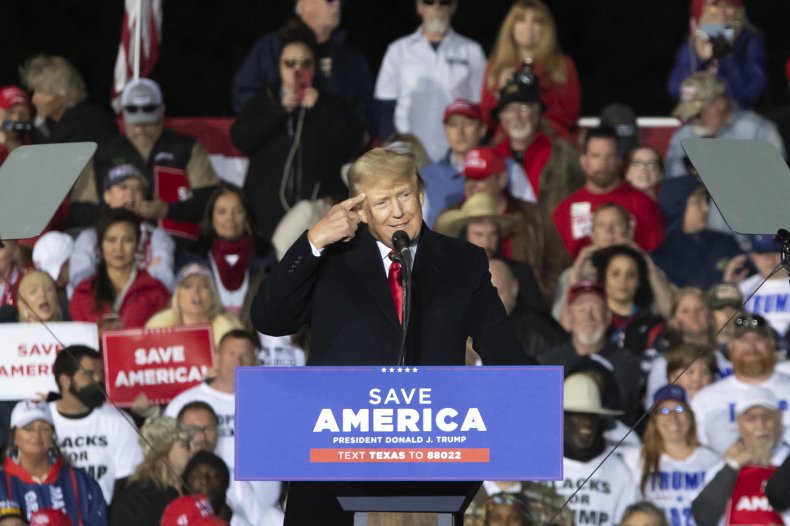 The House select committee investigating the January 6 events laid out potential criminal charges that could be filed against Trump in a court filing earlier this month. "Evidence and information available to the Committee establishes a good-faith belief that Mr. Trump and others may have engaged in criminal and/or fraudulent acts, and that Plaintiff's legal assistance was used in furtherance of those activities," the committee's lawyers wrote. They alleged that Trump and several associates worked to defraud American voters by perpetuating election lies and putting forward illegitimate electors in a bid to overturn President Joe Biden's win.
This past week, Attorney General Merrick Garland, who was appointed by Biden, also gave Trump critics hope when he told NPR that "everyone" who committed crimes connected to January 6 would be held accountable. He also pushed back against critics who have argued the Justice Department has not gone after Trump because it is afraid of looking overtly partisan.
"We are not avoiding cases that are political or cases that are controversial or sensitive," Garland insisted. "What we are avoiding is making decisions on a political basis, on a partisan basis."
After Garland's interview, former U.S. Army prosecutor Glenn Kirschner tweeted: "Accordingly, the only rational conclusion that can be drawn from AG Garland's promise is that . . . TRUMP. WILL. BE. CHARGED. Because #JusticeMatters."
Other legal experts think the noose may be closing around Trump's neck as well.
"The compelling evidence of criminal activity by Trump revealed by the committee in its recent 61-page court filing should spur DoJ to act expeditiously," Paul Pelletier, a former acting chief of the Justice Department's fraud section, told The Guardian in an article published Friday.
"Given the gravity of the revelations, the department should consider a strike force or even a special counsel to coalesce sufficient resources to focus on these criminal attacks that strike at the heart of our democracy," Pelletier said.
Trump has repeatedly attacked the January 6 commission's probe, arguing it's overtly biased and politically motivated. Two House Republicans—Representatives Liz Cheney of Wyoming and Adam Kinzinger of Illinois—sit on the committee, but voted to impeach Trump. The former president has said he does not view Cheney or Kinzinger to be Republicans any longer, and has argued that the sole purpose of the investigation is to prevent him from running for president again in 2024, if he chooses to do so.
As the January 6 probe heats up and puts pressure on him and his inner circle, the former president is also facing backlash for his praise of Putin. Trump described the Russian president as a "genius," "very smart" and "savvy" just as he launched a full-scale invasion of Ukraine on February 24.
Although Trump has shifted his tone to sound more supportive of Ukraine, he avoided condemning Putin in an interview with Fox News host Sean Hannity on Thursday evening. Instead, he argued that Putin would never have invaded if he was still president. Former national security advisers to the ex-president have said there is no evidence to show Trump was tougher on Russia than Biden.
"I think Putin saw Trump doing a lot of his work for him and thought, maybe in a second term, Trump would make good on his desire to get out of NATO, and then it would just ease Putin's path just that much more," John Bolton, who served as Trump's national security adviser from April 2019 to September 2019, told SiriusXM's Julie Mason on Wednesday.
Trump's praise for Putin is wildly out of step with the American public. Substantial bipartisan majorities are against the Russian president's invasion of Ukraine, according to multiple recent polls. Polling released Friday by The Wall Street Journal showed that the overwhelming majority of Americans (86 percent) view Putin "very unfavorably."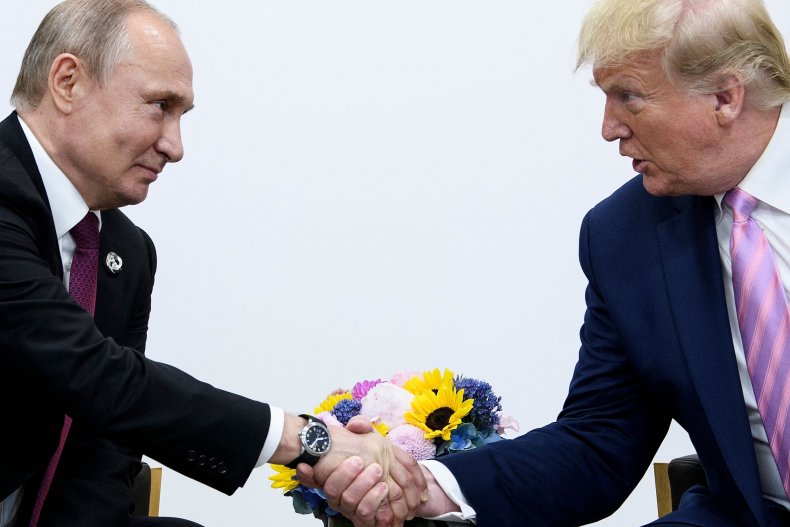 Cheney, Kinzinger and other Republican lawmakers have criticized Trump and other conservatives who have expressed views favorable of Putin or critical of Ukraine. After Russian state-run media played clips of Trump and other conservatives praising Putin, Cheney contended that the former president was being used as propaganda by the Russians.
"As Russian forces invade Ukraine, Russian TV features Donald Trump, [former Secretary of State] Mike Pompeo and [Fox News host] Tucker Carlson praising Putin," Cheney tweeted on February 25. "Putin is evil. Every American watching what's happening in Ukraine should know that."
Senator Mitt Romney, a Utah Republican, told CNN on February 27 that conservatives speaking favorably of Putin are "almost treasonous."
"It's unthinkable to me. It's almost treasonous," the prominent Trump critic said. "Well, I said it's nearly treasonous," Romney reiterated when pressed on his comment.
Regardless of the criticism and backlash, thousands of loyal Trump supporters are expected to eagerly greet him upon arrival in South Carolina on Saturday.
"Big rally in South Carolina this weekend," Trump said in Friday morning statement. He went on to attack Republicans Mace and Rice. "Will be honoring Katie Arrington, who is running against the absolutely horrendous Nancy Mace, and Russell Fry, who is likewise running against 'doesn't have a clue' Tom Rice."
"Big crowds at the Florence Regional Airport, starts at 7:00PM ET. See you there!" the former president said.