Trump Allies Line Up to Attack Pence as He Says Ex-President 'Wrong' on 1/6
Former President Donald Trump's allies lined up to attack former Vice President Mike Pence as he said his former boss was "wrong" about his ability to overturn the 2020 elections results.
Trump repeatedly urged Pence to reject the electors from several key battleground states when Congress met on January 6, 2021 to certify President Joe Biden's Electoral College victory. The then vice president inevitably declined, determining that such action was unconstitutional. This past week, Trump suggested Pence should be investigated for declining to help overturn the will of voters.
Then on Friday, Pence spoke at a conservative Federalist Society event in Florida, saying Trump is "wrong" to claim he had such power.
"But there are those in our party who believe that as the presiding officer over the joint session of Congress, I possessed unilateral authority to reject electoral college votes. And I heard this week, President Trump said I had the right to 'overturn the election,'" the former vice president told the conservative audience.
"President Trump is wrong," he said, adding that he "had no right to overturn the election."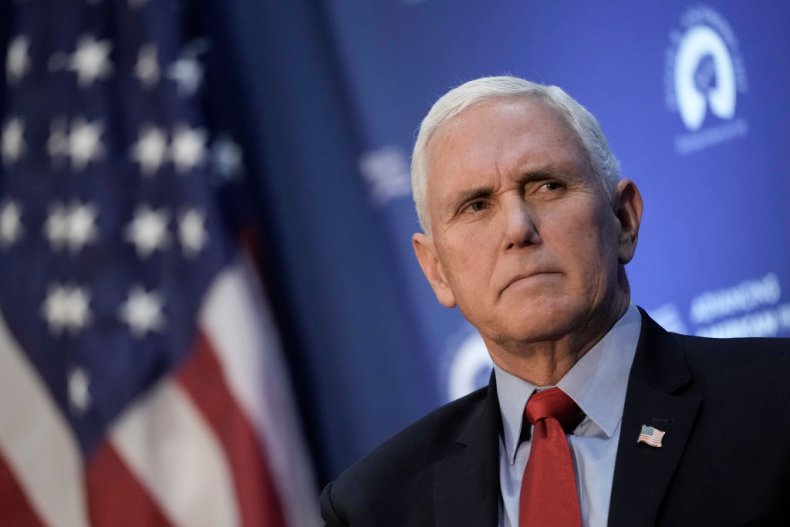 Trump allies were quick to rebuke and attack Pence, knocking the former vice president for standing behind the Constitution. Representative Matt Gaetz, a Florida Republican, discussed the last time he met with Pence in the White House ahead of January 6 during a Saturday episode of right-wing strategist Steve Bannon's War Room podcast. The GOP lawmaker said he knew then that the former vice president wouldn't follow Trump's demands.
"It was more just the defeatism in his eyes and in his tone," Gaetz said. The GOP lawmaker went on to argue that "there are not a lot of places in the MAGA [Make America Great Again] universe where Mike Pence can go and not get booed off the stage."
Previously on Friday, Bannon launched a blistering attack against Pence for saying Trump was "wrong." The former White House strategist, who served as CEO of Trump's 2016 campaign, called him a "stone cold coward."
"Pence, you're going to carry this thing eventually to your grave, OK?" Bannon said. "Because it is a mark of shame. You are a stone-cold coward."
Earlier in the week, conservative Trump ally Roger Stone blasted Pence, saying he was a "disloyal POS."
"If you ever had any doubt whatsoever that former Vice President Mike Pence was a duplicitous, disloyal POS, this stunning article will remove any doubt. Pence and his staff of 'political advisors' were working to undermine President Trump [and replace him with Mike Pence] from day ONE," he wrote in a message to his Telegram subscribers on Thursday. Stone—who received a formal pardon from Trump in December 2020—shared a Substack article written by Emerald Robinson, titled The Treachery of VP Mike Pence Explained.
Stone's message came after Trump initially suggested Pence should be investigated for refusing to be part of the unconstitutional plot. In that statement, the former president knocked Pence for not sending "back the vote for recertification or approval" to the states, insisting that his vice president had "the right to do so."
After Pence's remarks on Friday, Trump issued another statement.
"Just saw Mike Pence's statement on the fact that he had no right to do anything with respect to the Electoral Vote Count," the former president said on Friday evening. Trump said Pence's refusal to cave to his pressure amounted to "a great opportunity lost."
"I was right and everyone knows it," Trump insisted.
Trump's previous criticism of Pence ahead of January 6, 2021 resulted in his supporters threatening violence against the then vice president. As hundreds of pro-Trump rioters violently stormed the U.S. Capitol that day, many chanted "hang Mike Pence" while a gallows was set up outside the federal legislative building. Regardless, Pence ultimately did his constitutional duty and oversaw the formal certification of Biden's Electoral College win.
In January, Pence told Fox News that he hadn't spoke with Trump in several months, but suggested they were on good terms. He said the last time they'd spoke was "last summer," and asserted that he believes he did his "duty under the Constitution" by certifying Biden's win with Congress.
Last June, Pence described the attack on the U.S. Capitol as "a dark day."
"You know, President Trump and I have spoken many times since we left office. And I don't know if we'll ever see eye-to-eye on that day. But I will always be proud of what we accomplished for the American people over the last four years," the former vice president told the audience at a Lincoln-Reagan Dinner fundraiser sponsored by the Hillsborough County Republican Committee in Manchester, New Hampshire.
Newsweek reached out to Pence's press office for comment, but did not immediately receive a response.