North Carolina Sees Highest Number of Hospitalizations Since Coronavirus Outbreak Began As State Lifts More Restrictions
Novel coronavirus patient hospitalizations in North Carolina hit 627 on Monday, the highest it's been since the outbreak began. The state currently has at least 23,964 confirmed cases, including 754 deaths, according to the latest report Monday by the North Carolina Department of Health and Human Services (NCDHHS).
The number of hospitalizations in the state has been on a mostly increasing trend from around May 10, when hospitalizations were at 442, according to figures from the NCDHHS. On May 20, the state government said the trajectory in hospitalizations over 14 days was level.
The state recently entered the second phase of its reopening plan on May 22, which reopened more businesses including retail shops, restaurants, barbers, salons and personal care services. All of these businesses were allowed to reopen at 50 percent capacity with restrictions in place.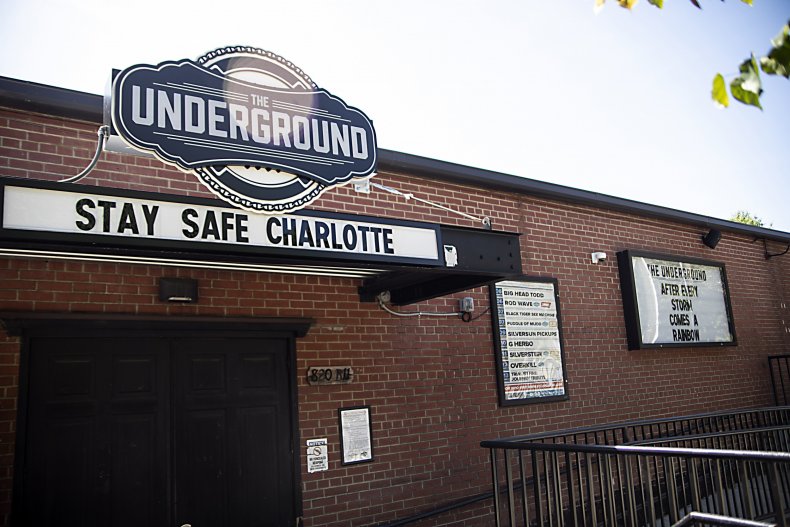 A day after North Carolina entered the second phase, the state saw its highest ever daily case count since the outbreak began, recording 1,107 cases on May 23. The daily case count dropped to 497 on May 24 before spiking again to 742 on Monday. The seven-day rolling average of daily cases has also been continually increasing since the outbreak began.
The second phase of the reopening is expected to run through to at least June 26, unless it's changed or canceled. "Although the state's overall key indicators remain stable, the continued increases in daily case counts signals a need to take a more modest step forward in Phase 2 than originally envisioned," the state government notes on its website.
"Phase 3 will likely ease even more restrictions on businesses and increase occupancy and mass gathering limits, but this is subject to the data. Social distancing, hand hygiene and use of cloth face coverings will still be recommended. Depending on state COVID-19 trends, restrictions may be lifted more slowly or some restrictions may have to be reinstated to ensure the health and safety of North Carolinians.
"If infections spike or benchmark trends begin to move in the wrong direction, the state may move to a previous phase to protect public health. The best science and data available will be used to make all decisions and continue consultation with business and industry leaders," the state government said.
The second phase of easing measures also sees the opening of large venues, arenas and stadiums as well as pools, state camps, parks and trails, with restrictions.
But bars, gyms, theaters, bowling alleys, indoor music venues, skating rinks and other similar recreational venues remain closed. Indoor gatherings are limited to 10 people, while outdoor gatherings are limited to 25 people.
Several other states in the country have seen spikes in cases following their reopenings, such as in Virginia. On Monday, Virginia reported its highest ever single-day increase in infections since the outbreak began, reporting 1,483 new cases.
A portion of Virginia entered the first stage of its reopening around mid-May, which allows retailers to operate at 50 percent capacity, while restaurants can host outdoor dining at 50 percent capacity. The first stage of the reopening of the Northern Virginia region has been delayed until at least May 29.
Texas reported its second, third and fourth highest daily spikes in cases since the outbreak began within two days of the state easing lockdown measures on May 1.
The state also saw its highest daily death toll of 50 fatalities on April 30, just a day before the state's reopening, according to figures from the Texas Department of State Health Services and Texas Health and Human Services.
The novel coronavirus, which was first reported in Wuhan, China, has infected more than 5.4 million people around the world, including over 1.6 million in the U.S. More than 346,300 have died globally, while over 2.2 million have reportedly recovered from infection, as of Tuesday, according to the latest figures from Johns Hopkins University.
The graphic below, provided by Statista, illustrates the U.S. states with the most confirmed COVID-19 cases.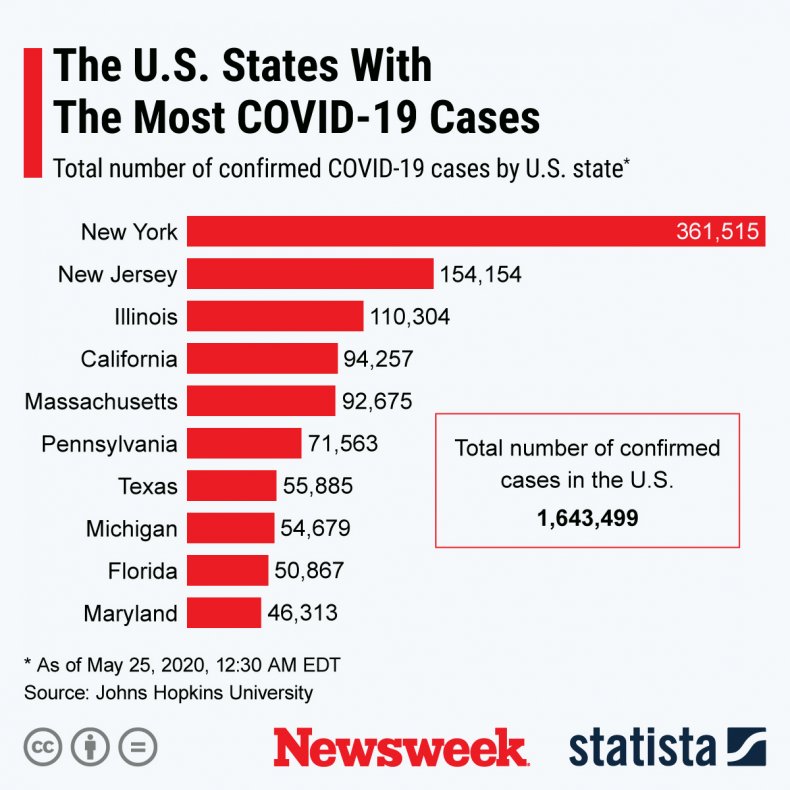 The graphic below, provided by Statista, illustrates the spread of the COVID-19 virus across the U.S.