Virginia Reports Highest One Day Increase in Coronavirus Cases After Gov. Ralph Northam Criticized For Not Wearing Mask
Virginia reported 1,483 new cases of the novel coronavirus on Monday, the state's highest daily case count since the outbreak began. The latest increase brings the state's total number of cases to 37,727, including 1,208 deaths, according to the latest report Monday from the Virginia Department of Health.
The state's previous highest ever single-day jump in cases was reached only days earlier on Thursday, a week after lockdown restrictions were starting to be lifted.
The most recent spike comes after Virginia Gov. Ralph Northam faced criticism for not wearing a mask while visiting Virginia Beach on Saturday. Images of him taking photographs with beachgoers popped up on social media.
The incident took place just a day after Northam announced the state is reviewing a mandate that would require people to wear a mask in public. Northam is expected to announce a new policy on Tuesday requiring the use of face masks for all indoor businesses.
"Be ready on Tuesday to go out and about in your business when it's essential with facial protection. That is becoming clearer as we move further into managing this virus over the long term. Face coverings are an important part of the next steps," Northam said at a press briefing on Friday.
Explaining Northam's reason for not wearing a mask during his Saturday beach visit, the governor's office told Virginia's NBC12 in a statement: "The Governor has repeatedly encouraged wearing face coverings inside or when social distancing is impossible. He was outside today and not expecting to be within six feet of anyone.
"He wanted to check beach enforcement and make sure they were following the rules, which they were largely," the statement added.
A spokesperson for Northam, Alena Yarmosky, told the Associated Press in another statement: "This is an important reminder to always have face coverings in case situations change—we are all learning how to operate in this new normal, and it's important to be prepared."
A portion of Virginia entered the first phase of its reopening plan around mid-May, which includes the easing of restrictions at retail venues. Retailers may operate at 50 percent capacity, while restaurants can host outdoor dining at 50 percent capacity.
Fitness centers can offer outdoors services, while camping grounds can also take bookings for short stays. Personal grooming services may operate with one patron per service provider.
Places of worship can host indoor services at 50 percent capacity, while drive-in services resume. Other restrictions apply, including maintaining a physical distance of six feet between attendees and encouraging them to wear face coverings at all times during their church attendance, among other measures.
The reopening of the Northern Virginia region has been delayed to at least May 29, including in the counties of Arlington, Fairfax, Loudoun, and Prince William, the cities of Alexandria, Fairfax, Falls Church, Manassas and Manassas Park, and the towns of Dumfries, Herndon, Leesburg, and Vienna.
"The Northern Virginia Region is substantially higher than the rest of the Commonwealth in percentage of positive tests for COVID-19. The Northern Virginia Region has about a 25 percent positivity rate, while the rest of the Commonwealth is closer to 10 percent. Further, in the last 24 hours, the Northern Virginia Region reported over 700 cases, while the rest of the Commonwealth reported approximately 270," the executive order issued by Northam earlier this month stated.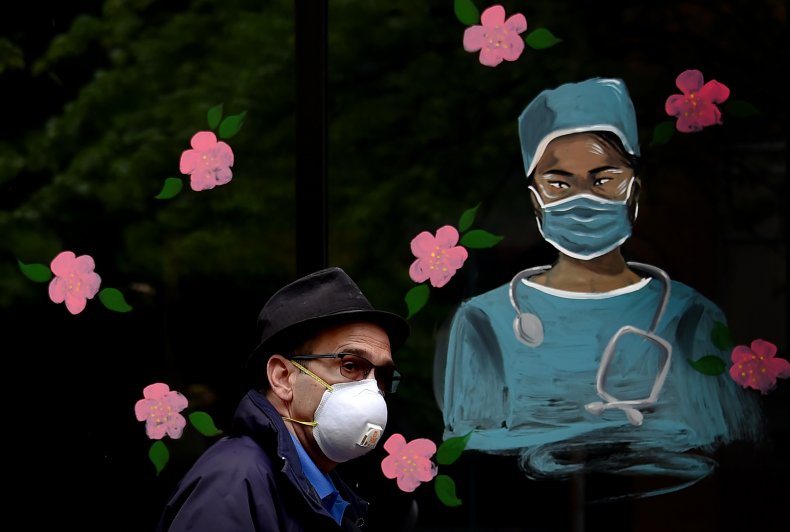 At the Friday press briefing, Northam said a decision would be made later this week on whether Richmond, Northern Virginia and Accomack County of the eastern shore of Virginia can move into phase one of the reopening plan.
The novel coronavirus, which was first reported in Wuhan, China, has infected more than 5.4 million people globally, including over 1.6 million in the U.S. More than 2.1 million people around the world have reportedly recovered from infection, while over 345,500 have died, as of Monday, according to the latest figures from Johns Hopkins University.
The graphic below, provided by Statista, illustrates the U.S. states with the most confirmed COVID-19 cases.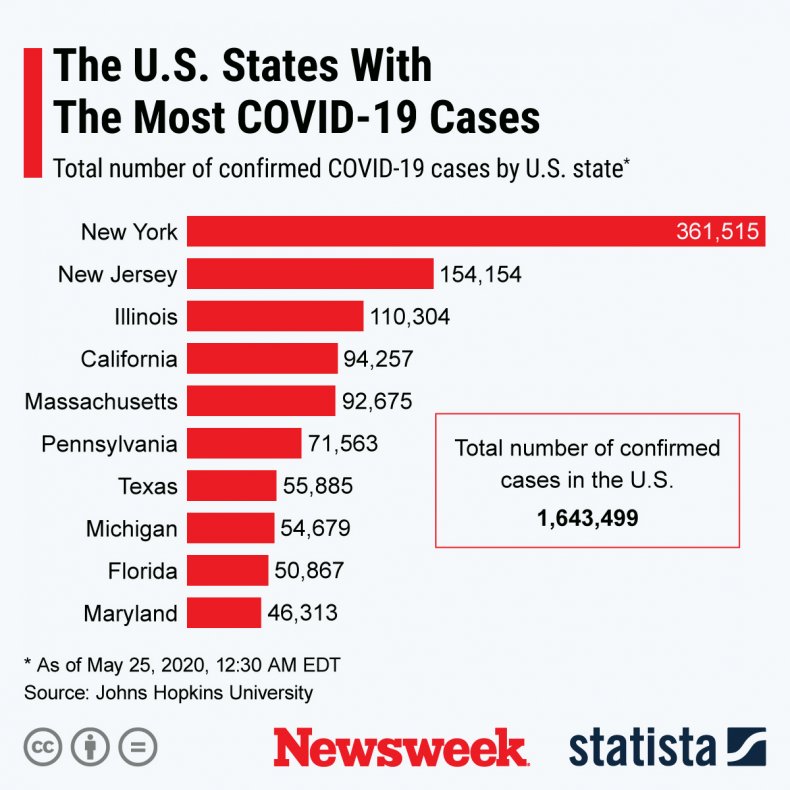 The graphic below, provided by Statista, illustrates the spread of the COVID-19 virus across the U.S.