Nurses are demanding that North Dakota issues a state-wide mask mandate, after Governor Doug Burgum said coronavirus-positive health care workers could treat COVID patients in order to ease pressure on short-staffed hospitals nearing capacity.
On Monday, the Republican Governor announced that health care workers who were coronavirus-positive but not showing symptoms could work in COVID units at licensed health care facilities, if they follow precautions outlined by the U.S. Centers for Disease Control and Prevention and the state's department of Health. Workers showing symptoms were not permitted on the units.
Officials hope the measure will relieve some of the stress on health systems amid a rise in COVID-19 hospitalizations. However, critics have said it does not address the root of the problem, suggesting precautionary measures such as a mask mandates will better protect health care systems by preventing the disease from spreading in the first place.
On Thursday, North Dakota health department data showed 91 percent of staffed beds were unavailable, in a state that is the country's worst-hit in terms of coronavirus cases per 100,000 residents. According to The New York Times COVID tracker, a total 57,378 coronavirus cases have been reported in North Dakota, amounting to 7,529 cases per 100,000 residents.
The graph below by Statista shows the pattern of rising COVID-19 hospitalisations can be seen across the U.S.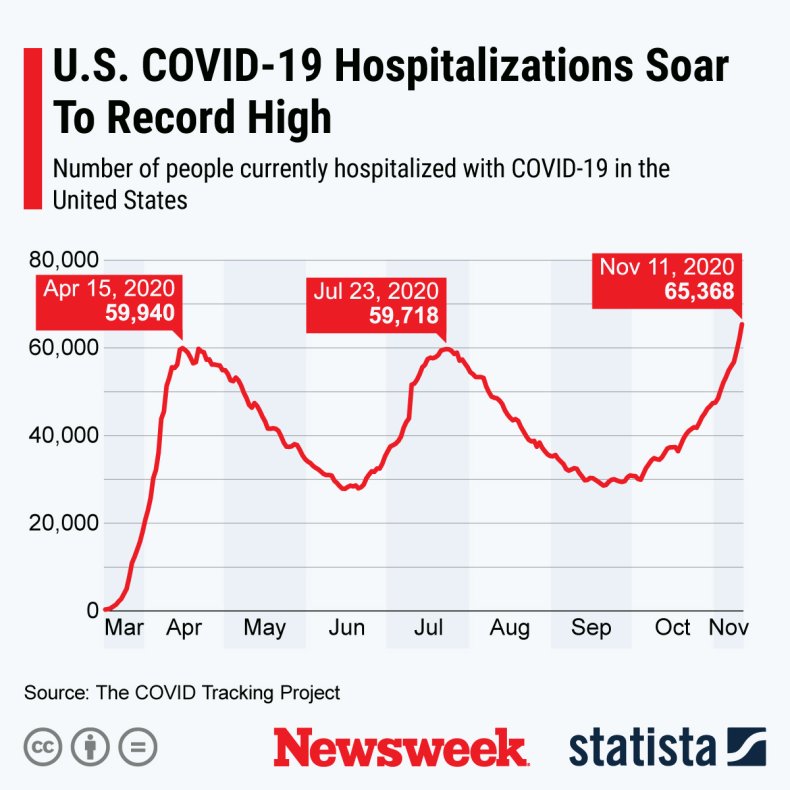 "Our hospitals are under enormous pressure now," Burgum told a press conference on Monday.
The health department recommended in a Monday news release that people try to slow the spread of the coronavirus by taking steps such as social distancing and wearing masks in public places.
However, North Dakota is one of only 15 states where masks are not required in certain circumstances at a state level, despite evidence suggesting that face coverings can help to prevent the virus from being transmitted.
On Monday, Burgum told the press conference "there's not conclusive data on statewide mask mandates."
Burgum has previously said masking "is not a magic bullet to make this virus go away," stating that more important than mandates and executive orders are "compassion, empathy, understanding and, dare I say, actually love."
On Wednesday, North Dakota Nurses Association said in a statement that it rejected the policy of letting asymptomatic coronavirus-positive nurses work as a long-term solution to staffing shortages.
It said: "NDNA recommends that all other public health measures to reduce the demand on the health care system and address staffing shortages are deployed before implementing this particular strategy. This should include effective and scientifically proven preventative measures such as mandating mask wearing in public places, maintaining physical distancing, and exercising good hand hygiene."
Tessa Johnson, the president of the North Dakota Nurses Association, told NBC News: "Nurses are saying: 'If we get positive at this point, we want to take the break. It's a welcome break. We're exhausted, we're overworked, we need the rest. So, how can I get positive and come down with this disease and I still continue going at my best?"
Sherri Miller, the North Dakota Nurses Association's executive director, told NBC News: "It's kind of a catch-22. Having the COVID-positive, asymptomatic individuals working, there's the risk of spread."
NBC reported both Johnson and Miller wanted the state to mandate masks, as this would lower the number of patients, and infected health care workers would not be needed to staff COVID units.
Cheryl Peterson, American Nurses Association vice president of nursing programs, told Newsweek: "It is very concerning that this far into the pandemic, we have failed as a country to slow the spread of the coronavirus and are still seeing crisis standards of care being regularly implemented."
She said: "Before considering a similar approach to North Dakota, state governments should use all other public health measures to significantly reduce the demand on health care facilities and health care workers. This should include the effective and scientifically proven preventative measures that prevent the spread of COVID-19—mandating mask wearing in public places, practicing physical distancing, and exercising good hand hygiene."
Newsweek has contacted the North Dakota Office of the Governor for comment.
This article has been updated with comment from Cheryl Peterson.
About the writer
Kashmira Gander is Deputy Science Editor at Newsweek. Her interests include health, gender, LGBTQIA+ issues, human rights, subcultures, music, and lifestyle. Her work has also been published in the The Independent, The Independent on Sunday, The i Newspaper, the London Evening Standard and International Business Times UK.