North Korea 'Bans Skinny Jeans, Piercings' in 'War on Capitalistic Lifestyle'
North Korea and Generation Z seem to have one common opinion: skinny jeans have got to go.
The secretive Asian nation has reportedly instituted a ban on Western fashion trends including mullets, certain body piercings, and skinny jeans in a self-proclaimed "war on capitalism."
According to the South Korean outlet Yonhap News Agency, a North Korean outlet published an appeal to citizens to do away with capitalistic culture.
"History teaches us a crucial lesson that a country can become vulnerable and eventually collapse like a damp wall regardless of its economic and defense power if we do not hold on to our own lifestyle," Rodong Sinmun, an organ of the North's ruling Worker's Party, reportedly wrote on May 13.
"We must be wary of even the slightest sign of the capitalistic lifestyle and fight to get rid of them."
Rodong Sinmun also reportedly claimed that other socialist countries have failed because they did not adequately stop "the invasion of capitalistic lifestyle[s]."
According to a subsequent report in the U.K.'s Daily Express, Kim Jong Un has since moved to ban "decadent" Western fashion staples, such as the mullet haircut, shirts featuring slogans, lip and nose piercings, and the popular millennial staple skinny jeans.
New laws now outline acceptable "socialist" hairdos. Of the 15 permitted styles, spiked and dyed hair are strictly prohibited.
The outlet also reported that any haircuts other than those allowed are considered "anti-socialist behavior" that fall under the "yellow wind of capitalism."
Newsweek was unable to independently corroborate the Daily Express' report.
Oddly enough, Kim's supposed move to do away with skinny jeans correlates with the digital debate between Gen Z and millennials about fashionable jeans. While Gen Z prefers a looser, baggier pant, millennials remain loyal to the skinny jean.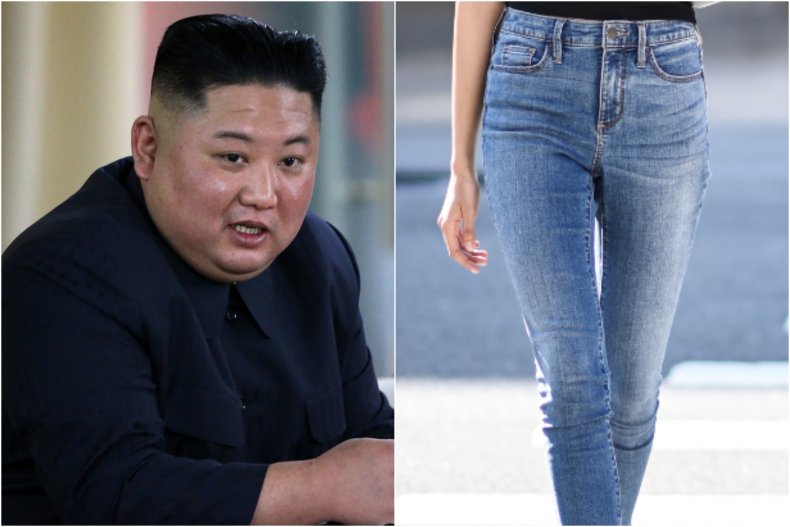 The new anti-Western fashion regulations appear to also coincide with Kim Jong Un's recent vow to fight an "uncompromising struggle" against anti-socialism amid economic sanctions from the United States, as reported by state media on Thursday.
"The struggle against the anti-socialist and non-socialist practices is a do-or-die battle to defend the working-class purity and lifeline of our style of socialism," Kim reportedly said.
"[Participants must] firmly maintain the principle of producing everything needed for economic construction and people's living with our own raw and other materials."
In addition to the takedown on Western trends, Kim has reportedly banned Chinese-made medicines at major hospitals in the country's capital. This action was allegedly taken following the death of a top-ranking government official.