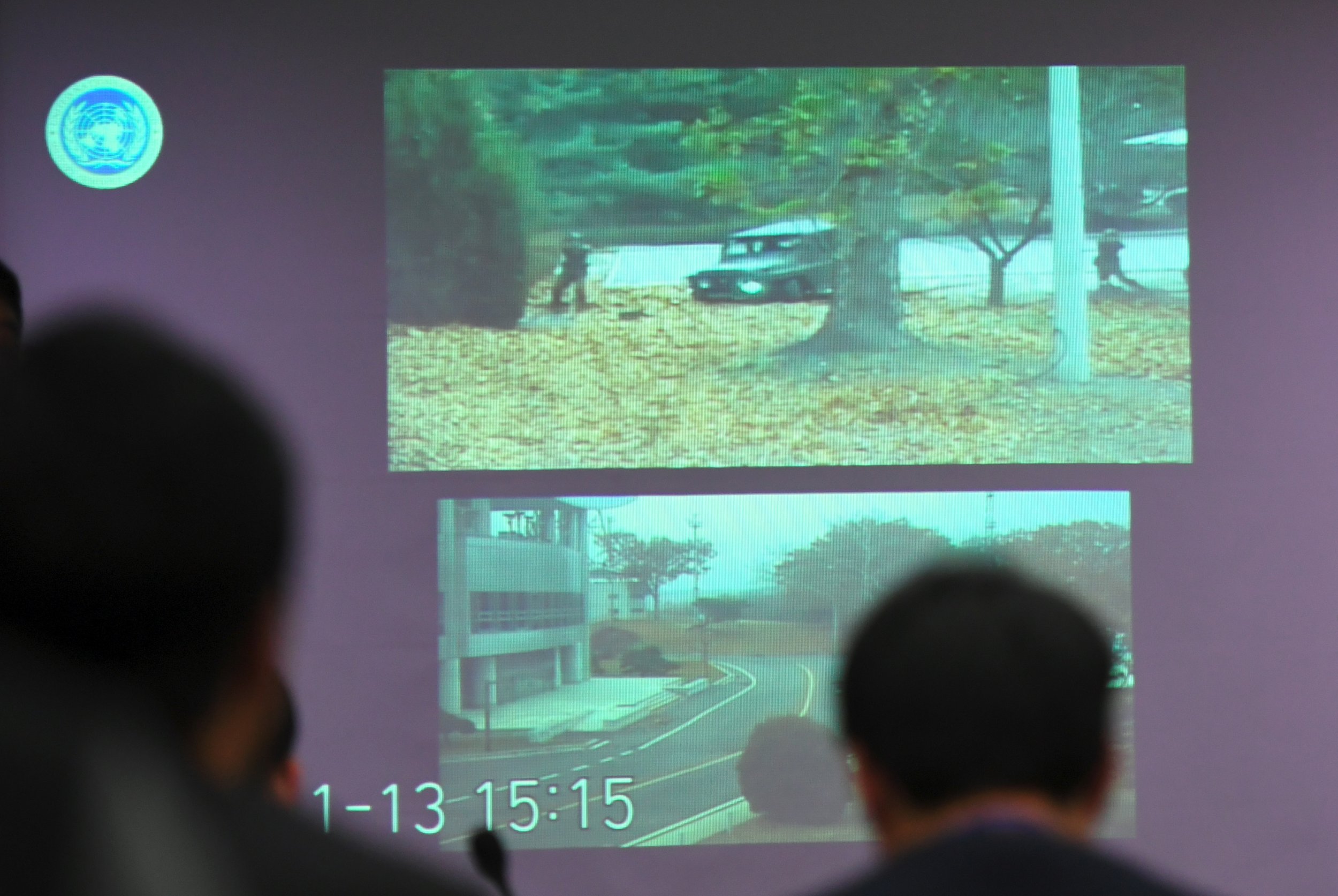 A North Korean soldier whose dramatic defection made global headlines last year decided to escape only after crashing through a checkpoint following a drinking session. Fearing execution as punishment, he decided the only remaining option was to flee south.
Oh Chong Song escaped the hermit state in November 2017 by dashing across the heavily guarded Joint Security Area amid a hail of bullets. Despite serious injuries, the 25-year-old survived his audacious breakout.
In his first media interview since the escape—with Japan's Sankei Shimbun newspaper—the soldier revealed his motivation and shed light on the reality of daily life living under the North's autocratic regime.
Oh—whose identity has been confirmed by Japanese intelligence, according to Shimbun—is the son of a major general in the North Korean military and described himself as "upper class," Agence France-Presse reported.
Oh admitted he had exploited his fortunate position, CNN reported. In his previous role as a police officer, he recalled, he would "turn a blind eye to people who broke the law but gave me money." In a chilling summation of North Korean inequality, he explained, "If you don't have money or power, you die in a ditch."
But despite his privileged position, Oh said he and "probably 80 percent" of his generation have no loyalty to 35-year-old leader Kim Jong Un. "Inside the North, people, and especially the younger generation, are indifferent to each other, politics and their leaders, and there is no sense of loyalty," he explained.
Kim is the third leader of the dynasty, having been preceded by his father, Kim Jong Il, and grandfather, Kim Il Sung. For Oh, "it is natural to have no interest nor loyalty since the hereditary system is taken as a given, regardless of its inability to feed people."
Oh elaborated on his daring escape, video footage of which was beamed around the world after he crawled bleeding across the border, pursued by armed comrades. He drove through multiple checkpoints to reach the Panmunjom truce village at the border with South Korea. Defections here are highly unusual, and the popular tourist destination is the only place where Southern and Northern troops come face to face with one another.
After his jeep crashed, Oh sprinted out of the vehicle to cross the final yards, even as at least five bullets tore through his body. He made it across the border and hid in a pile of leaves. South Korean soldiers were later able to drag him to safety and rush him to hospital.
Oh admitted his defection was not the culmination of a grand plan to achieve freedom. Rather, it all began by mistake.
He told Shimbun that after some unspecified trouble with friends—he has denied reports in South Korean media that he was wanted for murder—he began drinking. Later, while driving back to his post, Oh said, he accidentally broke through a checkpoint. Fearing execution as punishment, he decided to keep going.
"I feared I could be executed if I went back, so I crossed the border," he told the newspaper, noting he now had no regrets about his unplanned defection.
Relations between North and South have improved greatly in the past year. At the time of Oh's escape, Pyongyang was facing off with Seoul and Washington over continued ballistic missile and nuclear tests. President Donald Trump was threatening Kim with "fire and fury" if the North Korean leader continued his belligerent foreign policy while the world looked on nervously.
"I really felt that we were on the verge of war with the U.S.," Oh said. "The tension [that I felt] trickled down from the top."
Thawing ties will bring changes to the Demilitarized Zone, the scene of Oh's escape. Both sides have been demolishing observation posts and are planning to disarm troops in Panmunjom.
Oh said he felt no bitterness toward the North Korean guards whose bullets left his body "like a broken jar," as a South Korean surgeon described it to CNN last year.
"If they didn't shoot, they would face heavy punishment," he explained. "So if I was them, I would have done the same."
This article has been updated with more background on Oh.