U.S. Military Says Second North Korea Missile Launch Under Biden Shows 'Threat' to Region
North Korea has conducted its second missile launch in several days, according to reports issued by the South Korean and Japanese armed forces, marking the first series of likely tests conducted with U.S. President Joe Biden in office.
The Japan Coast Guard first issued a series of navigation warnings early Thursday local time for the "East China Sea and North Pacific, Japan" region, with the latest noting that an "object potentially ballistic missile launched from North Korea possibly landed on Japan Sea."
"To further information and to keep clear when recognizing falling object," the warning instructed. "Vessels are requested to report information to Japan Coast Guard."
The Japanese Defense Ministry then confirmed the incident.
"A potential ballistic missile was launched from North Korea," the statement said. "It is estimated that it will not fly into Japan's territory and will not fall into Japan's Exclusive Economic Zone (EEZ)."
Tokyo has been critical of such displays, and condemned the act.
"The recent repeated launches of ballistic missiles by North Korea are a serious issue for the entire international community, including Japan," the statement added. "In order to protect the lives and property of the people, we will continue to do our utmost to collect and analyze information and to monitor alerts."
Japanese Prime Minister Suga Yoshihide also disparaged the event during a press conference. The launch was described by the government as that of two short-range ballistic missiles that flew 420 kilometers (261 miles) and 430 kilometers (267 miles), respectively, out at sea, as reported by The Japan Times.
The South Korean National Defense Ministry estimated the missiles to have flown a distance of about 450 kilometers (280 miles) at a maximum altitude of around 60 kilometers (37 miles), according to a statement sent to Newsweek. The suspected launch times are 7:06 a.m. and 7:25 a.m. local time, both from an east coast location in Hamju County, South Hamgyong province.
South Korea's military is "is closely monitoring related activities in preparation of possible additional North Korean launches and is thoroughly strengthening total military preparedness," accord to the statement. The National Security Council also held an emergency meeting shortly after the launch.
U.S. Indo-Pacific Command also acknowledged the launches.
"We are aware of North Korean missile launches this morning into the East Sea," INDOPACOM Public Affairs Officer Navy Captain Mike Kafka said in a statement to Newsweek.
He emphasized Washington's alliances with Seoul and Tokyo in the face of the latest move by Pyongyang.
"We will continue to monitor the situation and are consulting closely with our allies and partners," Kafka added. "This activity highlights the threat that North
Korea's illicit weapons program poses to its neighbors and the international community. The U.S. commitment to the defense of the Republic of Korea and Japan remains ironclad."
The development comes one day after news emerged that North Korea had conducted a previously undisclosed weapons launch over the weekend. A military source in South Korea told Newsweek that the event involved two cruise missiles believed to have been fired from the vicinity of Onchon, South Pyongan province early Sunday morning local time.
A senior U.S. administration official described the platform involved at the time as a "short-range system" and said such testing falling "in the category of normal military activity" and "on the low end" of potential North Korean military options which includes medium and intercontinental ballistic missiles as well as nuclear warheads.
The weapons used Sunday were not assessed to be in violation of U.N. Security Council resolutions that impose restrictions on North Korea's vast arsenal and Biden suggested the act was not a provocation based on information relayed to him by the Pentagon. He called it "business as usual."
Ballistic missiles, however, do fall under the U.N. Security Council ban.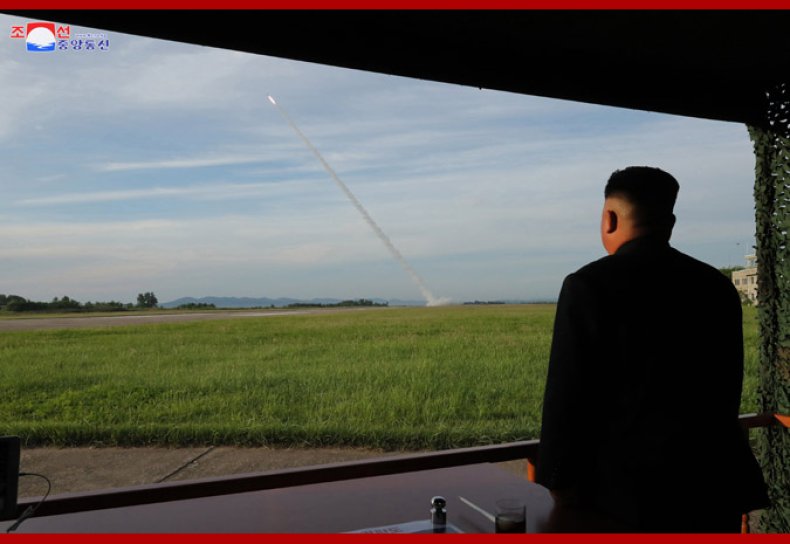 The launches come as the Biden administration was expected to soon complete a review of U.S. policy toward North Korea. Under the previous administration, led by former President Donald Trump, the U.S. initially raised tensions but soon engaged in an unprecedented denuclearization for peace and sanctions relief process that ultimately unraveled over the past two years.
The Biden administration has emphasized it was consulting allies such as Japan and South Korea, along with various experts on formulation an approach to Cold War-era foe North Korea.
North Korea's neighbor and own traditional ally, China, also weighed in on Sunday's launches.
"China has been following developments on the Korean Peninsula, and calls on all parties concerned to work together to maintain the situation of detente, and promote political settlement of the Peninsular issue through dialogue and consultation," Chinese Foreign Ministry spokesperson Hua Chunying told reporters earlier Wednesday.
Both Beijing and Washington officials have noted that the issue of North Korea came up during their first direct talks since the Biden administration came to office last week.
Kim recently exchanged verbal messages through senior diplomats with Chinese President Xi Jinping in a bid to bolster their ties against "hostile forces" at a time when both are feuding with the Biden administration. The exchange appeared to take place between the two recent North Korean launches.
Kim also made note during his message to Xi to fill the Chinese leader in on the results of the 8th Party Congress held in January. Among the key decisions made by Kim at the high-profile gathering was to "adopt an adroit strategy toward the U.S. and steadily expand solidarity with the anti-imperialist, independent forces."
He referred to the U.S. during remarks at the time as "the principal enemy of our state."
While Kim has since courted Xi, the ruler's officials have so far refused the Biden administration's calls, with North Korean First Vice-Minister Choe Son Hui saying last Friday that Pyongyang would continue to boycott communications until "the U.S. rolls back its hostile policy towards the DPRK," the acronym for the country's official name, the Democratic People's Republic of Korea.
Wednesday's test would mark the first ballistic missile test conducted by North Korea in just under a year. Kim has yet to resume testing intercontinental ballistic missiles (ICBMs) or nuclear weapons since a self-imposed moratorium announced at the onset of peace talks in 2018, though the ruler has since rescinded this vow amid lack of progress and has shown off new ICBMs and submarine-launched ballistic missiles (SLBMs) at military parades in recent months.
At the headquarters of the NATO Western military alliance in Brussels earlier Wednesday, U.S. Secretary of State Antony Blinken said that North Korea, along with Iran, was "pursuing nuclear and missile capabilities that threaten U.S. allies and partners."
With North Korea now resuming its tests, Jean Lee, director of the Korea Program at the Wilson Center in Washington, said the country "appears to be returning to a familiar pattern of using provocations to raise tensions and garner attention."
"We had been bracing for North Korean provocations early in the Biden presidency, in keeping with past patterns," she said in comments sent to Newsweek. "Until now, North Korea had been exhibiting restraint, perhaps waiting for the Biden Administration's Korea policy."
"However, it has become very clear over the past week that Washington will take a very different approach under Joe Biden," she added. "Rather than summit diplomacy, I think we can expect sanctions diplomacy."
Indications that the administration is looking to further squeezes the North Korean economy mean the militarized state is expected to ramp up its testing, Lee argued. She also took note of the upcoming summit between Biden and Suga in Washington, and pointed out how Kim previously tested his first ICBM ahead of Trump's U.S.-Japan Summit with then-Japanese Prime Minister Abe Shinzo in 2017.
"North Korea uses weapons tests strategically," Lee said, "both to make needed improvements to its weapons and to garner global attention."
This article and its headline have been updated to include new information and commentary provided U.S. Indo-Pacific Command.