North Korea to Talk to Biden On Own Terms: 'Power for Power, Goodwill for Goodwill'
North Korea has confirmed it has been dodging the calls of President Joe Biden's administration, dismissing the overture as pointless unless the new U.S. leadership planned a substantive policy shift.
"The U.S. has tried to contact us since mid-February through several routes including New York," North Korean First Vice Minister Choe Son Hui said in a statement carried Wednesday by the official Korean Central News Agency. "It recently requested to contact us by sending e-mails and telephone messages via various routes. Even in the evening before the joint military drill it sent a message imploring us to respond to its request through a third country."
The information appeared to match up roughly with what a senior Biden administration official told Newsweek earlier this week, as did Pyongyang's refusal to reply.
"But we don't think there is need to respond to the U.S. delaying-time trick again," Choe said. "We have already declared our stand that no DPRK-U.S. contact and dialogue of any kind can be possible unless the U.S. rolls back its hostile policy towards the DPRK. Therefore, we will disregard such an attempt of the U.S. in the future, too."
Choe said the only way dialogue could be established would be after the establishment of "an atmosphere for both parties to exchange words on an equal basis." Rather, she said the new Biden "regime" has been espousing the "lunatic theory of 'threat from north Korea' and groundless rhetoric about 'complete denuclearization.'"
She warned opportunities such as top-level bilateral summits in Singapore and Hanoi made available to former President Donald Trump as he unsuccessfully pursued peace with Pyongyang would not be offered to Biden, and that sustaining a tough line toward the nuclear-armed nation would only beget bad results.
"We will readily react to the sanctions leverage which the U.S. is so much fond of," Choe said. "It had better contemplate what we can do in the face of its continued hostile policy toward us. We already clarified that we will counter the U.S. on the principle of power for power and goodwill for goodwill."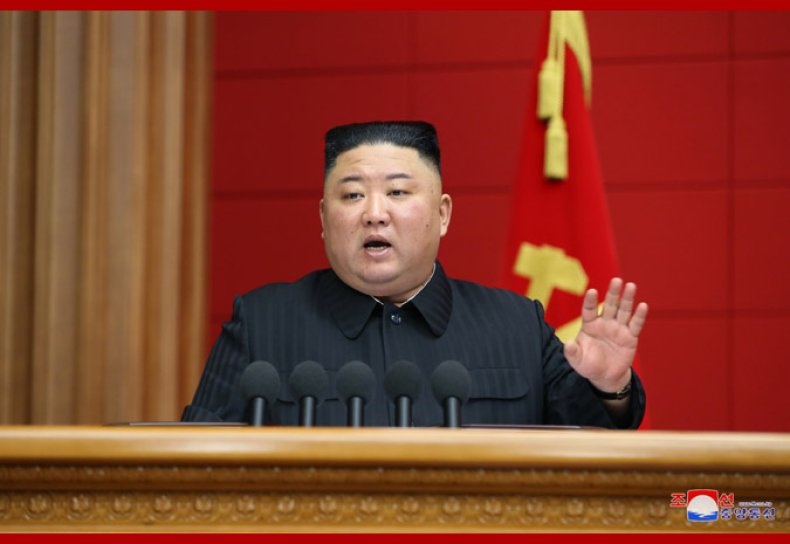 Choe's sharp remarks follow those issued two days earlier by another senior North Korean official, Kim Yo Jong, vice department director of the ruling Korean Workers' Party Central Committee and sister to Supreme Leader Kim Jong Un. Her statement largely targeted rival South Korea for its decision to hold joint drills with its ally, the U.S., but also contained a note of caution for Washington.
"We take this opportunity to warn the new U.S. administration trying hard to give off powder smell in our land," Kim Yo Jong said. "If it wants to sleep in peace for coming four years, it had better refrain from causing a stink at its first step."
She warned such measures on Seoul's part would only further alienate the two Koreas, which saw a historic warming of ties in 2018.
"Whatever and however the south Korean authorities may do in the future under their master's instructions," Kim Yo Jong added, "those warm spring days three years ago, which they desire so much, won't come easily again."
The messages come as Secretary of State Antony Blinken and Defense Secretary Lloyd Austin wrap up a tour of both South Korea and Japan, two U.S. allies in the region with differing views of North Korea. Seoul has expressed an eager hope for reconciliation, while Tokyo has expressed caution.
The Biden administration has said it would take into account the opinions of all allies and partners, along with experts, as it conducts a review of the U.S. approach towards North Korea.
"We are conducting a thorough interagency review of U.S. policy towards North Korea, and that includes evaluation of all available options to address the increasing threat posed by North Korea and its neighbors and the broader international community," State Department spokesperson Jalina Porter told reporters earlier Wednesday. "And we're continuing to lead a structured and detailed policy process that has integrated a diverse set of voices from throughout the government, and also incorporated inputs from think tanks as well as outside experts."
The words echoed those of Blinken during his travel to Japan, who confirmed the administration was still "in the midst of a policy review on North Korean" he expected to be completed "in the weeks ahead." Among the major issues on the table are North Korea's missile programs, widespread allegations of human rights abuses and the issue of Japanese citizens said to have been abducted by North Korea in the late 1970s and early 1980s.
Choe, however, remained unimpressed.
"The U.S. State secretary during his visit to Japan spoke loudly of various pressurizing means and some stubborn means, claiming they are all now under reexamination, only to seriously rattle us," she said in her commentary. "We are curious what senseless rhetoric he would make in south Korea to take the world by surprise."
"If the U.S. wants so much to sit even once with us face to face," she added, "it has to drop its bad habit and adopt a proper stand from the beginning."