One of North Korea's most senior officials has lashed out at South Korea and its ally, the United States, over their decision to conduct joint military exercises despite concerns that a three-year-old peace process was on the verge of unraveling.
Ruling Korean Workers' Party Central Committee Vice Department Director Kim Yo Jong, sister of Supreme Leader Kim Jong Un, issued the statement Monday on the eve of Secretary of State Antony Blinken and Defense Secretary Lloyd Austin's planned trip to the Korean Peninsula to hold their meetings with their South Korean counterparts since President Joe Biden took office in January.
The two sides have just begun to wrap up their nine-day drills, which were conducted in a downsized, virtual format rather than through field maneuvers. But Kim Yo Jong said North Korea was not impressed by efforts to mitigate what she called "a serious challenge."
"It seems as if they are capable of dealing with the consequences to be entailed by the war drill started despite our entirely just demand and all the fellow countrymen's unanimous protest and condemnation," she said in a statement carried by the official Korean Central News Agency.
She recalled how the influential Central Committee placed the onus on South Korea to restore the failing, fragile inter-Korean ties, tortured by more than seven decades of animosity since their 1950s war. She said it was made clear that Seoul would have to do more to curb its "hysteria for war drills" often conducted in March and August.
"The south Korean authorities, accustomed to paying lip-service, are busy billing the drill as 'annual' and 'defensive one' and a computer-based simulation drill, as in the past," Kim Yo Jong said. "They say that the drill involves no actual maneuvers with its scale and contents drastically 'reduced.' Perhaps, they are expecting 'flexible judgment' and 'understanding' from us but it is, indeed, ridiculous, impudent and stupid."
The insults continued.
"It seems that they were all born with stupidity and have become the dumb and deaf bereft of judgment as they always sit on the fence," she continued. "Anyhow, we cannot but take note of this."
And she later turned her sights toward the Biden administration, which has announced a review of former President Donald Trump's attempted rapprochement with the notoriously elusive, nuclear-armed state. Washington and Pyongyang held unprecedented diplomatic interactions, including their first top-level talks and positive exchanges, but ultimately failed to reach any denuclearization-for-peace agreement and ties once again grew cold.
"We take this opportunity to warn the new U.S. administration trying hard to give off powder smell in our land," Kim Yo Jong said. "If it wants to sleep in peace for coming four years, it had better refrain from causing a stink at its first step."
"Whatever and however the south Korean authorities may do in the future under their master's instructions," she added, "those warm spring days three years ago, which they desire so much, won't come easily again.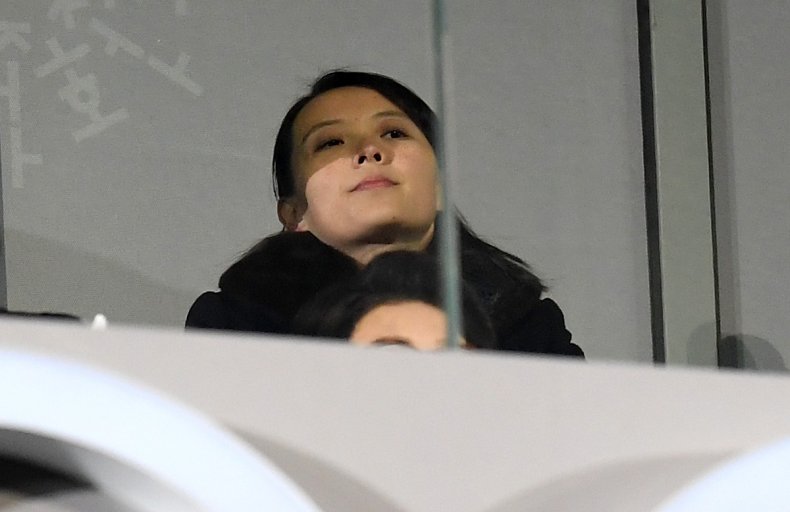 A senior Biden administration official told Newsweek earlier Monday that Washington and Pyongyang have not had any direct dialogue for more than a year, including this stretch of time when Trump was in office. Shortly after taking office, Biden attempted to open a channel with North Korea's permanent mission to the United Nations, but to no avail.
"To reduce the risks of escalation, we reached out to the North Korean government through several channels starting in mid-February, including in New York," the official said.
"To date, we have not received any response from Pyongyang," the official added. "This follows over a year without active dialogue with North Korea, despite multiple attempts by the U.S. to engage."
Biden has been critical of the manner in which the Trump administration approached North Korea, especially his high-profile interactions with Kim Jong Un, who took power after his father's death in late 2011. At the same time, his officials have said they remain open to diplomacy coordinated with allies and partners.
The senior administration official told Newsweek that the "evaluation of all available options to address the increasing threat posed by North Korea to its neighbors and the broader international community."
"We are continuing to lead a structured and detailed policy process that has integrated a diverse set of voices from throughout the government and incorporated inputs from think tanks and outside experts," the official added, noting that the new administration is consulting with "many former government officials involved in North Korea policy, including several from the previous administration."
The countries the U.S. is working with include Japan and South Korea in order "to solicit input and explore fresh approaches," the official said. "We have listened carefully to their ideas, including through trilateral consultations."
While South Korean President Moon Jae-in's administration has exhibited enthusiasm for mending historically hostile ties with North Korea, Japanese leadership has been far more skeptical and has called for the issue of a number of Japanese citizens suspected of being kidnapped by the North Korean government to be addressed.
In a first, the issue of North Korea was brought up in the format of the Quadrilateral Security Dialogue, an informal yet increasingly tight Asia-focused coalition including Australia, India, Japan and the U.S.
"We reaffirm our commitment to the complete denuclearization of North Korea in accordance with United Nations Security Council resolutions, and also confirm the necessity of immediate resolution of the issue of Japanese abductees," the joint statement published Saturday said.
Moon has said separately he would continue to support efforts to reconcile the two Koreas, and has expressed hope that the Biden administration would assist in this endeavor.
But Kim Yo Jong warned in her remarks on Monday that "War drill and hostility can never go with dialogue and cooperation." She threatened to disband the Committee for the Peaceful Reunification of the Country due to a perceived lack of cross-border goodwill, dissolve the Kumgangsan International Tourism Bureau and other surviving cooperation organizations and potentially even scrapping the military agreement signed between the armed forces commanded by Seoul and Pyongyang in 2018.
"Every action has its own result," Kim Yo Jong warned, taking note of Moon's limited time left in power as his second term will end next year. "One thing is clear. The south Korean authorities with just some months left in their term of office may find themselves in extreme uneasiness, for the grave challenging act."