Kim Jong Un May Be Back at Resort As North Korea Claims to Keep Coronavirus Away
North Korean supreme leader Kim Jong Un may have returned to a resort compound on the country's east coast amid another public absence amid the novel coronavirus pandemic, according to a new report.
Satellite imagery published by Planet Labs showed that two leisure boats—one about 180 feet long and another roughly 200 feet in length—switched places in front of Kim's Wonsan compound in recent days, indicating a potential upcoming visit by the ruler, whose past trips there coincided with such movements, according to an analysis published Thursday by South Korea-based monitor NK News.
Observers noted train and boat activity here during Kim's three-week absence last month, leading some experts and Seoul officials to believe he was avoiding COVID-19 at the oceanside villa.
Since reappearing at the opening ceremony of the Sunchon Phosphatic Fertilizer Factory on May 1, Kim has again left the public eye. North Korea claims zero infections of the new coronavirus disease, but experts and aid organizations have expressed skepticism toward these claims because information coming from the country is carefully controlled.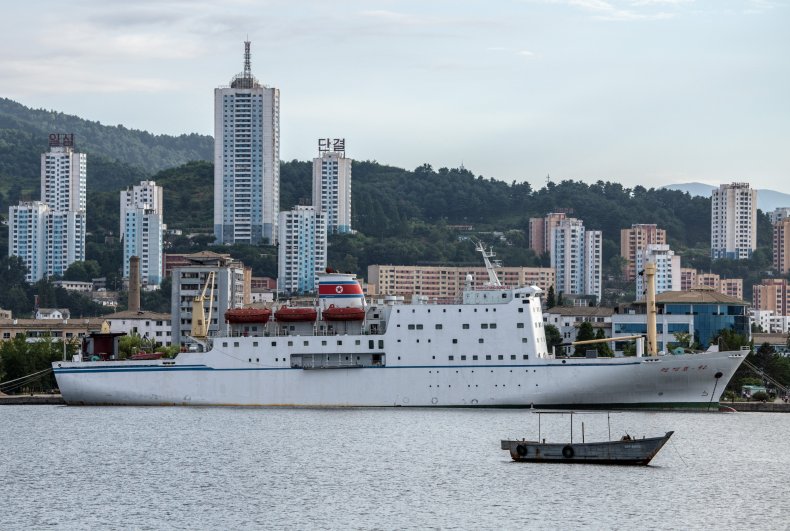 North Korea, however, has signaled success in its ability to prevent the illness from spreading.
One video released Thursday in the state-run media outlet DPRK Today showed crowds of masked customers—including some foreigners—at shopping centers in Pyongyang. Another showed citizens commuting, eating out and strolling through the park in an apparent sign that the global crisis had not paralyzed the capital as it did others around the world.
However, with international cases of COVID-19 topping 4 million, North Korea reported it is maintaining some strict measures to prevent a domestic outbreak.
Ruling Korean Workers' Party newspaper Rodong Sinmun reported Saturday that "emergency anti-epidemic headquarters at all levels are intensifying the control and guidance on quarantine, lock-down, inspection and sterilization to thoroughly check the inroads of COVID-19 while making exact demands for preventing any factors that may lead to other infectious diseases at the turn of the seasons."
Officials of the country's single-party government were "intensifying the hygienic information service, medical observation, education and control to let the working people and residents keep a high sense of awareness and consistency in action with utmost care," according to the article.
The North Korean Health Ministry also was said to be stockpiling medical supplies and pushing to develop a vaccine for COVID-19. Kim also expressed his goodwill to Russia and China in messages to their leaders over the weekend in the battle against the new coronavirus.
South Korea-based outlet Daily NK cited a China-based source Thursday saying that North Korea had resumed exporting mineral resources to China as regional COVID-19 fears waned, a violation of strict U.N. Security Council sanctions against Pyongyang.
That same day, the U.S. State Department, Treasury Department and Coast Guard issued "a global advisory to alert the maritime industry, and those active in the energy and metals sectors to deceptive shipping practices used to evade sanctions," focusing on North Korea, as well as Iran and Syria.