North Korea's Kim Jong Un Believes In Trump's 'Positive Way of Thinking,' Calls President's Letter 'Great'
North Korea's strongman leader Kim Jong Un has hailed Donald Trump's "positive way of thinking," calling the most recent letter he received from the president "great."
Kim and Trump have sent several letters back and forth as talks continue between North Korean and American negotiators regarding the Asian nation's nuclear disarmament. Although the two leaders formerly attacked one another with fiery rhetoric back in 2017, since they met face-to-face in Singapore last June, their tone toward one another has changed dramatically.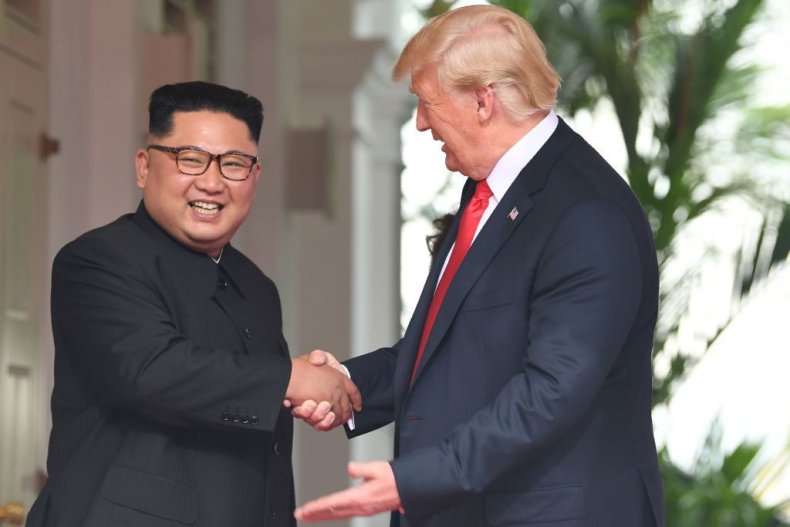 "Kim Jong Un said that we will believe in President Trump's positive way of thinking, wait with patience and in good faith and, together with the U.S., advance step by step toward the goal to be reached by the two countries," the Korean Central News Agency (KCNA) reported, according to Reuters. Kim also expressed "large satisfaction" after receiving a "great" letter from his counterpart in Washington.
Following their Singapore summit, Trump has insisted that North Korea was moving towards denuclearization, but experts have questioned whether Kim is actually willing to fully dismantle his arsenal and nuclear program. Trump also famously said in September that he and Kim had fallen "in love." The two leaders are now planning a second summit to again meet in person, currently scheduled for the end of February.
Trump slammed skeptics of his North Korea denuclearization efforts in a series of Thursday morning Twitter posts, suggesting that criticism was "fake news."
"The Fake News Media loves saying 'so little happened at my first summit with Kim Jong Un.' Wrong! After 40 years of doing nothing with North Korea but being taken to the cleaners, & with a major war ready to start, in a short 15 months, relationships built, hostages & remains … back home where they belong, no more Rockets or M's being fired over Japan or anywhere else and, most importantly, no Nuclear Testing [sic]," he wrote, adding that he expects another "good meeting soon."
On Wednesday, Secretary of State Mike Pompeo also hailed the progress the U.S. has made toward disarmament in North Korea. Speaking to Fox News, he suggested the administration aims to achieve major disarmament by the end of the president's current term.
"Chairman Kim continues to assure the President of the United States he is intent on denuclearization and I hope that at the end of February, when the two leaders get together, we can make a substantial step along the way," Pompeo said.
However, satellite footage shows that North Korea continues to run its main nuclear complex, according to Associated Press. As a result, many experts have questioned whether Kim is serious about his stated willingness to disarm.