North Korea's Kim Jong Un 'Will Die' If He Attacks America, U.S. Senator Says
A Republican senator who once helped take down a strongman opposed to the U.S. has said the life of North Korean leader Kim Jong Un is in danger, asserting that the young head of state's days would be numbered if he doesn't stop launching missiles and testing nuclear weapons.
Republican Senator Steve Russell of Oklahoma said Wednesday that Kim would have a "date with death" if he kept improving his country's military prowess in defiance of U.S.-led international pressure. A retired Army lieutenant colonel, Russell channeled his extensive military experience across the Arctic, Europe, the Middle East and the Pacific in making the claim that Kim would never survive if he chose to use the full extent of his missile power.
Related: North Korea says U.S. is the target for its nuclear weapons but does not want to kill civilians
"If he wants to push this envelope and miscalculate—where he strikes the United States, it's territories or the territories or national interests of our allies or ourselves, he will die. It is that simple," Russell said, according to The Hill.
"Dictators have one thing in common—they want to stay alive; if Kim Jong Un wants to stay alive, he needs to stop. If he doesn't, I can assure you based upon all of the activity that I have been involved with on Armed Services and also in foreign affairs—he is playing a dangerous game where he will not only be annihilated but other people will suffer greatly," he added.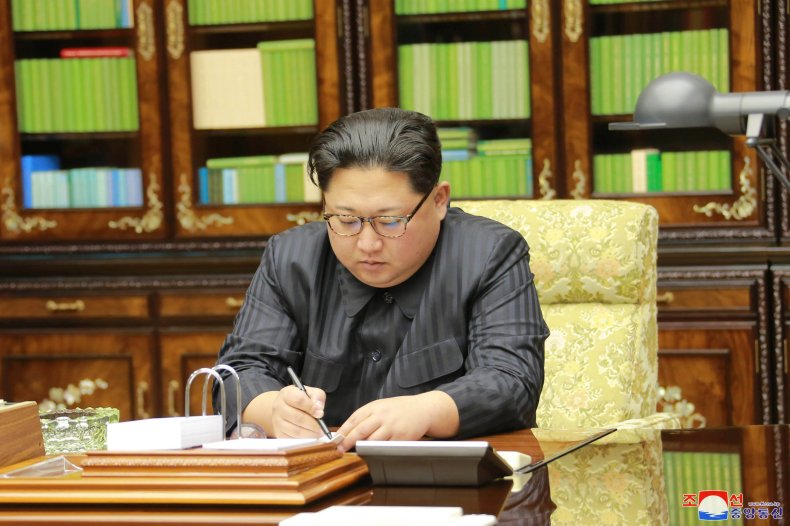 Russell's statement came a day after North Korea launched its Hwasong-15 intercontinental ballistic missile (ICBM) for the first time, reaching an altitude of 2,800 miles and a distance of 600 miles. The successful test, along with two Hwasong-14 ICBM tests in July, a hydrogen bomb test in September and routine shorter-range missile testing, exhibited Kim's sweeping military advances this year.
Despite President Donald Trump vowing not to let North Korea develop an ICBM or test another nuclear weapon, the Republican leader has so far been unable to rein in his rival, and regular diplomatic talks have not yet been established between the Cold War foes. As a war of words between Trump, Kim and their respective administrations grew tenser, however, the likelihood of one of them launching an attack has raised fears around the world of a conflict that could quickly go nuclear.
In defense of its expanding nuclear and ballistic arsenal, North Korea has said its stockpile was necessary to deter a U.S. invasion intended to overthrow Kim, who took power after his father's death in 2011. Since Soviet-backed North Korea fought alongside China against South Korean forces backed by the U.S. and the U.N. in the early 1950s, North Korea has been deeply critical of U.S. foreign policy, including its pursuit of regime change in countries such as Afghanistan and Iraq, where Russell himself played a major role in capturing former Iraqi President Saddam Hussein.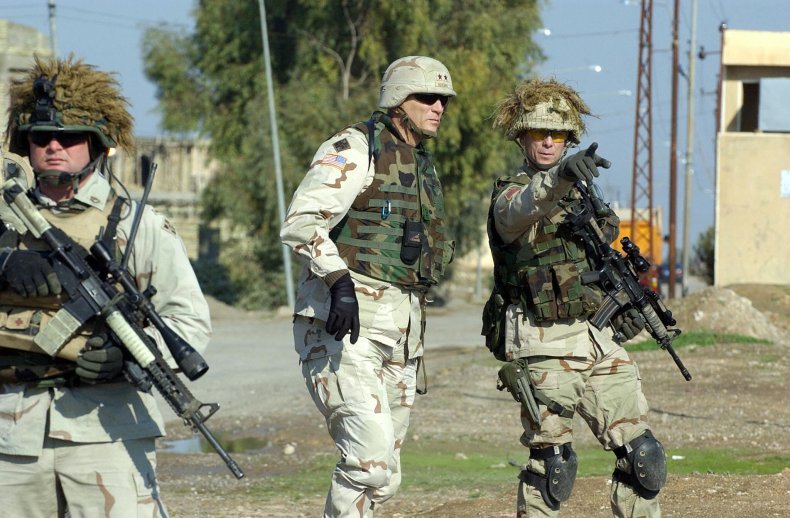 Russell was quoted in Newsweek in 2003 and has appeared in television specials and written a memoir about his experiences hunting for Hussein, who was later tried and executed by the U.S.-installed government for crimes against humanity in Iraq. Unlike North Korea, Iraq did not possess the ability to attack the U.S. Although the Pentagon alleged it was in possession of weapons of mass destruction, none were ever found.
Russell, who served active duty in Kosovo, Afghanistan and Iraq, has had some dates with death of his own off the battlefield. Born the youngest of three in Oklahoma City in 1963, he nearly died at birth because he had an opposite blood type of his mother. In 1970, he survived a deadly tornado that struck his grandparents' home in Lake Eufaula, Oklahoma. Later that same year, he suffered a severe ruptured appendix that nearly took his life.