Kim Jong Un's Goal: 'Enhance Nuclear Preemptive and Retaliatory Strike Capabilities'
North Korea announced it is looking to develop new and advanced nuclear weapons of miniature and massive sizes, and wants to upgrade its nuclear arsenal.
But it also said it wants better ties with the outside world, and particularly with its rival neighbor, South Korea.
Ruling Korean Workers' Party newspaper Rodong Sinmun released on Friday—early Saturday Pyongyang time—a report detailing the results of the fourth meeting of the 8th Party Congress, a consequential gathering at which Supreme Leader Kim Jong Un was set to chart his country's next five-year plan on all affairs, including military, security, the economy and foreign relations.
While Kim had previously called on prioritizing defense capabilities, the latest report presented the first comprehensive look at the ruler's nuclear plans after five years marked by military and diplomatic achievements, but also economic crisis especially pronounced over the past year.
On Friday, Kim emphasized the need to further develop his nation's weapons of mass destruction arsenal.
"By further enhancing nuclear technology, miniaturization of nuclear weapons and further development of tactical weapons, the development of tactical nuclear weapons that can be applied as different means depending on the purpose of the operational mission and the target of attack in modern warfare and the production of super-large nuclear warheads are continuously pushed forward," the report read.
The established goal was "to enhance the nuclear preemptive and retaliatory strike capabilities," improving accuracy as to be able to hit targets up to 15,000 kilometers away.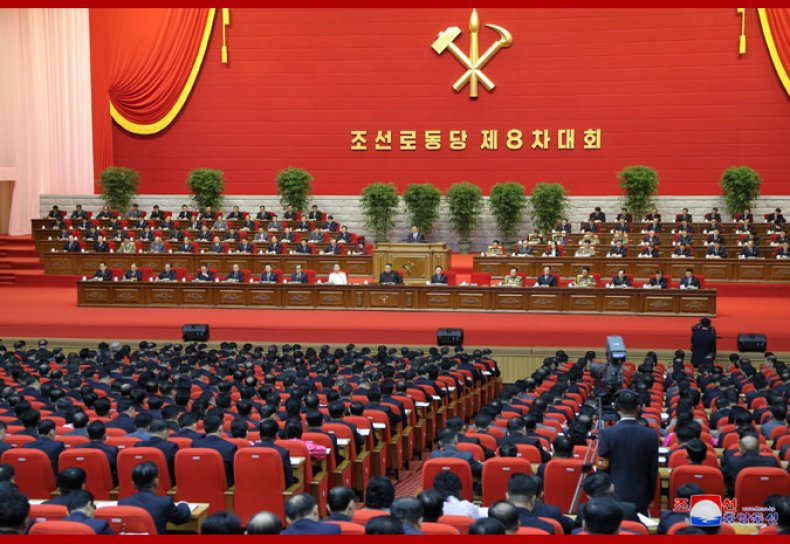 North Korea has conducted six nuclear tests since 2006, four of which were overseen by the youngest, third-generation heir to the Kim dynasty. He also saw three milestone intercontinental ballistic missile (ICBM) launches in 2017 before announcing a self-imposed moratorium on such launches the following year.
The ruler has since revoked this halt and, while he has yet to conduct such a test, Fridays' report indicated he sought solid-fuel ICBMs and nuclear submarines.
Kim spoke of diplomacy as well as defense, declaring "the overall direction and policy stand of our Party to expand and develop foreign relations."
After roughly five years of isolation since succeeding his late father in late 2011, Kim has stepped up his foreign meetings since early 2018, holding four meetings with China, three with South Korea, two with the United States and one with Russia, along with an impromptu joint meeting with President Donald Trump and South Korean President Moon Jae-in June 2019.
While's Kim unprecedented interactions with the U.S. and his record number of sit-downs with South Korea brought hope for potential peace on the Korean Peninsula, the process has unraveled over the past two years. The U.S. and Trump blame each other for the breakdown, and President-elect Joe Biden has disparaged Kim as a "thug," issuing statements that emphasize working with Washington's regional allies, rather than Pyongyang directly.
Bitter over missed opportunities with Washington, Kim has directed his cadre to actively oppose their historic foe's interests, less than two weeks before Biden was set to take office, and to look elsewhere for support.
"Our foreign political activities should be focused and redirected on subduing the U.S., our biggest enemy and main obstacle to our innovated development," the report said "No matter who is in power in the U.S., the true nature of the U.S. and its fundamental policies towards North Korea never change."
Instead, Kim said Pyongyang should look toward "anti-imperialist, independent" powers."
As for South Korea, the report blamed Seoul for not living up to 2018 agreements, while at the same time emphasizing that the state of their long-tortured ties did not equate to the tensions prior to their three summits that year.
Kim called on South Korea to do more and distance itself from its traditional ally, the U.S.
South Korean officials have been closely monitoring the events of the 8th Party Congress, looking for signs as to how North Korea planned to navigate their stalled peace process.
"We will continue to keep an eye on the trends of the 8th Party Congress being hosted in North Korea," a South Korean Foreign Ministry official told Newsweek on Thursday. "I hope that this North Korean party congress will serve as an opportunity to contribute to peace on the Korean Peninsula and the development of inter-Korean relations."