Kim Jong Un Says There Are No Covid Cases in North Korea, Hopes Pyongyang Can 'Hold Hands Again' with Seoul
North Korea's leader Kim Jong Un has claimed there were no coronavirus cases in his country and appeared to offer a hand of friendship to Seoul during celebrations marking the 75th anniversary of the founding of the secretive state's ruling Workers' Party.
The event was broadcast on North Korean state television KCTV on Saturday evening but according to South Korean authorities, the proceedings had been filmed before dawn, Reuters reported.
Western analysts were keeping a keen eye on proceedings for signs of new long-range ballistic missiles and after his speech, a parade of military hardware was on display.
Sporting a grey suit and tie, Kim waved to the crowd, accepted flowers from children and spoke to the masses, which included troops with rifles who had marched in columns through Kim Il Sung Square, in Pyongyang.
Looking emotional, he thanked the military for working hard to respond to natural disasters and preventing a coronavirus outbreak.
"Thank you for being healthy—zero COVID-19—thank you so much," he said according to NK News. Pyongyang's claims that there have been no domestic cases of coronavirus have been questioned by South Korea and the United States.
Regarding ties with Seoul, Kim said, according to the South Korean news agency Yonhap that he wished his southern neighbors "a speedy recovery" from the coronavirus and that he prays they can "hold hands again."
Although he did not mention the United States, Kim vowed to continue to strengthen his country's self-defense.
"We will continue to strengthen war deterrence for self-defense to deter, control and manage all dangerous attempts and threatening acts, including ever-growing nuclear threats, from hostile forces," he said, according to Yonhap.
Footage of the military parade started at the end of his speech in which hardware was on display, including new main battle tanks (MBTs), KN-25 launchers and new air defense radars, according to Ankit Panda, Stanton senior fellow from the Nuclear Policy Program at Carnegie Endowment for International Peace.
"The parade demonstrates that the qualitative nature of the North Korean nuclear threat continues to grow and evolve," Panda told Newsweek, "but in strategic terms, we're largely where we were in 2017. "North Korea can continue to deliver a nuclear weapon to the U.S. homeland and we're no closer to limiting their ability to do so. Denuclearization remains distant."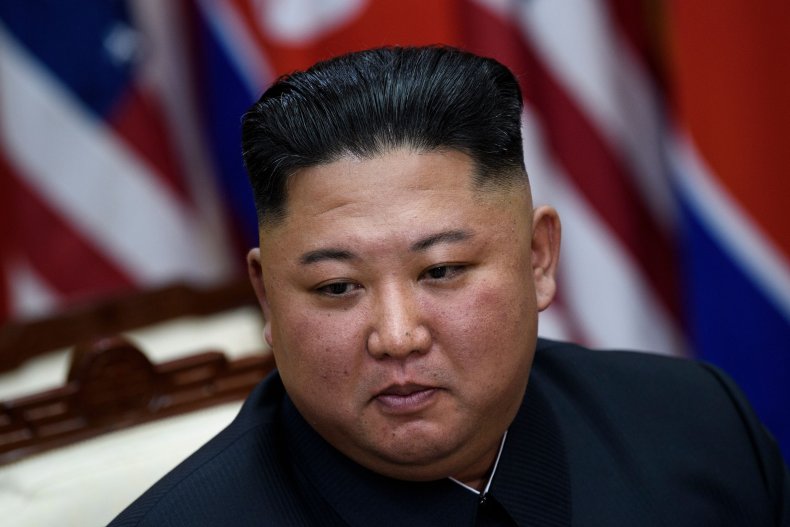 The last time North Korea broadcast a military parade live on television was in 2017 when it showed off a number of large ICBMs, which were again paraded in February 2018.
"It is an impressively large gathering during a global pandemic, suggesting North Korean authorities are concerned more with political history and national morale than with preventing a COVID-19 superspreader event," Leif-Eric Easley, from Ewha Womans University in Seoul, told CNBC.
Holding such an event before dawn is unusual, with Kim Young-jun of the Korea National Defense University saying that the move was intended "to make it harder for the outside world to learn details of its military assets."
"Instead of the blaze of publicity, North Korea also seems to be trying to manage the situation ahead of the U.S. elections," he told Yonhap.
There has not been much progress in negotiations between Washington and Pyongyang over North Korea's nuclear program, although Kim did offer his best wishes to President Donald Trump after he and the first lady, Melania Trump, were diagnosed with the coronavirus.