Man Shows Off North Korean Money He Smuggled Out in His Sock
A man has shared online a North Korean note, featuring former leader Kim Il Sung, which he smuggled out the country in his sock.
The traveler, named as John from New Zealand, shared a snap of the framed currency to Reddit's Interesting as F**k forum on Sunday, under username u/Hos_In_Chi_Minh, aka John, where it amassed more than 70,000 upvotes.
"I traded this with a local bus driver and hid it in my socks on my way out," the photo was captioned, showing a smiling Il Sung on a 5000 won note, which is worth roughly $5.
The Democratic People's Republic of Korea (DPRK) is one of the most secretive states in the world, presided over by Kim Jong Un since 2012. His father, Kim Jong Il, ruled from 1993-2011 and his father, Kim Il Sung, led from 1948-1994.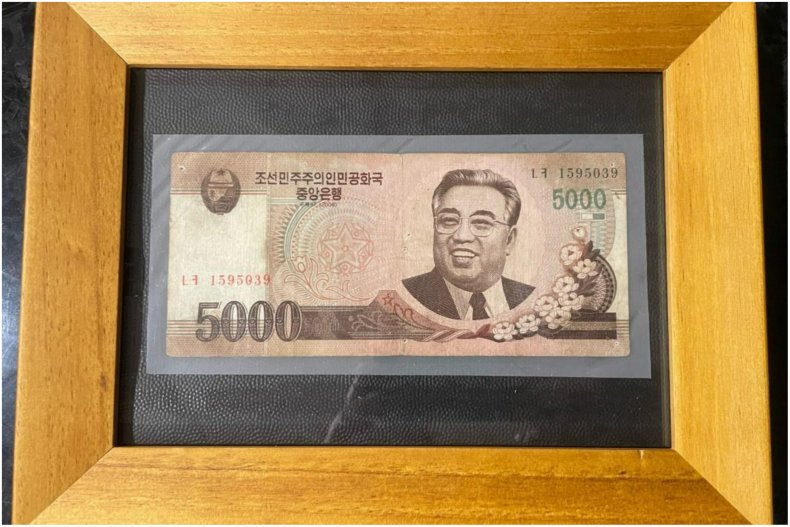 Its communist regime is the subject of numerous global sanctions, primarily aimed at the DPRK's nuclear ambitions.
For more than a dozen years both economic and financial sanctions have been imposed by the U.N., the U.S., and other countries, which ban "the trade of weapons and military equipment, freeze the assets of people involved in the nuclear program, and restrict scientific cooperation," according to the Council of Foreign Relations (CFR.)
"North Korea's leadership, under successive Kims, considers nuclear weapons the sole means to guarantee its survival," CFR added.
Ordinary citizens are prohibited from leaving the state and entry to the country is strictly controlled and monitored.
The U.S. Department of State updated its travel advisory to North Korea recently, warning: "Do not travel to North Korea due to the continuing serious risk of arrest and long-term detention of U.S. nationals. Exercise increased caution to North Korea due to the critical threat of wrongful detention."
Speaking to Newsweek, John described his trip to North Korea, which took place a few years ago, and how he got the note out of the country.
He said he had obtained the note from a bus driver while on an organized tour that included a trip to a shop.
"The trade was done in relative secret, I was the first back on the tour bus. I didn't go into the store, instead I tried playing hacky-sack with the soldiers outside.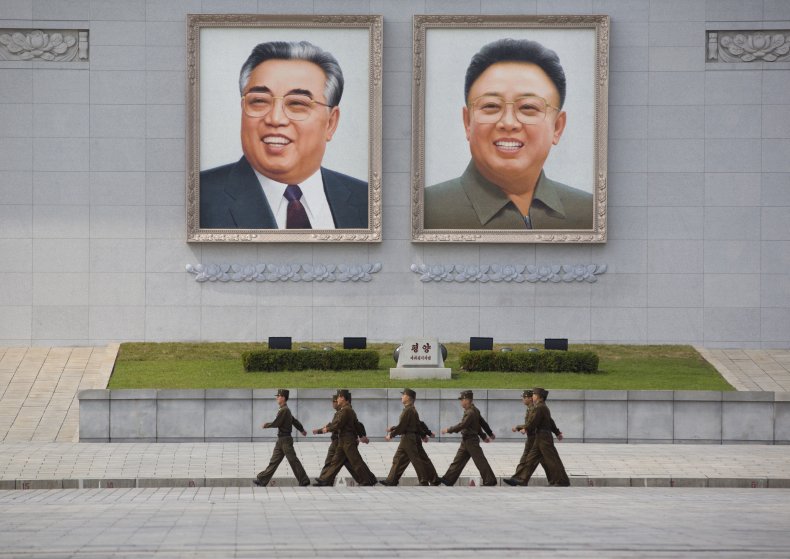 "The guide wasn't sure if this would be allowed but the soldiers were excited and happy to have me join in. When I got back on the bus, it was just myself and the driver. I asked him if he would be willing to trade a bank note, which had the leader's face on it, for 10 of my notes of the same value.
"The tourists are given different money to spend, this was the only one on my trip that had the leader's face on it and my guide had previously said these notes were no longer in circulation or accessible to tourists or the public. He also said that these notes were not to be taken outside of the country."
The note is significant as it was released in 2009 as part of a complete overhaul of the country's currency, which saw new designs issued.
The only portrait that remained on the notes was of Kim Il Sung on the 5,000 won bill, but this was changed in 2014, when the note was redesigned to show his official birthplace, Mangyongdae, the BBC reported.
John continued: "I understand that DPRK money in general is meant to stay within the country but I believe they are fairly relaxed on this. They might not have been so relaxed with this note, which is why I opted to keep it in my sock. The driver was happy to multiply the value of his money by 10 and he said he could just register it as tips, so no danger on his part.
"I am not sure as to why you cannot remove money from the country, or if the punishment would be significant. I don't think it sits in the same category as Otto stealing the poster. He stayed at our hotel a few weeks prior to my visit and we were regularly reminded as to what happened but looking back, I would probably not take the note if given the opportunity to redo."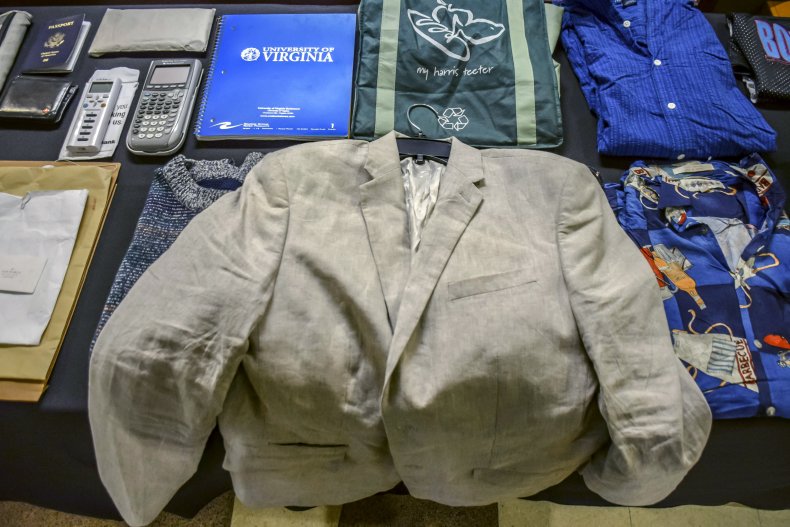 "It might be construed as disrespectful, and you should make every effort to adhere to rules set out by any country you are visiting."
The "Otto" he refers to is Otto Warmbier, an American student, who was sentenced to 15 years' hard labor amid claims he stole a propaganda sign from a hotel.
In March 2016, Warmbier, from Cincinnati, Ohio, went on trial where his sentence was handed down.
It's thought that shortly after this the economics student from the University of Virginia slipped into a coma.
After 15 months he was medically evacuated to the U.S., where it was ascertained he'd suffered severe brain damage. A few days after his arrival, he passed away on June 19 2017, aged 22.
Young Pioneer Tours, which Warmbier traveled with, said while taking money out of North Korea isn't illegal: "Technically it is not permitted to take North Korean currency out of the country."
In June legislation named after the student, the Otto Warmbier North Korea Censorship and Surveillance Act, passed by the Senate after being introduced in 2021.
U.S. Senators Rob Portman, Sherrod Brown and Chris Coons explained the legislation provides $10 million annually to "counter North Korea's repressive censorship and surveillance state, while also encouraging sanctions on those who enable this repressive information environment both in and outside of North Korea."
Brown said: "Otto Warmbier's treatment by North Korean authorities that ended in his death remains a powerful reminder of the brutality of Kim Jong Un's regime."
Commenting on the Reddit post, D0ctorwh010 said: "You risked it all for a souvenir."
Yasai101 wrote: "No clue why anyone would risk their lives just visiting these countries let alone something like this."
Rab_Legend added: "So f*****g stupid, a guy died because he was accused of stealing a poster."