North Korea Hydrogen Bomb Test: What We Know So Far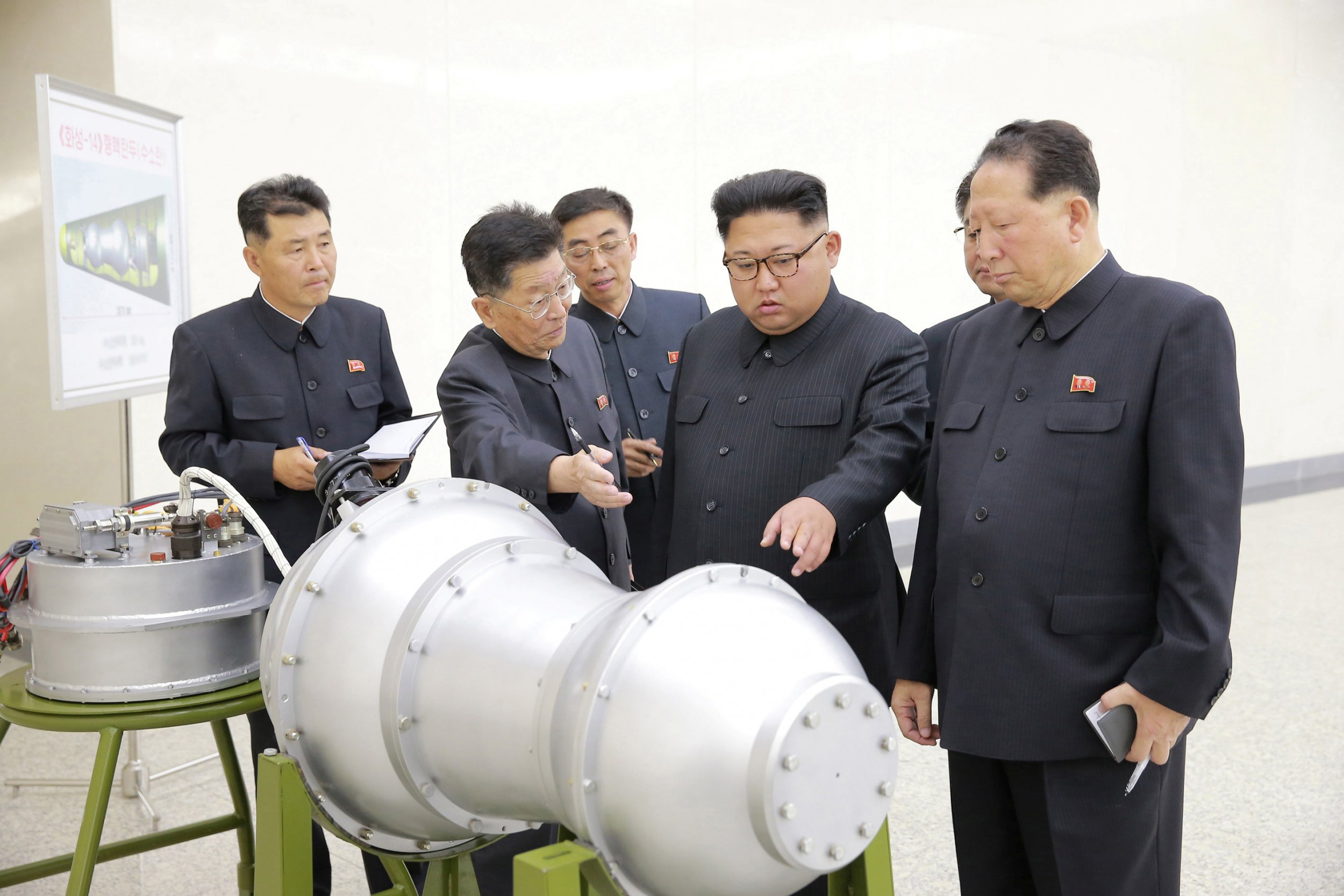 North Korea claimed to have tested a hydrogen bomb to fit to an intercontinental ballistic missile (ICBM). It would be the hermit state's first nuclear test in a year and its sixth since it began testing nukes in 2006.
The pariah state made the announcement Sunday after South Korean authorities detected an artificial earthquake close to a nuclear test site in its northern neighbor. Seoul's meteorological administration estimated that the test was six times more powerful than North Korea's last nuclear test in September 2016.
Here's what we know so far.
What happened?
South Korea's Joint Chiefs of Staff (JCS) said the country had detected a 5.7 magnitude artificial earthquake close to the Punggye-ri nuclear test site in the north of the country, where Pyongyang has conducted nuclear tests in the past. The "artificial earthquake" was "presumed" to be a result of North Korea's sixth nuclear test, the JCS said, according to Yonhap News Agency.
The U.S. Geological Survey reported a 6.3 magnitude explosion near the Punggye-ri site but said it was unable to determine whether it was the result of a nuclear test. The USGS also reported a secondary 4.1 magnitude event, which it said was possibly a "structural collapse" associated with the larger event.
What has North Korea said?
North Korea's Nuclear Weapons Institute issued a statement, confirming that a hydrogen bomb designed to be loaded on to ICBMs had been tested with "perfect success."
"The perfect success in the test of the H-bomb for ICBM clearly proved that…production technology of nuclear weapons of the DPRK has been put on a high level to adjust its destructive power in consideration of the targets and purposes," said the statement.
North Korea's state news agency KCNA also reported that the country's supreme leader, Kim Jong Un, had visited nuclear scientists and "watched an H-bomb be loaded into new ICBM." KCNA also released a photograph of Kim purportedly inspecting the hydrogen bomb.
How does this compare to past tests by North Korea?
If confirmed, this would be the sixth nuclear test North Korea has executed in total and the largest overall; other, smaller nuclear tests came in October 2006, May 2009, February 2013, January 2016 and September 2016.
North Korea has regularly carried out tests of ICBMs with the stated aim of reaching the U.S. territory of Guam and, eventually, the U.S. mainland. Pyongyang fired a missile that flew over northern Japan on Monday, resulting in citizens being told to seek refuge in shelters. But experts have generally been skeptical of North Korea's ability to miniaturize a nuclear warhead, so that it could be loaded onto an ICBM and theoretically used to attack the mainland of the United States.
Read more: Russia worries about the Korean Peninsula being on the "brink of a large-scale conflict"
The weapon North Korea claims to have tested on Sunday, a hydrogen bomb, is more powerful than an atomic bomb. A South Korean lawmaker told Yonhap that a provisional report showed that the sixth nuclear test had a yield of up to 100 kilotons, four to five times stronger than the atomic bomb dropped by U.S. forces on Nagasaki in August 1945. The claim has not yet been confirmed, though an independent seismology organization in Norway also estimated the blast had a yield of around 120 kilotons.
What's the reaction been?
South Korean President Moon Jae-in convened emergency security council talks following the earthquake and Seoul's head of national security, Chung Eui-yong, spoke with U.S. counterpart H. R. McMaster in a 20-minute telephone conversation, according to the South Korean presidential office.
The foreign ministry of China, which has long been seen as North Korea's main ally, issued a statement saying that it "resolutely opposes" and "strongly condemns" the nuclear test. Japan's Foreign Minister Taro Kono said that the test, if confirmed, would represent an "unforgivable" violation of sanctions and requested cooperation from the United States in adopting a new U.N. Security Council resolution against Pyongyang.
What is the U.S. going to do?
Besides McMaster's reported phone call, the U.S. government has not yet responded to the earthquake and nuclear test. U.S. President Donald Trump has intensified rhetoric against Kim and his regime in recent weeks, tweeting on Wednesday that "talking is not the answer" to the standoff between the two countries. Some top White House officials contradicted this stance, including Defense Secretary Jim Mattis, who said the U.S. had not run out of diplomatic options.