North Korea Rebel Group Trying to Overthrow Kim Jong Un Says 'Visas' to 'Liberated Nation' Selling Fast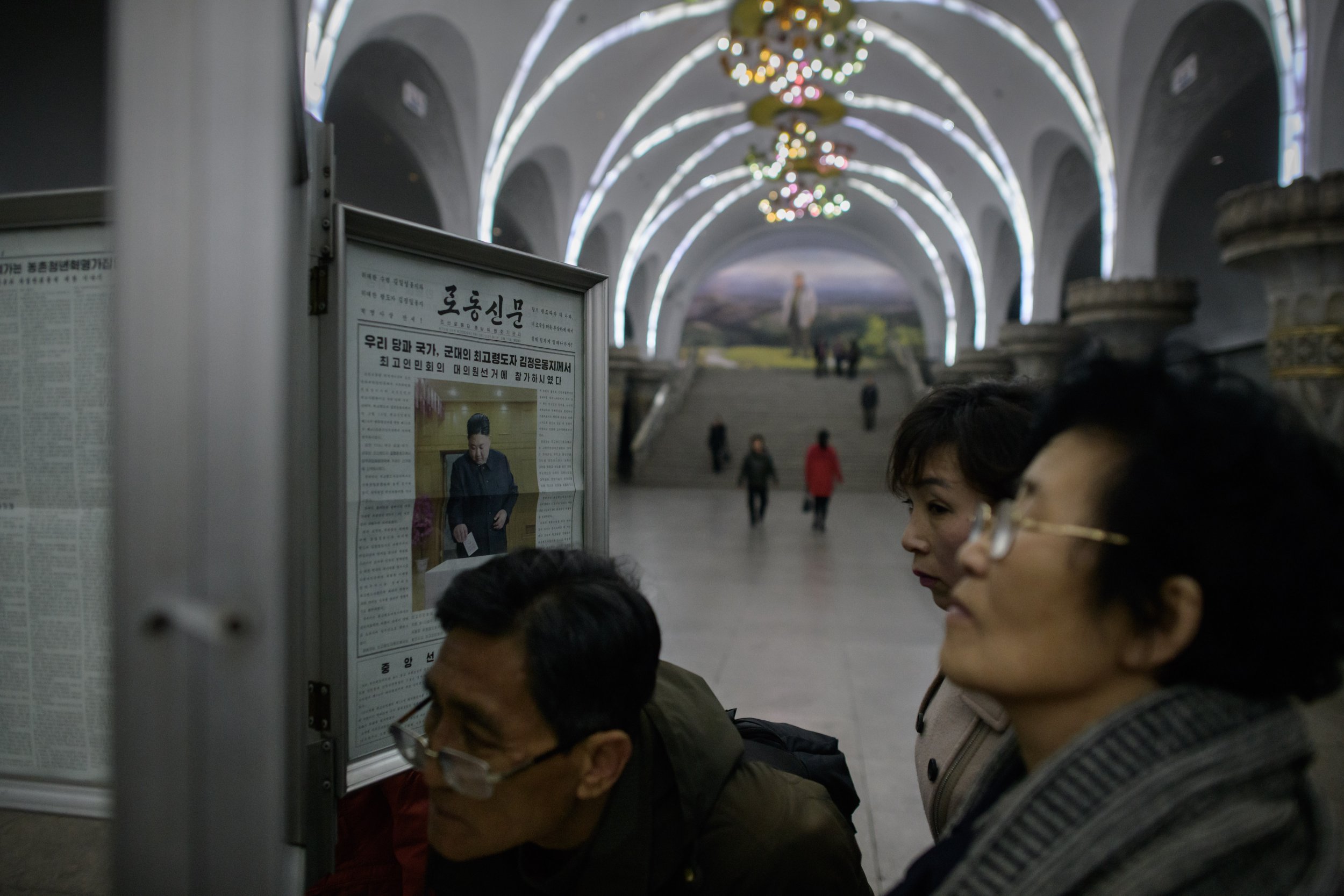 A self-proclaimed North Korean rebel group has called on supporters to slow down their orders of "visas" intended to be honored after the overthrow of the ruling Kim dynasty.
The group, formerly known as Cheollima Civil Defense and now calling itself Free Joseon ["Free Korea"], announced last week the "limited issuance of 200,000 anonymous blockchain visas to visit Free Joseon upon liberation." On Sunday, the site informed visitors that it was "experiencing unforeseen heavy traffic on servers hosting the G-Visa registration and will delay by 12 hours to 9 a.m. KST, 8 p.m. EDT in order to give the staff time to deploy additional infrastructure."
"G-Visas are not a speculative token," the group wrote. "If you are not concerned with having a lower numbered G-Visa please delay acquiring one until tomorrow. Being among the very first 200,000 visitors to our liberated nation is already historic. These first few will have permanent proof of their initial faith and support of our revolution.
"We are grateful for your overwhelming support," it added. "It will be a bright day when you can stand on soil of Free Joseon knowing you through the G-Visa in your passport you helped make us free."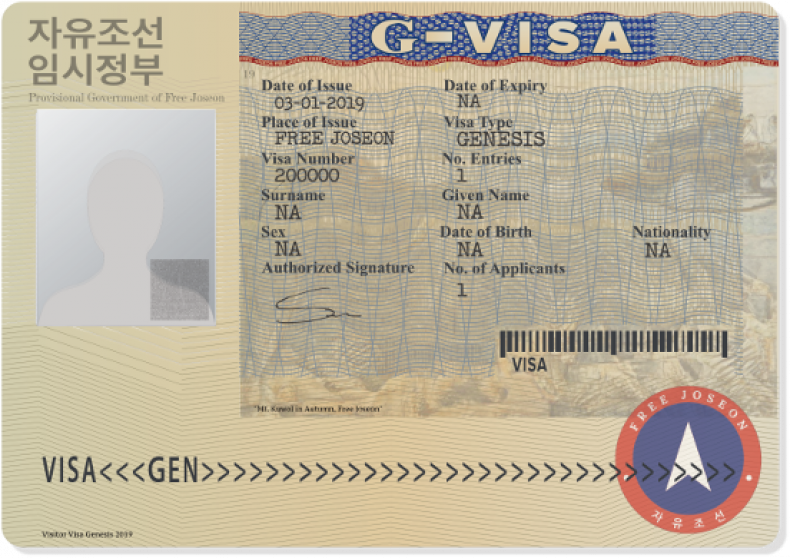 Netherlands-based tech site The Next Web reported Monday that since the sales had begun, the group was calling on prospective buyers to enter their private keywords for the Ethereum blockchain directly into a site form—something the outlet advised strongly against. With dozens of "visas" purchased, some resale auctions had reporteldy sprung up at higher costs.
Little is known about Free Joseon, which maintains only its official website and a YouTube account. The group received media attention earlier this week when it released a short video purporting to show a North Korean man smashing portraits of the late North Korean rulers Kim Il Sung and his son, Kim Jong Il, "on our homeland's soil." A former North Korean military officer who later defected from the isolated, communist state told the Hong Kong-based South China Morning Post on Thursday that he had doubts regarding the clip's authenticity.
This wasn't the first incident to garner publicity for the group, however. It released its first public message in March 2017, when it shared a video of Kim Han Sol, the son of North Korean supreme leader Kim Jong Un's older half-brother Kim Jong Nam, who had been killed the previous month in a Malaysia airport chemical attack. Free Joseon said it had responded to "an emergency request by survivors of the family of Kim Jong Nam for extraction and protection."
The group continued to share occasional news of "rescues" from North Korea but, since the beginning of the year, stepped up its online activity with manifestos against Kim Jong Un's government. Free Joseon returned to the spotlight last week, when The Washington Post tied the group to the brazen broad daylight break-in at Pyongyang's embassy in Madrid last month, citing unnamed individuals allegedly involved in the mission.
Spanish newspaper El País reported two days earlier that investigators suspected at least two of the 10 individuals allegedly involved in the operation had direct ties to U.S. intelligence, which has long supported dissident groups against adversarial governments across the globe. However, the raid—in which staff were tied up and cellphones and computers stolen—took place a week before President Donald Trump and North Korean supreme leader Kim Jong Un sat down in the Vietnamese capital of Hanoi for the second-ever summit between their governments. The meeting failed to garner any sort of agreement.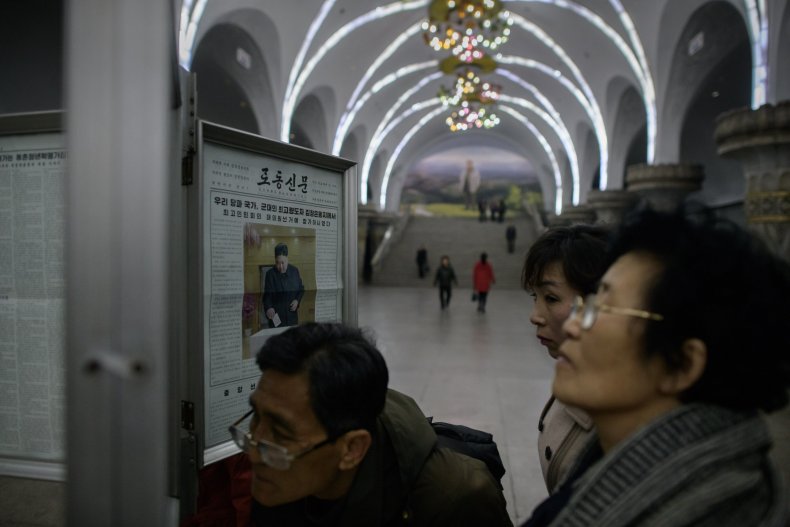 Neither Free Joseon nor the North Korean government has commented on the embassy break-in, leaving the rare diplomatic invasion subject to further speculation. Pyongyang has long shared its suspicions of Washington's plots to end three generations of Kim family rule in North Korea, whose nuclear weapons have been treasured as a vital form of defense. But the two longtime rivals have publicly eased their harsh language toward one another amid the unprecedented peace process begun last year.
Even as U.S. officials appeared to toughen their stance on securing North Korea's denuclearization in the wake of the summit, Trump expressed confidence in the dialogue and even announced he would roll back recently announced U.S. sanctions against Chinese shipping companies said to be involved with North Korea. The White House said Trump made the decision because he "likes Chairman Kim."
South Korea's official Yonhap News Agency cited a Unification Ministry source Monday as saying that some North Korea officials had returned to their joint border liaison office following a days-long absence that accompanied the recent hiccup in peace talks.