North Korea's Record-Breaking Missile Launch Shows Kim Jong Un Doesn't Want to Start a War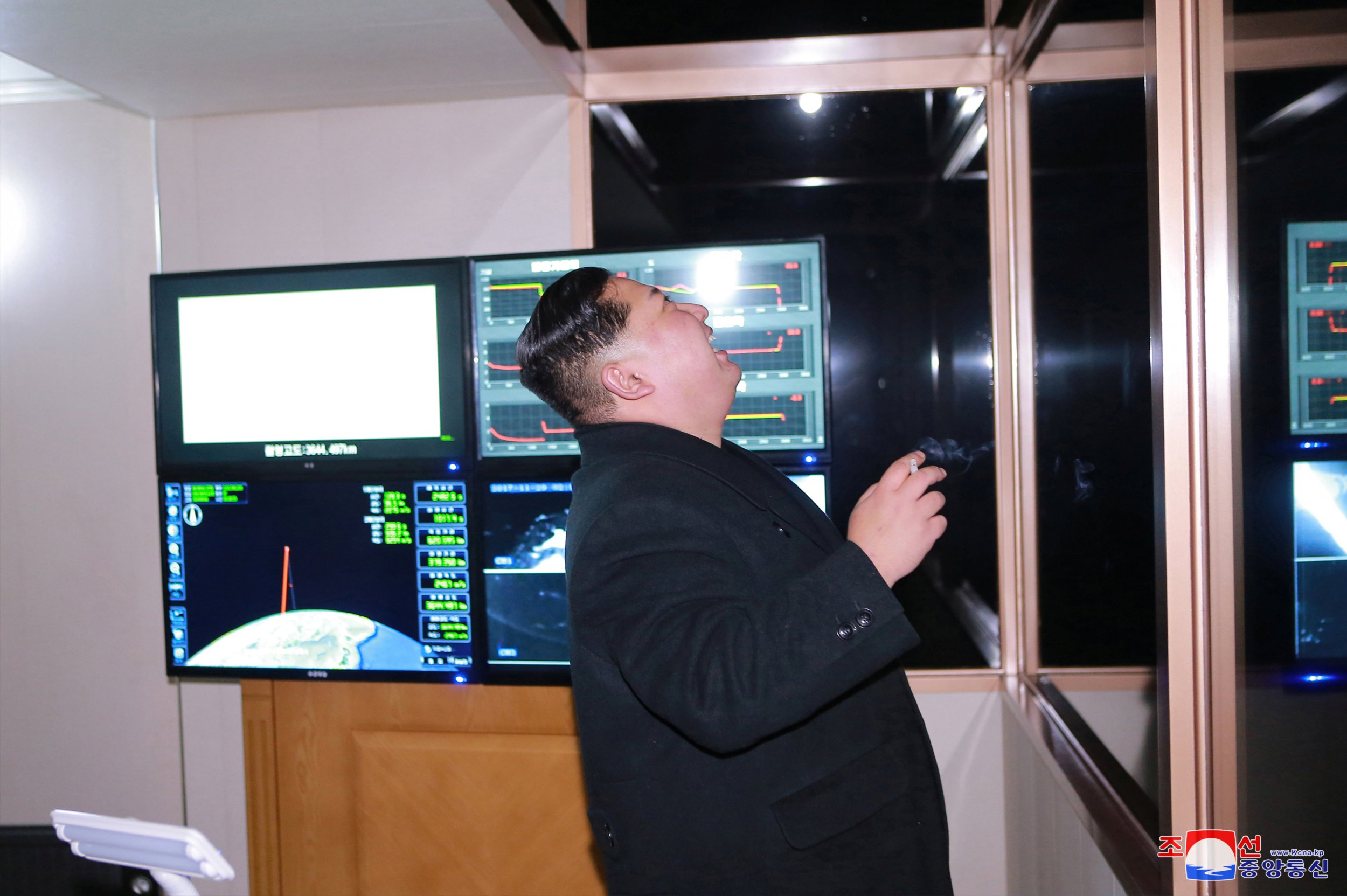 When North Korean leader Kim Jong Un approved the test launch of the Hwasong-15 intercontinental ballistic missile (ICBM) in the early hours of November 29, he wrote in his signed order, "Fire with courage for the party and country!"
The rocket soared into space, reaching a peak altitude of about 4,500 kilometers (2,780 miles) and covering a distance of about 950 kilometers (590 miles) before crashing into the Sea of Japan.
In firing the ICBM, North Korea ended a 74-day-long pause in missile launches, with the last on September 15, when the intermediate range ballistic missile (IRBM) Hwasong-12 flew over the northern Japanese island of Hokkaido before landing in the Pacific Ocean. The launch before that was August 29.
Read more: North Korea's worst nightmare? CIA director Mike Pompeo rumored to be next U.S. chief diplomat
But the trajectory of the Hwasong-15 was notably different to that of the Hwasong-12, and could say a lot about Kim's intentions. The Hwasong-12 was fired with the goal of traveling as far as possible, with its trajectory allowing it to cover 3,700 kilometers (2,300 miles). Pyongyang's likely intent was to show that it was able to follow through on its threat of attacking the U.S. territory of Guam, 2,100 miles away.
On the contrary, the Hwasong-15 was fired high into the atmosphere, in a so-called "lofted trajectory." By doing so, Pyongyang expected the missile to crash into the sea without causing any major damage.
"Before they launched IRBMs over Japan, they did a lot of tests with them," Joshua Pollack, editor of the The Nonproliferation Review and a senior research associate at The Middlebury Institute of International Studies' James Martin Center for Nonproliferation Studies tells Newsweek.
Neither one of the ICBMs North Korea first test-launched in July flew over Japan. Instead, they crashed in the sea off the western coast of Japan.
"When you're dealing with a missile that has yet to be tested, you ought to be cautious, so you don't start a war by accident," Pollack said, noting that it's not a coincidence that North Korea chose to fly missiles over a less densely populated part of Japan.
"[North Koreans] are taking this on a step-by-step basis to control the risks that they're taking. They're not crazy, and this shows that once again," Pollack added.
North Korea's latest test shows that it is a country with a developed military industry. The South Korean military noted the Hwasong-15 is not just a variant of its predecessor Hwasong-14 but is a more powerful missile altogether.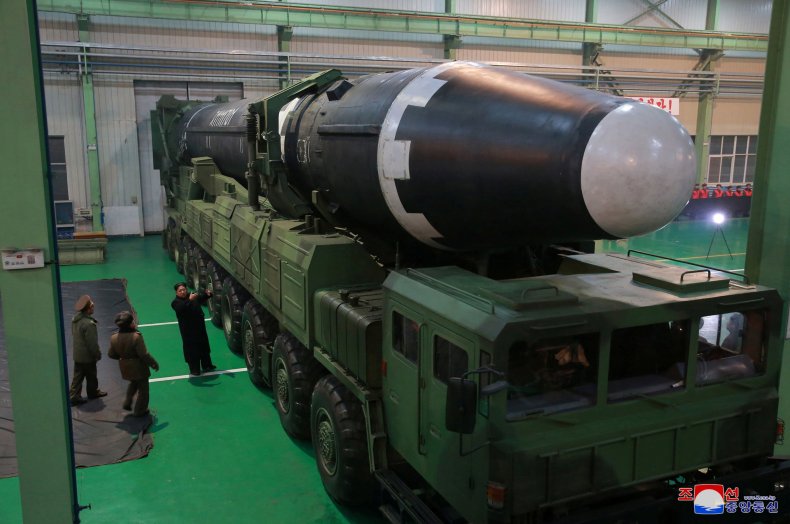 "(We) are assessing that the Hwasong-15 is a new type," Army Colonel Roh Jae-cheon, spokesman for the Joint Chiefs of Staff, said at a press briefing on Thursday, quoted in Yonhap News.
"There are clear differences in the appearance of the Hwasong-15's warhead, the connection part between the first and second stage (of the missile), and the overall size," he added.
Pollack too was impressed with the missile. "I'm particularly troubled by the excess capability in this missile. It can go much further than it needs to. That suggests that it is designed to accommodate even heavier payloads than whatever it was tested with. The nosecone is huge," he said. "These two observations suggest that they may already be thinking ahead to putting multiple warheads on a single missile."
North Korea also claimed the missile featured a stable re-entry system. But the country has shown no evidence to support the claim it can protect the warhead as the missile re-enters the atmosphere.
Pollack does not exclude that North Korea will fly one of its ICBMs over Japan eventually. "[They'll wait until] they're confident they can do it safely," he said.
The North Korean state-controlled media enthusiastically reported the launch was "impeccable" and a "breakthrough" in the country's missile development program. "The day was a significant day when the historic cause of completing the state nuclear force, the cause of building a rocket power was realized," Kim said, quoted in the news agency KCNA.
But Kim's claims of being a nuclear-armed country are unlikely to win him the respect he seeks from the U.S. The president has derided Kim once again with the nickname "Little Rocket Man" and even called him a "sick puppy" during a speech on his proposed tax reform on Wednesday.
"[Kim Jong Un] is looking for some milestone and that has been true for a while, for years, some technological milestone that the country has achieved some sort of status," Pollack said. "He's going to find he's not going to succeed in changing any views in the U.S."
Kim's boastful statements about completing the "state nuclear force" could be a message meant for a domestic audience rather than an international one. "It is not going to change Donald Trump's mind. If anything, it is going to harden his attitude," he said.
In response to the missile test, U.S. ambassador to the U.N. Nikki Haley echoed Trump's remarks at the U.N. General Assembly in September. "We have never sought war with North Korea, and still today we do not seek it. If war does come, it will be because of continued acts of aggression like we witnessed yesterday. If war comes, make no mistake, the North Korean regime will be utterly destroyed," she said.
Talks of military action only further embitter the regime in Pyongyang, which has stated numerous times one of the reasons it is developing nuclear weapons is so it won't end up toppled like Saddam Hussein in Iraq or Muammar Gaddafi in Libya.
"What they want is for the U.S. to stop threatening them and back off. They want the U.S. to value them as an equal, not as an adversary that could be disposed of as necessary. They want to be taken out of the category of Iraq, Libya, Syria, and to start putting them in the category of Russia or China—someone you can't afford to mess with," Pollack said.
Pollack believes it's time to diffuse the tensions with North Korea rather than to keep engaging in provocations potentially leading to a deadly conflict "They've had the ability to destroy any target in South Korea and Japan for many years," he said, "and I think we should realize war is not an option. There is no point in even discussing this as any kind of sensible or sane policy option. It would be an act of utter desperation."