North Korea Removes Anti-U.S. Souvenirs From Tourist Gift Shops
North Korea appears to have removed anti-U.S. propaganda souvenirs from gift shops, according to reports from tour guides.
Items criticizing the U.S. are no longer stocked at shops geared toward tourists on the North Korean side of the demilitarized zone (DMZ), as well as in the cities of Pyongyang and Kaesong.
Simon Cockerell, Koryo Tours General Manager, told NK News on Wednesday that his company had a group of tourists visiting North Korea last week and this week. He said the participating tourists "reported the absence of anti-American propaganda material."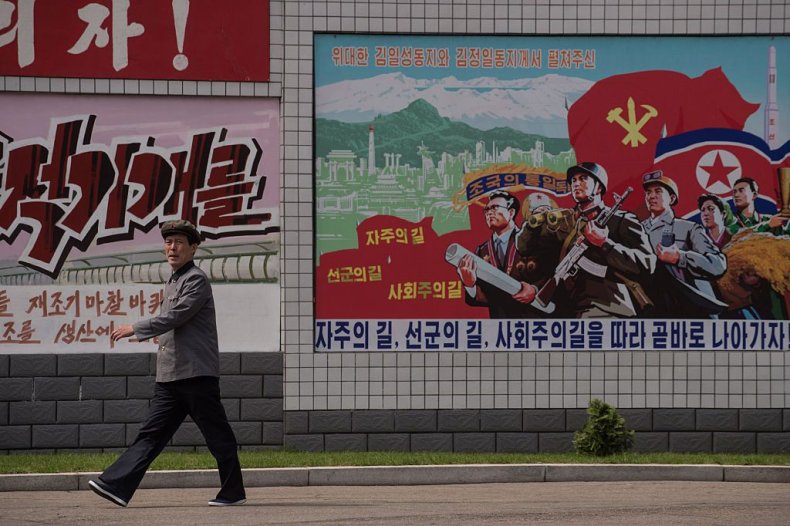 Similarly, Rowan Beard, another tour manager for Young Pioneer Tours, told the news outlet that anti-American postcards, posters and stamps appear to have been removed from most gift shops. Beard said he "still saw some postcards around, but it was a very local shop." He said he believes larger stores have received instructions to remove anti-American items from shelves.
The tour guides also said anti-American items have been replaced with objects showing themes of reunification with South Korea.
Last month, NK News also reported that anti-U.S. propaganda posters had mostly disappeared from Pyongyang. North Korea recently released new posters that promote an April 27 summit meeting between Chairman Kim Jong Un and South Korean President Moon Jae-in, during which the two leaders promised "lasting peace" for the peninsula.
Pyongyang's decision to avoid presenting a negative image of the U.S. followed the historic June 12 U.S.–North Korea summit in Singapore. President Donald Trump and Kim signed an agreement to work toward complete denuclearization on the Korean Peninsula. Trump followed up the meeting by controversially moving to end joint military exercises with South Korea, which he called "provocative" and "expensive."
Following the summit, Trump also appears to have put up photos in the White House of his meeting with Kim, replacing older ones of the president with French President Emmanuel Macron.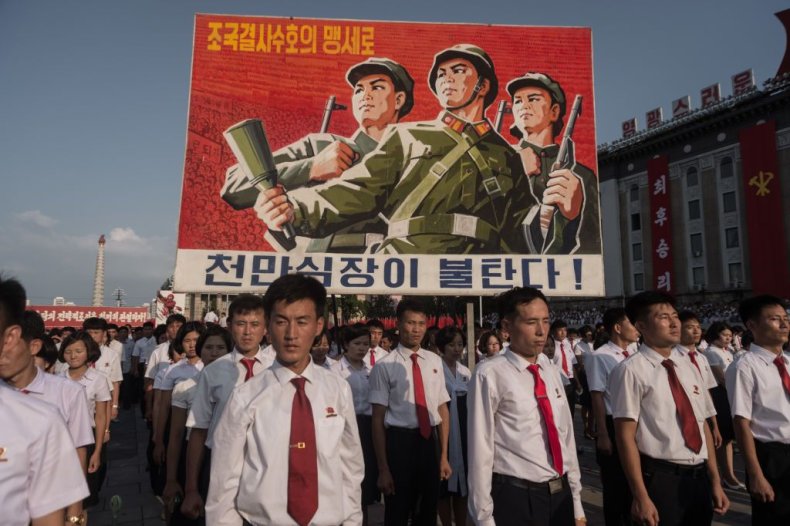 Last month, pictures of Macron's recent state visit to Washington, D.C., featured prominently in the White House's West Wing. That display has now been replaced by images of Trump becoming the first sitting U.S. president to meet with a North Korean leader, according to a photo originally tweeted by The Wall Street Journal on Monday.
Since returning from the summit, Trump has praised Kim multiple times, despite the North Korean leader overseeing significant human rights abuses, including the torture and murder of members of his own family and countless numbers of his own people.
However, the praise goes both ways, with North Korean media lavishing praise on the U.S. president. In some cases, the state-run media has even called Trump "Supreme Leader," a title typically reserved for Kim, or his father and grandfather.