North Korea Says It Has Heard Enough Of 'Mad Dog' Trump And Will 'Counter' His Threats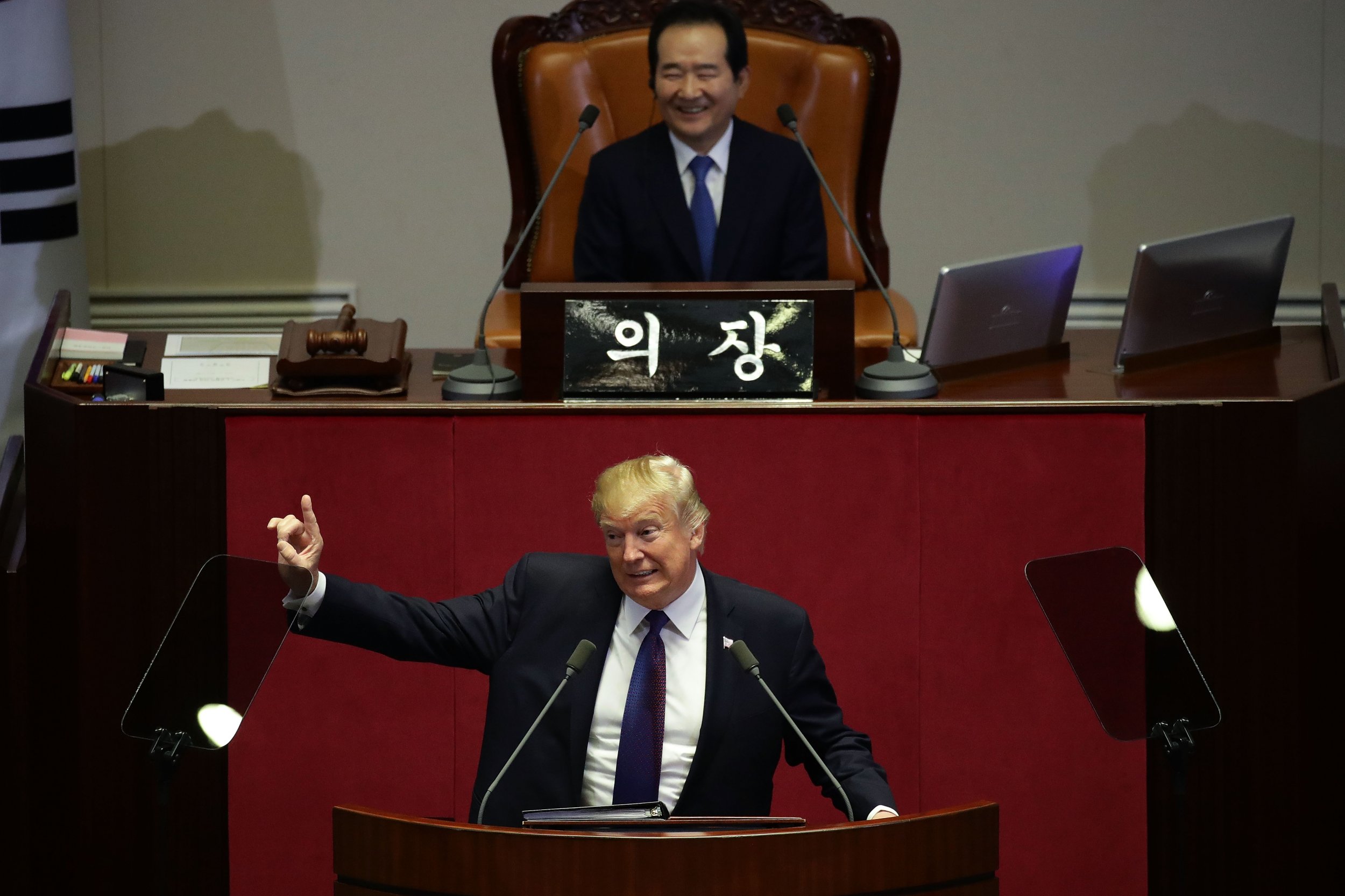 The North Korean regime says it's done listening to "mad dog" President Donald Trump after he leveled his latest threats at the paranoid nation.
"We don't care about what that mad dog may utter because we've already heard enough," North Korean officials told CNN after Trump lambasted the country during a Wednesday address at South Korea's National Assembly.
"The United States is threatening us with nuclear aircraft carriers and strategic bombers. They are challenging us with the most vicious and demeaning provocations, but we will counter those threats by bolstering the power of justice in order to take out the root cause of aggression and war," the officials added.
When Trump spoke in South Korea, he offered a blistering rebuke of Kim Jong Un's regime to its people. "North Korea is not the paradise your grandfather envisioned," the president said. "It is a hell that no person deserves."
He added, "The weapons you are acquiring are not making you safer, they are putting your regime in grave danger," a reference to the regime's pursuit of a nuclear missile capable of striking the U.S. mainland. "Every step you take down this dark path increases the peril you face."
He warned Kim, "Do not underestimate us, do not try us."
Trump is on a 12-day tour across Asia, where he's urging foreign leaders to put more pressure on North Korea to cease its nuclear program and long-range missile tests.
Trump and Kim have been trading threats of military strikes for months, raising fears that a miscalculation from either side could lead to nuclear war. During his Asia trip, however, Trump has taken a somewhat softer tone, urging North Korea to "come to the table" and work toward peace. The regime, though, has not shown any serious interest in diplomacy.
On Wednesday, Trump left South Korea for China—North Korea's most powerful ally and top trading partner. Beijing is one of Trump's best hopes for pressuring Pyongyang to pull back on its nuclear program, but China has so far delivered few reprimands beyond sanctions, as well as a sudden ban on North Korean tourism just ahead of Trump's arrival.