North Korea: Obama Policy to Blame for 'Mystery' Death of Otto Warmbier
North Korea said Friday that the death of Otto Warmbier, a 22-year-old American imprisoned in the country for 17 months, is a "complete mystery" to them.
Warmbier, who had been sentenced to 15 years hard labor by North Korea last March, died on Monday. He was flown back to the U.S. in a coma, after 17 months imprisonment, but North Korea deny any knowledge of how he became ill. His parents decided against an autopsy, and the funeral went ahead with 2,500 mourners on Thursday.
The North Korean foreign ministry said that Warmbier was a "victim...of strategic patience," the policy followed by Barack Obama's White House, which sought to avoid ramping up tensions with the Communist state.
Pyongyang said they arrested Warmbier as he was boarding his flight home because he had attempted to steal a propaganda banner. He made a televised confession in February 2016 which saw him admitting to "the worst mistake of my life" and begging for his release.
North Korean state news said Warmbier stole the banner with the intention of "bringing down the foundation of its single-minded unity."
After his trial, North Korea told the United States that he had come down with a case of botulism and was given a sleeping pill, which he never woke up from. However, Warmbier's family maintain he was abused during his imprisonment.
Fred Warmbier, Otto's father, said in a statement that his son had been "brutalized" by his captors,
The North's state-run Korean Central News Agency said Friday that Warmbier was "treated in accordance with domestic law." It said that the public opinion Warmbier had died due to beating and torture was "groundless."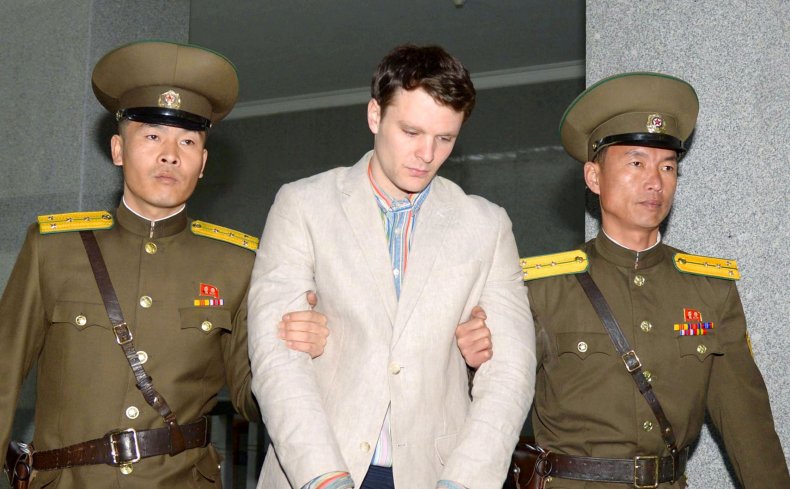 "The fact that Warmbier died suddenly in less than a week just after his return to the U.S. in his normal state of health indicators is a mystery to us as well," KCNA stated, reported the BBC.
Kenneth Bae, another American held for two years in North Korea, told CNN he thinks its possible that Otto Warmbier was tortured. In his memoir, Not Forgotten: The True Story of My Imprisonment in North Korea, he said how one interrogator kept telling him: "No one remembers you. You have been forgotten by people, your government. You're not going home anytime soon. You'll be here for 15 years. You'll be 60 before you go home".