'The Clock is Ticking': A Year on From the Singapore Summit Kim Jong Un Is Losing Patience With Donald Trump's Strategy
Wednesday marks one year since the historic summit between President Donald Trump and North Korean leader Kim Jong Un in Singapore. Only months before, their two nations appeared on the brink of war, with Pyongyang stubbornly continuing nuclear weapon and missile tests.
The research gave the North the ability to hit the U.S. mainland with its ballistic missiles—a long-held fear of American military planners—though it remains unclear whether a nuclear warhead could reliably be loaded onto the weapons.
The two leaders have exchanged threats and personal insults, with the president declaring he would unleash "fire and fury" on the secretive state unless Pyongyang bent to Washington's will.
But rather than going to war, Trump and Kim agreed to the first-ever meeting between leaders of the two countries. Amid huge fanfare in Singapore, the two men signed an agreement to work towards denuclearization of the Korean peninsula.
Trump and his supporters lauded the historic achievement, grandly described in the agreement as "an epochal event of great significance in overcoming decades of tensions and hostilities between the two countries and for the opening up of a new future."
Concrete progress, by contrast, remained elusive. For all the warm words, little changed. The North stopped missile and nuclear tests, but research reportedly continued in both fields. And although Trump froze large-scale joint military drills with South Korea—reportedly without notifying Seoul or even his own commanders—tough economic sanctions remain in place.
Efforts to forge further progress saw both leaders travel to Hanoi, Vietnam, for a second meeting in February. But with the eyes of the world upon it, the summit collapsed and wound up early, the two sides apparently still too far apart on denuclearization and the lifting of sanctions.
Since then, North Korea has resumed missile tests. Trump has done his utmost to downplay their significance, contradicting his own foreign policy team and allies. In the absence of dialogue, Pyongyang has returned to threats and provocations, while the U.S. has continued a policy of "maximum pressure," seizing a Northern tanker accused of violating the sanctions. A graph below, from Statista, shows the pattern of missile testing in North Korea.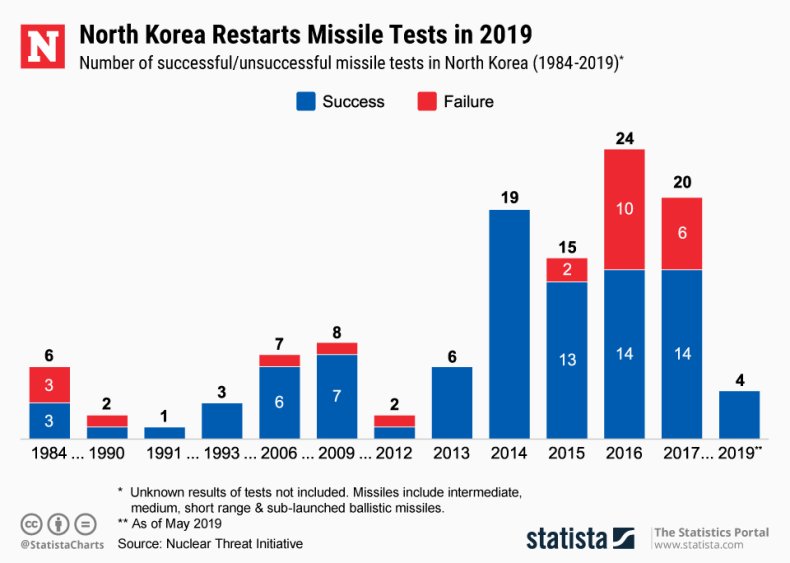 At a press briefing on Monday, State Department spokesperson Morgan Ortagus acknowledged that that the past year of negotiations had not been straightforward. "If you look throughout history at any successful negotiation or any outcome, it's never linear," she said.
"There's always ups and downs, and we remain confident that Kim Jong Un and his government will see a path for a brighter future for the North Korean people. And one year later, that's what we are still aspiring to and still hoping for while noting, of course, that economic sanctions do remain."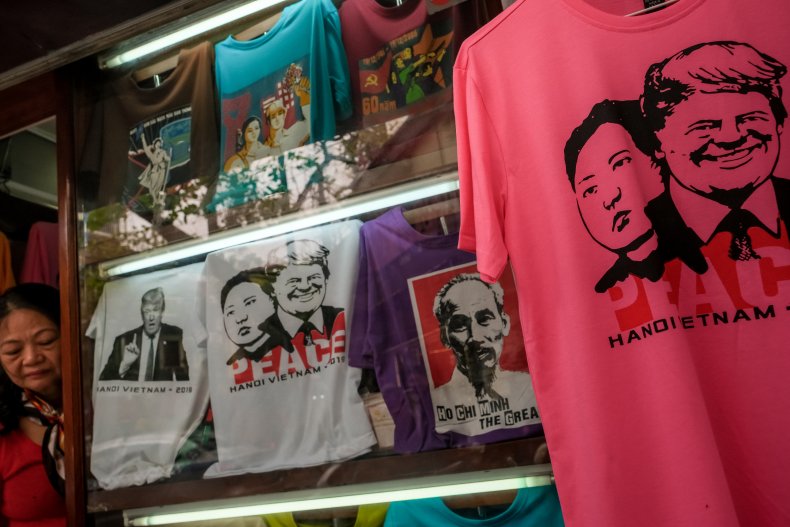 Squandering the opportunity
Jenny Town, the managing editor of the specialist North Korean analysis website 38 North, said "was bold to try a new approach" in establishing a personal relationship with Kim. It may have facilitated quicker decision-making by Kim, she noted, but ultimately there remains a "gap of understanding about what each side wants and how they can achieve it."
Vipin Narang, an associate professor of political science at MIT, told Newsweek that the collapse of talks in Hanoi has left talks "on life support." Though the North is abiding by its freeze on long-range missiles and nuclear weapons, Kim has suggested that the moratorium will only remain in place until the end of this year if the U.S. does not soften its negotiating stance.
Narang said the vague nature of the Singapore agreement is central to the problem. Both nations interpreted the document "as they each saw fit to support their respective maximalist positions," he explained. "At Singapore, this was a feature, not a bug. But the bill came due in Hanoi in February where nine months of papering over the differences—like, even defining denuclearization—between the two sides became unsustainable, and came to a dramatic head."
Pyongynag has taken some "cosmetic" steps towards disarmament, Narang noted, such as dismantling the entrances to the nuclear test facility at Punggye-Ri and some parts of the rocket test site at Sohae. Kim was expecting Trump to "ratify the fiction of disarmament" and engage in a "step-by-step phased deal" in which certain sanctions were lifted in exchange for dismantling of individual key facilities.
"But when Trump arrived at Hanoi, he demanded the whole enchilada—not only the keys to Kim's nuclear kingdom, but his missile and other WMD programs as well—and demanded it up front, before there could be any sanctions relief," Narang explained.
"It is no surprise Kim walked away. He has never, not once, offered to unilaterally disarm or surrender his nuclear weapons program."
Though the president has celebrated North Korea's moratorium on nuclear and long-range missile tests, the state's key facilities, operations and capabilities "have been maintained and activity continues at the relevant sites," Town noted. This is, she explained, unsurprising given there is still no agreement in place that obligates either side to any specific measures.
Narang argued that "both sides missed an opportunity to negotiate a deal that was win-win for both." Rather than the step-by-step approach that would have required compromise by both parties, they "sides stuck to their maximalist positions, and Hanoi ended in failure."
Town concurred. She warned that while Trump's pursuit of a personal connection with Kim could be helpful, "constantly reverting back to the old proposition that everything must be decided at once—versus opting for a series of smaller deals that work toward fulfilling the agenda mutually agreed to in Singapore—is simply squandering the opportunity."
She added that while Kim may have been encouraged by Singapore, he too will likely be feeling unfulfilled as the one-year anniversary arrives. "He may take some pride in having rehabilitated his public profile internationally, and establishing a personal relationship with the leaders of the big powers, but he's likely frustrated too," she explained.
"He has little to show for it on any part of the peace, normalization of relations or denuclearization agendas."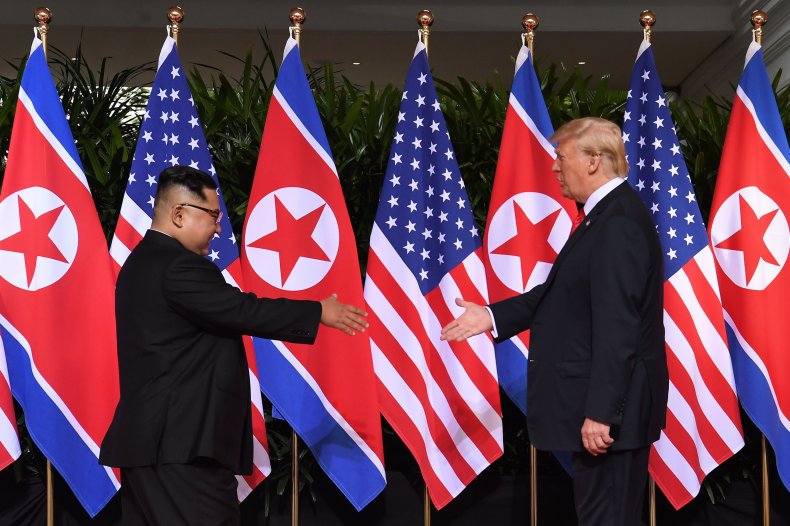 Choosing not to listen
One year after the historic diplomatic breakthrough, negotiations are in the doldrums. The U.S. is willing to gamble on a renewed maximum pressure campaign and the North remains stubborn while mulling its options.
May's missile tests indicated Pyongyang's willingness to rock the boat, though the regime avoided the much steeper escalation of testing nuclear weapons.
The North is also still refraining from long-range missile tests, but this will be of "little comfort to our allies and the tens of thousands of U.S. forces and citizens in the region," Narang warned.
He suggested that the tests may have been partially in response to joint South Korean-U.S. military drills or "to mollify domestic hardliners post-Hanoi." However, it might also signal the start of a "push-the-line strategy" from Kim to apply more pressure on Washington.
"The risk with that strategy—if it is in fact the case—is that the United States cannot look like its caving to North Korean coercion, and it may backfire by forcing Trump and [National Security Adviser John Bolton] to dig in on the maximalist position."
The past year, then, has been disappointing. Now a way out of the current stalemate is required.
"There always is a way out," Town said. "The question is, whether the U.S. is willing to take it."
"It's clear that North Korea will never accept a deal that covers everything all at once, even with the right incentives. But that doesn't mean nothing can be done," she said.
"A series of smaller deals that begin address both sides' goals won't accomplish everything all at once, but create both specific obligations for both sides and the chance to test each other out," Town explained. Only by successfully delivering on smaller proposals can the two sides build the trust required to take on the bigger issues.
Narang believes Pyongyang has been very clear about what is needed to get talks off the ground again; the problem is that Washington doesn't seem to be listening.
"There is a narrative in the U.S. administration that they have not heard from North Korea since Hanoi," he explained. "But North Korea has been loud and clear about where it locates the failure of Hanoi, and what they expect from the U.S. in order to resume talks. We are just choosing not to listen."
"Every day that passes without a 'grand deal' is one where North Korea gets stronger and has less incentive to negotiate," he added. "Kim has signaled that the clock is ticking."