North Korea Soldier Shot by Fellow Soldiers While Escaping Says He 'Would Have Done the Same Thing'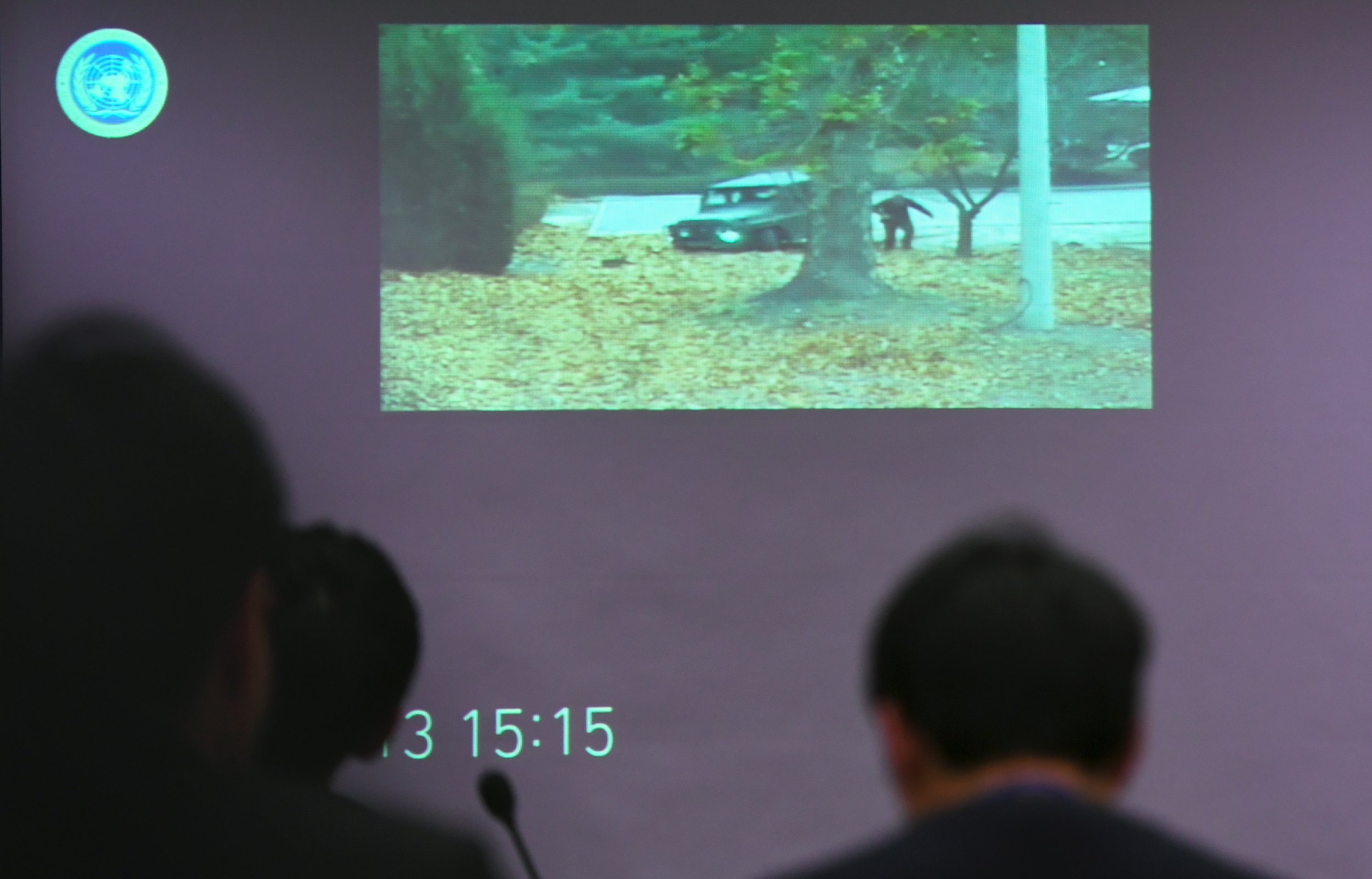 A former North Korean soldier whose dramatic escape across the world's most heavily fortified border made international headlines said he doesn't blame his fellow soldiers for shooting him.
Oh Chong Song was seen on surveillance footage in November 2017 speeding down a road alongside the Joint Security Area of the Demilitarized Zone (DMZ), before jumping out of his vehicle and running toward rival South Korea. Fellow North Korean soldiers could be seen firing at him, striking him some five times before he fell to the ground behind a small wall, where South Korean troops managed to drag him to safety.
Nearly 18 months later, Oh told NBC News he does not blame his ex-compatriots for their actions.
"In their situation, I would have fired the gun. It's not a matter of friendship," Oh told the outlet Monday in his first interview with a U.S. broadcaster about the events of that day. "I understand them because if I were in their shoes I would have done the same thing."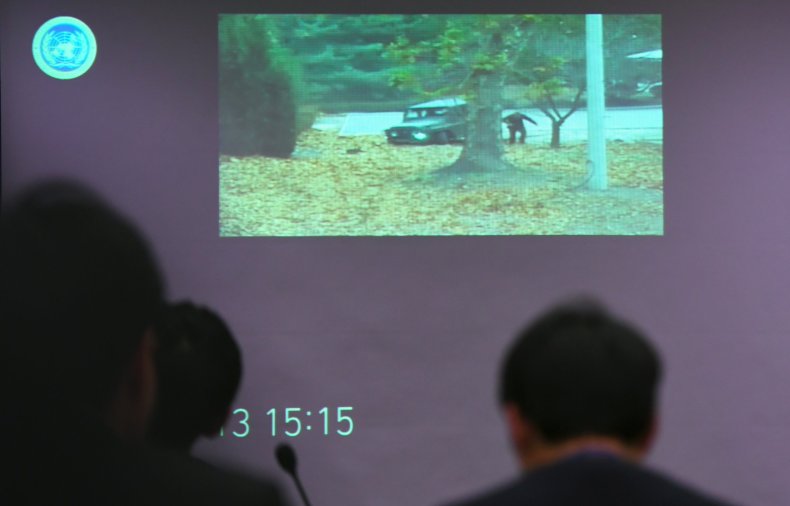 Oh's escape was the first of its kind in three decades and came at a time of heightened tensions between the two Koreas, as well as between President Donald Trump and North Korean supreme leader Kim Jong Un, who were threatening one another with nuclear destruction. Two months before Oh fled, North Korea conducted its sixth, and by far its most powerful, nuclear test and then launched its furthest-flying intercontinental ballistic missile two weeks after the escape in late November.
During Monday's interview, Oh thanked the South Korean and U.S. doctors who saved his life. The injured defector was rushed to hospital having reportedly lost up to half of the blood in his body. Moreover, a South Korean surgeon Lee Guk-jong removed multiple parasites from his stomach, one measuring as long as 10 inches.
Oh gave his first-ever interview to Japanese newspaper Sankei Shimbun a year after his escape, then also remarking how he "would have done the same" had another North Korean soldier tried to flee. He was revealed to be the upper-class son of a North Korean major general and, though he detailed an unhappy life in his home country, he told the outlet that he had another reason to get out.
Oh denied rumors that appeared in South Korean newspaper Dong-a Ilbo, suggesting he was wanted for murder in North Korea. However, he admitted to drinking and getting into unspecified trouble with friends, something he feared would cause him to be punished.
The Sankei Shimbun interview drew controversy after Oh accused the outlet of twisting his words to sound as if he was criticizing the South Korean military, which he called "an army that isn't so much like one." Oh later told South Korea's semiofficial Yonhap News Agency that all he said "was how different (the South Korean) army is compared with the North's, in terms of training and such, because we need to serve a lot longer term than South Korean men."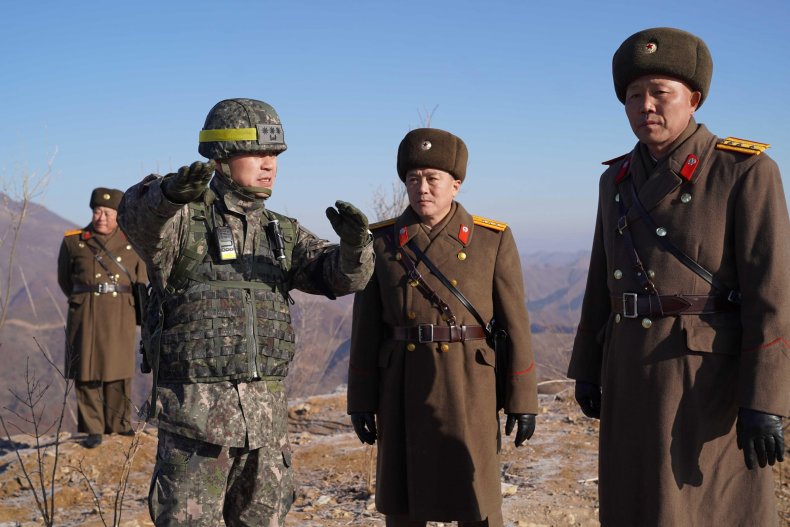 North Korea's elusive, tightly run state devotes a considerable amount of its limited resources to its military and security apparatus. Up to 30,000 North Korean defectors are registered with South Korea's Unification Ministry, though an unknown number of individuals are believed to have "double-defected" back to North Korea over the years. Seoul has only recognized only 13 such cases, but the true figure may be in the hundreds.
Tens of thousands more Koreans on both side of the border remain separated from family members since the 1950s conflict that pitted U.S. and Sino-Soviet satellites against one another, leaving an armistice line on the 38th parallel. Efforts to arrange rare reunions have often been marred by residual mistrust and frictions on the Korean Peninsula, but a new peace effort has produced hopes of reconciliation.
South Korean President Moon Jae-in met with Kim a record three times last year and has pledged to move forward with inter-Korean projects. President Donald Trump also held the first-ever U.S.-North Korea summit last year and a follow-up summit with Kim in February in hopes of advancing a denuclearization-for-peace process, though the U.S. delegation walked away early with no deal.
As Trump's and Kim's administrations discuss the prospects of a third sit-down, the North Korean ruler was set to soon make his debut trip to Russia, which—along with China—is pushing for a greater role in mediating the crisis.