North Korea Talks Aim to Divide U.S. and South Korea, Top U.S. Commander Says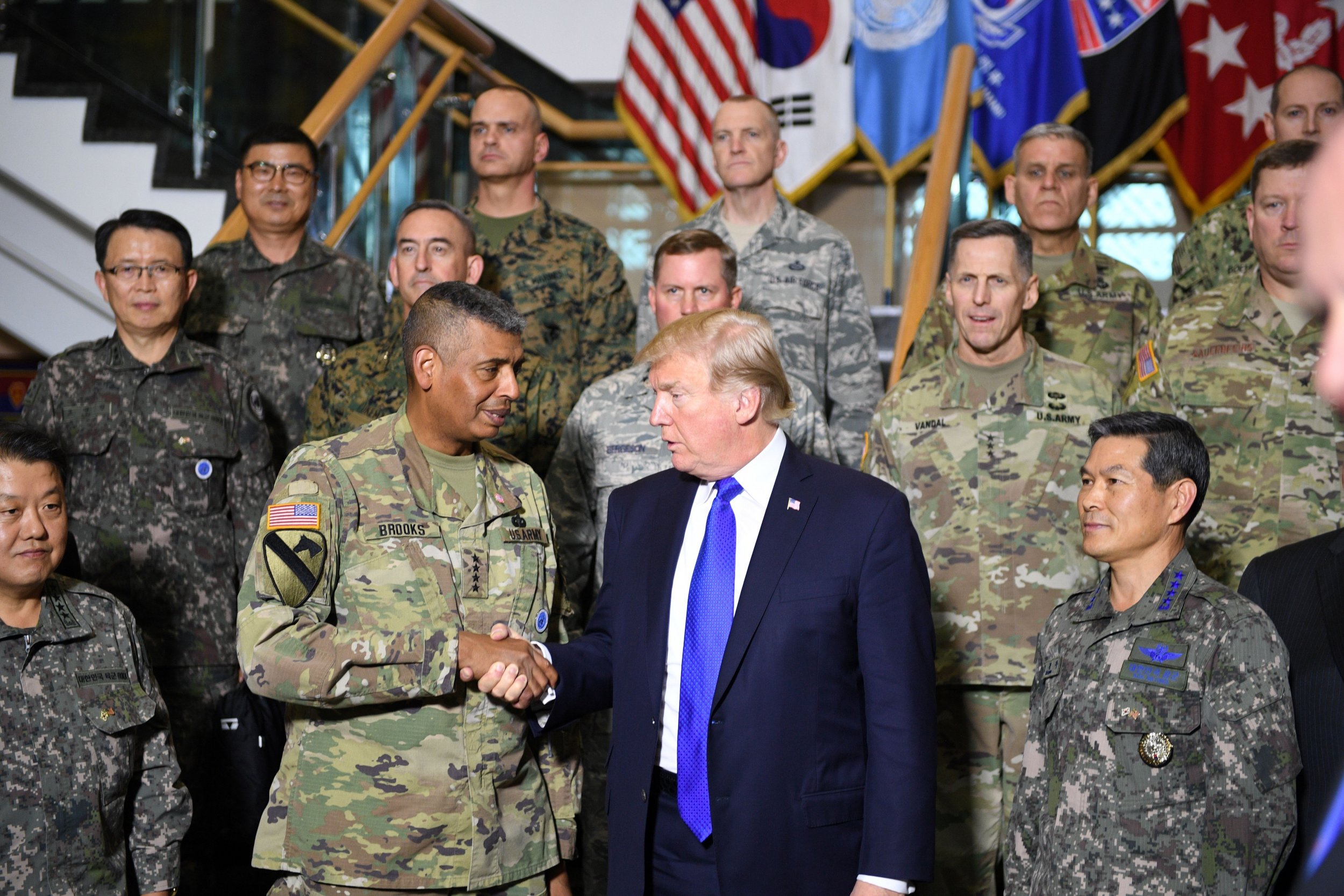 The U.S. top commander in South Korea has voiced skepticism at North Korean leader Kim Jong Un's apparent openness to talks with Seoul.
According to General Vincent Brooks, U.S. Forces Korea (USFK) commander, Kim is trying to create division among the five countries that took part in the six-party talks with North Korea, the U.S., South Korea, China, Russia and Japan.
"We can be generally pleased by the recent overtures that happened. But we must keep our expectations at the appropriate level," he told the audience at Seoul's Cyber University on Thursday, quoted in South Korean news agency Yonhap.
Likening the five countries to the five digits on a hand—and raising his own right hand to drive the point home—Brooks said Pyongyang would like to break them apart when they should operate in "harmony and closely connected to one another," like a fist.
Pyongyang's goal, he said, is to gain the status of a "nuclear capable" nation. "We can't ignore that reality," he added, describing his troops as trying to "stay ready and stay steady while providing room for diplomacy and economic actions to take effect led by our national leaders."
Brooks, who commands 28,500 USFK troops and also leads the South Korea-U.S. Combined Forces Command (CFC) as well as the United Nations Command, emphasized the importance of keeping the U.S.-South Korea relations an "iron-clad and razor sharp" alliance, calling President Donald Trump and his South Korean counterpart Moon Jae-in his "two bosses."
Brooks' remarks appear to reflect a popular line of thinking in Washington. President Donald Trump's National Security Adviser H.R. McMaster was also negative about Kim's speech, telling Voice of America on Wednesday that "anybody who thought that that speech was reassuring was drinking too much Champagne over the holidays."
The general however had no doubt that Kim would fail in dividing the U.S. from its allies. "His provocative actions, what he's been doing, is driving our alliances closer together," he added.
As for Trump's own thinking on Kim's speech, the president first expressed skepticism over the North Korean leader's true intentions, then bragged about the size of his—non-existent—nuclear button, and finally attempted to take credit for the two countries holding their first, although as yet inconclusive, direct contact in two years in a series of tweets published on his personal account over the past two days.
"Talks are a good thing," Trump commented on Thursday.
According to his ambassador to the U.N. Nikki Haley, however, any talks North Korea holds without committing to denuclearize the peninsula are meaningless. "We won't take any of the talks seriously if they don't do something to ban all nuclear weapons in North Korea," she told reporters on Tuesday.