North Korea Threatens Nuclear Showdown With U.S. if 'Stupid' Mike Pence Ruins Diplomatic Efforts
North Korea has issued a strong response to recent statements made by Vice President Mike Pence to Fox News in an interview aired on Sunday, warning that it's up to the U.S. to avoid a nuclear showdown.
The statement, published on Thursday on the state-run Korean Central News Agency (KCNA) and attributed to deputy foreign minister and longtime negotiator Choe Son Hui, called Pence's remarks "ignorant and stupid" and dubbed the vice president a "political dummy" who was jeopardizing the peace talks.
In the interview, Pence repeated threats made by other members of President Donald Trump's administration, such as national security adviser John Bolton, in relation to the planned summit between the president and North Korean leader Kim Jong Un scheduled to take place in Singapore on June 12.
Pence said Trump would still walk away from the negotiating table should Kim not be serious about denuclearization on U.S. terms. "It would be a great mistake for Kim Jong Un to think he could play Donald Trump," Pence said.
"There was some talk about the Libyan model last week, and you know, as the president made clear, this will only end like the Libyan model ended if Kim Jong Un doesn't make a deal," said Pence.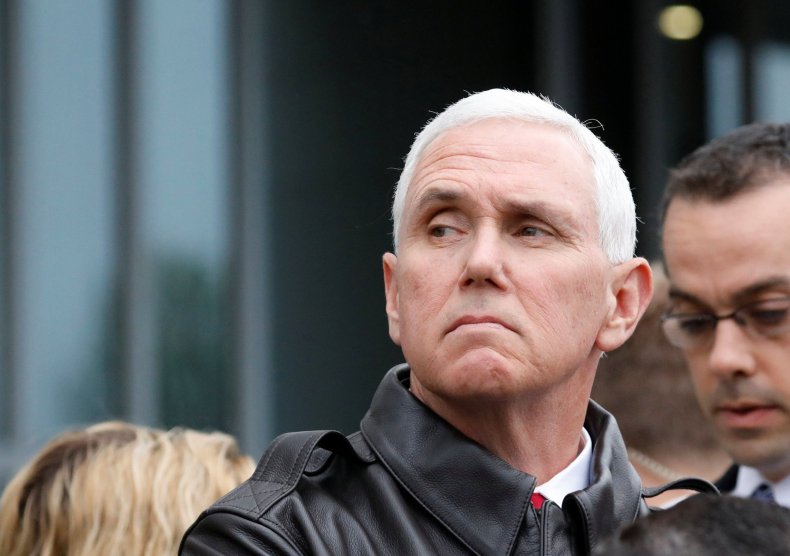 Any references to the Libyan model since it was first brought up by Bolton in an interview with Radio Free Asia at the end of March have drawn ire from North Korea, where the ruling Kim family saw the execution of Iraqi ruler Saddam Hussein under a U.S.-backed government and the killing of Libyan dictator Muammar el-Qaddafi at the hands of U.S.-backed rebels as examples of what happens to regimes that do not obtain nuclear weapons capabilities.
Choe's statement made that sentiment plainly clear. "We could surmise more than enough what a political dummy he is as he is trying to compare the DPRK, a nuclear weapon state, to Libya that had simply installed a few items of equipment and fiddled around with them," she wrote, referring to North Korea by its official name Democratic People's Republic of Korea (DPRK).
"In order not to follow in Libya's footstep, we paid a heavy price to build up our powerful and reliable strength that can defend ourselves and safeguard peace and security in the Korean peninsula and the region," she added.
Choe also threatened to use those weapons the country has spent so many years acquiring in the face of economic sanctions should the U.S. continue to "offend" the regime. "We can also make the U.S. taste an appalling tragedy it has neither experienced nor even imagined up to now," she wrote.
Even though a North Korean delegation recently failed to show up at a pre-summit meeting in Singapore, according to Choe the future of the Kim-Trump summit is dependent on the U.S.—the two countries are expected to send officials to the island city this weekend to nail down the plans for the meeting.
"Whether the U.S. will meet us at a meeting room or encounter us at nuclear-to-nuclear showdown is entirely dependent upon the decision and behavior of the United States," Choe wrote, adding that she would otherwise personally suggest Kim to reconsider the summit with Trump.