North Korean Officials Reportedly Stood up a U.S. Delegation in Singapore
The cancellation of a meeting between American and North Korean officials in Singapore a few weeks ago may have something to do with President Donald Trump's change of posture on the summit with North Korean leader Kim Jong Un.
A team of White House officials—including recently appointed deputy national security adviser Mira Ricardel and Deputy Chief of Staff Joseph Hagin—will be flying to Singapore this weekend in the hope that, this time, North Korean counterparts will show up, The Washington Post reported, citing sources that remained unnamed due to the sensitivity of the topic.
Less than two weeks ago, American negotiators were stood up by North Korean officials at a meeting meant to discuss arrangements for the summit, according to the Post.
It wouldn't be the first time North Koreans have abruptly canceled meetings, as Vice-President Mike Pence experienced when he visited South Korea for the Pyeongchang Winter Olympics in February and Pyongyang officials invited the White House delegation for secret talks, only to pull back at the last minute.
The Singapore meeting failure could serve as a much-needed reality check on negotiating with North Korea. Emboldened by the surprise release of three Korean-Americans held in Pyongyang earlier this month, Trump boasted about the prospect of an unprecedented summit between the sitting U.S. president and the North Korean leader in Singapore on June 12. The meeting was seemingly so set in stone that the White House Communication Agency released a set of commemorative coins on Monday.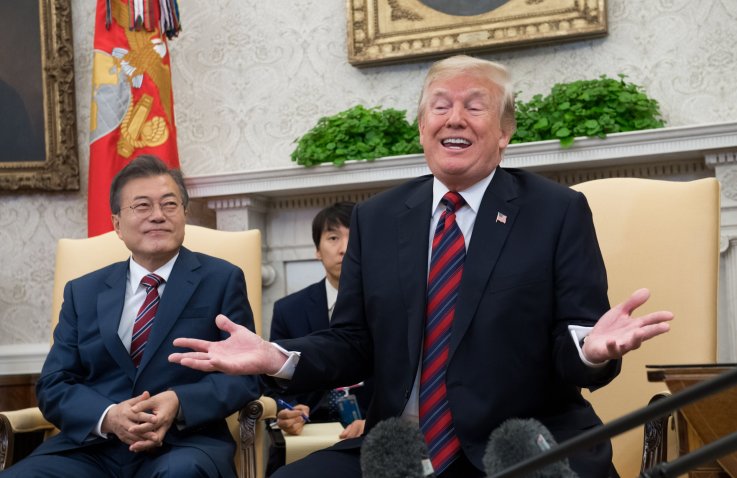 Yet ahead of a bilateral meeting with South Korean President Moon Jae-in—who met Kim for the first time on April 27—Trump cast doubt over the prospect of the summit happening at all.
"The meeting is scheduled, as you know, on June 12 in Singapore. And whether or not it happens, you'll be knowing pretty soon. But we're talking right now," Trump said, without specifying who is talking to whom, and refusing to answer a question about whether he's spoken to Kim.
"I can say this: That for a short period of time, we've been dealing with North Korea, and it's been a, you know, good experience," he said, referring to the release of the American prisoners following two meetings between Kim and Secretary of State Mike Pompeo.
South Korea expressed more optimism about the summit, giving it a "99.9 percent chance" that it will go ahead as planned, as Seoul's top security officials told South Korean media on the way to Washington.
Relations between North and South Korea recently soured after Pyongyang canceled planned talks last week because of Seoul's joint military drills with the U.S. It also made it difficult for South Korean reporters invited to North Korea to witness the dismantlement of a nuclear test facility to travel to the country.
North Korea has however kept in touch with Beijing, with Kim holding talks with President Xi Jinping earlier this month, less than six weeks after his first foreign trip to China.
Trump suggested that the meeting with Xi played a role in North Korea's recent posture. "I think there was a change in attitude from Kim Jong Un after his meeting with Xi. There was a difference after Kim Jong Un left China the second time. President Xi is a world class poker player. Maybe nothing happened. I'm not blaming anybody. But there was a different attitude from the North Korean folks after that second meeting," Trump told reporters on Tuesday.
North Korean Officials Reportedly Stood up a U.S. Delegation in Singapore | World