U.S. Could Use Military Force Against North Korea, As Nikki Haley Warns 'catastrophe' Is Imminent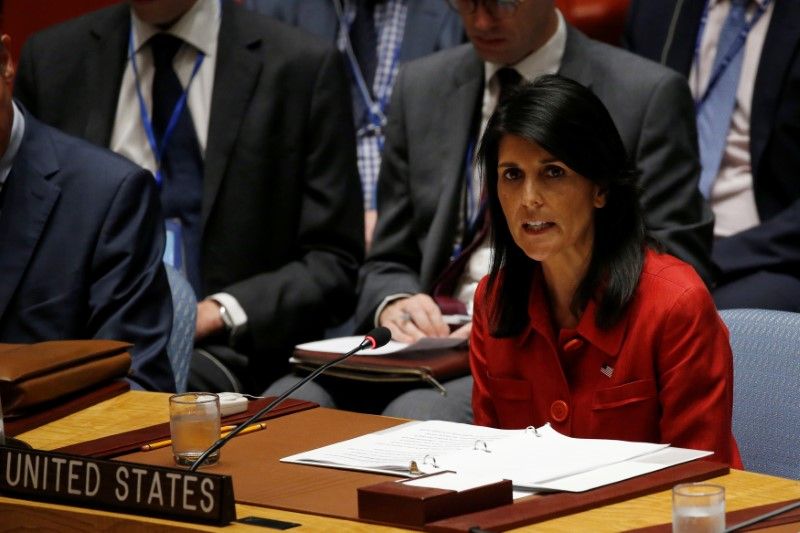 In a stark warning to North Korea and the rest of the world, Nikki Haley, the U.S. ambassador to the United Nations, said Wednesday that the U.S. was prepared to use all options, including military force, to counter the escalating threat of North Korea. Haley's comments came at an emergency meeting of the U.N. Security Council in the wake of North Korea's first successful test of an intercontinental ballistic missile (ICBM) on Tuesday.
Related: North Korea's Kim Jong Un celebrates 'gift for American bastards,' warns there will be more
"Today is a dark day—it is a dark day because yesterday's actions by North Korea made the world a more dangerous place," Haley said at the beginning of her remarks. "Make no mistake, North Korea's launch of an ICBM is a clear and sharp military escalation."
North Korea claimed that the missile was capable of carrying a large nuclear warhead and that the test meant Pyongyang was now capable of striking anywhere in the world. Experts have said that Alaska and parts of the U.S. mainland could now be within range.
North Korea's "reckless and irresponsible" actions, Haley warned, showed that it "does not want to be part of a peaceful world" and was "quickly closing off the possibility of diplomatic solutions."
In response to the launch, the U.S. and South Korea held a new ballistic missile drill. And while Haley said the U.S. "does not seek conflict," she stressed that it was prepared to engage militarily with North Korea.
"The United States is prepared to use the full range of our capabilities to defend ourselves and our allies," she said. "One of our capabilities lies with our considerable military forces. We will use them if we must, but we prefer not to have to go in that direction."
Instead, Haley called on the international community to do more, including imposing fresh sanctions as part of a new resolution. Echoing a message from President Donald Trump, she also took aim at China for its continued trade with North Korea.
"We have other methods of addressing those who threaten us and of addressing those who supply the threats," she said. "We have great capabilities in the area of trade. President Trump has spoken repeatedly about this. I spoke with him at length about it this morning. There are countries that are allowing, even encouraging, trade with North Korea in violation of United Nations Security Council resolutions."
In a final warning, Haley said that the window to get on board with the U.S. was rapidly closing.
"Time is short, action is required," she said. "The world is on notice. If we act together, we can still prevent a catastrophe and we can rid the world of a grave threat. If we fail to act in a serious way, there will be a different response."