North Korea Warns It Would 'Pull' the 'Trigger' On U.S. to Defend Itself, but South Says Third Meeting Still in the Works
North Korea has issued a new warning to the United States, which has continued to criticize certain policies of the elusive, authoritarian state and considers new sanctions even as the nations plan a third bilateral summit to advance beleaguered nuclear talks.
The official Korean Central News Agency published a commentary Wednesday condemning "an unusual move of the United States whereby it gets ever more undisguised in its hostility towards us" at a time when North Korean supreme leader Kim Jong Un and President Donald Trump engaged in unprecedented, high-level contacts. The article referenced critical references to North Korea recently appearing in the 2019 Trafficking in Persons Report, the 2018 Report on International Religious Freedom and an extension of a national emergency in regards to Pyongyang's nuclear weapons program.
KCNA also referenced "reckless remarks" by Secretary of State Mike Pompeo, who told a press conference Sunday that "some 80-plus percent of the North Korean economy is sanctioned." The state-run outlet said "the question is whether the U.S. target is to raise it up to 100 percent," arguing this belied "the wild dream of the U.S. to bring us to our knees by means of sanctions and pressure."
"Our state is not a country that will surrender to the U.S. sanctions, nor are we a country which the U.S. could attack whenever it desires to do so," KCNA warned. "If anyone dares to trample over our sovereignty and the right to existence, we will not hesitate to pull a muscle-flexing trigger in order to defend ourselves."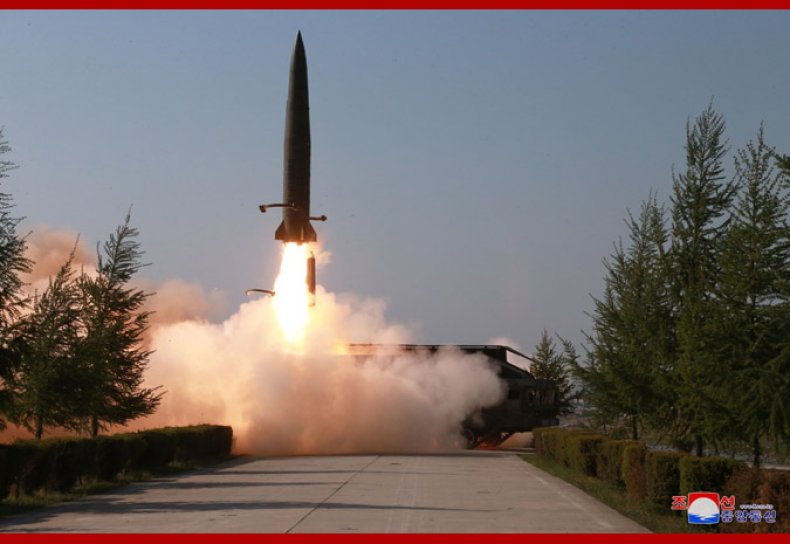 North Korea has earned a reputation for running blistering op-eds in its closely-curated media, but explicit attacks on the U.S. have grown increasingly infrequent since Trump and Kim reversed their hostile course and agreed to meet last June for the first ever bilateral summit. These talks propelled a series of negotiations ostensibly aimed at North Korea's denuclearization in exchange for sanctions relief, security and peace.
In the year since, the pace of progress between the U.S. and North Korea's newfound diplomacy appeared to slow. A second summit between the leaders in the Vietnamese capital of Hanoi failed to produce an agreement and the two sides exchanged blame for derailing the talks.
Even as both administrations vowed not to compromise in concessions, however, Trump and Kim have not ceased expressing admiration for one another, especially in the form of letters they have written to one another. Trump told reporters earlier this month that he received a "very personal, very warm, very nice" letter from Kim, who he later revealed wished him a happy birthday, and KCNA reported Sunday that Kim received a letter "of excellent content" from Trump.
"Appreciating the political judging faculty and extraordinary courage of President Trump, Kim Jong Un said that he would seriously contemplate the interesting content," the outlet reported.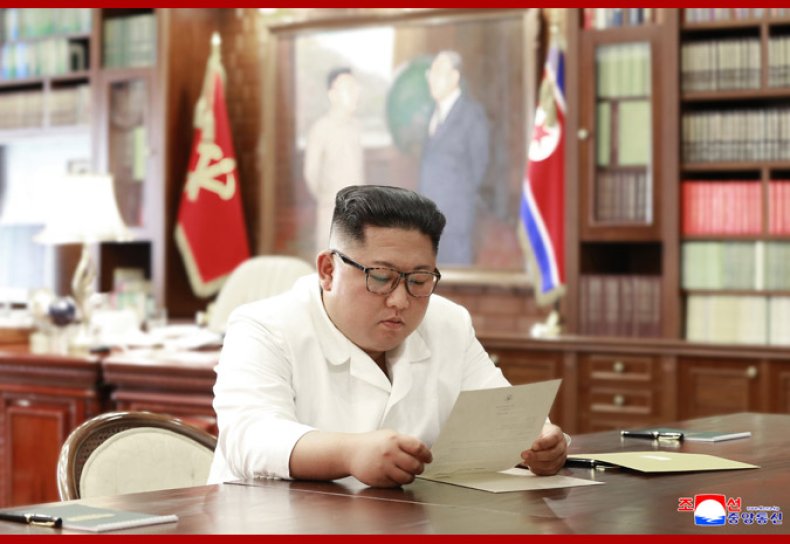 Meanwhile, South Korean President Moon Jae-in—who previously revealed there was "a very interesting part that President Trump did not announce" about the letter he received from Kim—has attempted to bring the U.S. and North Korea together for a third round of talks.
In a written interview with several international news outlets, Moon said Wednesday that "both sides have been engaged in dialogue in regard to a third summit," as cited by South Korea's Yonhap News Agency. He stated that "the behind-the-scenes talks have been preceded by the mutual understanding of each other's position" since the Hanoi summit, which he did not "see as a failure even though an agreement could not be reached."
Moon, who has held an unprecedented three inter-Korean summits with Kim, has joined the U.S. in calling for North Korea's denuclearization, especially a total dismantling of the country's main Yongbyon nuclear complex. At the same time, the South Korean leader has pushed for ambitious cross-border initiatives to boost economic and political cooperation and a declaration that would officially end the 1950s war that pitted the rival, Cold War-era neighbors against one another.
Kim's most recent international meetings, however, have been with Russian President Vladimir Putin and Chinese President Xi Jinping, two leaders who shared Trump's desire for regional stability but have called on him to do more to secure the fragile peace process as they struggled to deal with the U.S. on separate issues.