South Korea: Donald Trump's Letter From Kim Jong Un Has a 'Very Interesting Part' He Left Out
South Korean President Moon Jae-in has been briefed on contents of the recent letter sent from North Korean supreme leader Kim Jong Un to President Donald Trump, and he said Thursday that there was something missing from the public reports.
Trump first revealed to reporters Tuesday that he "just received a beautiful letter from Kim Jong Un" at a time when their denuclearization-for-peace talks appeared to have publicly stalled. The Republican leader described the document as "very personal, very warm, very nice," but his South Korean counterpart expanded on this the following day after a summit in Oslo.
"There's a very interesting part that President Trump did not announce," Moon said at a joint press conference alongside Norwegian Prime Minister Erna Solberg, according to South Korea's Yonhap News Agency.
Moon further said he was willing to meet with the North Korean leader a fourth time — anytime, anywhere and without conditions, though "accordingly, the timing is up to Chairman Kim."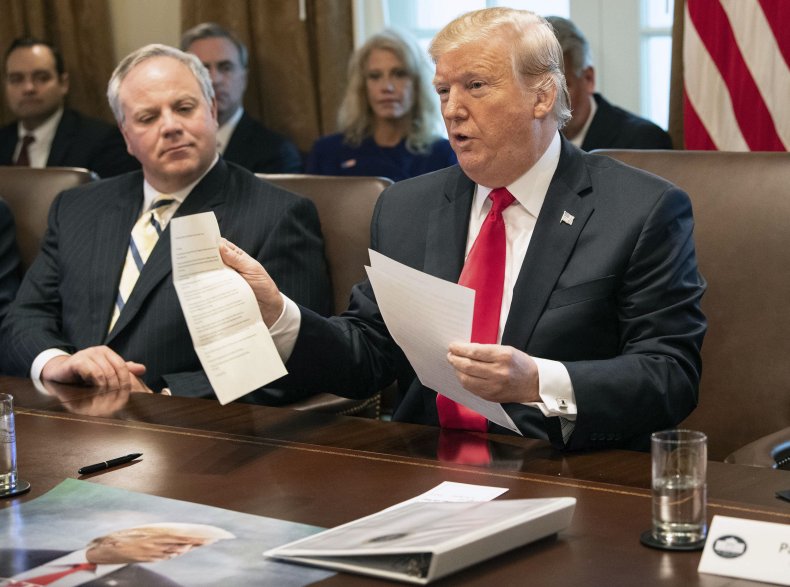 Trump and Kim, once bitter enemies during the former's first year in office, turned a new leaf last year and began an exchange of letters, only some of which have been made public and many of which the president reportedly took pride in showing off to his guests at the White House. Even as the progress of negotiations appeared to slow amid two historic summits, the two men continued to praise one another and their commitment to peace.
While discussing his latest letter from Kim, Trump on Tuesday went as far as to promise the North Korean ruler that he would never have allowed his half-brother Kim Jong Nam to have been used as a CIA informant. This statement was in response to reports that Kim's slain older sibling had made contact with U.S. intelligence on several occasions. The U.S. has identified North Korea as a top suspect in Kim Jong Nam's death, which came after apparent exposure to a nerve agent in Malaysia's main international airport in February 2017, a month after Trump took office.
Though Trump's two meetings with Kim Jong Un signaled the first-ever between a sitting U.S. president and North Korean ruler, Moon too has made history with a record three inter-Korean summits, the first of which saw Kim Jong Un become the first in his position to cross the border.
The pair have set out ambitious plans for commerce, transportation and communications between the two Koreas, which technically remain at war since their 1950s conflict that saw the U.S. and international allies back Seoul against a Sino-Soviet coalition supporting Pyongyang. The bloody conflict set the stage for decades of hostilities and mutual suspicion that has only barely begun to unravel amid the current dialogue.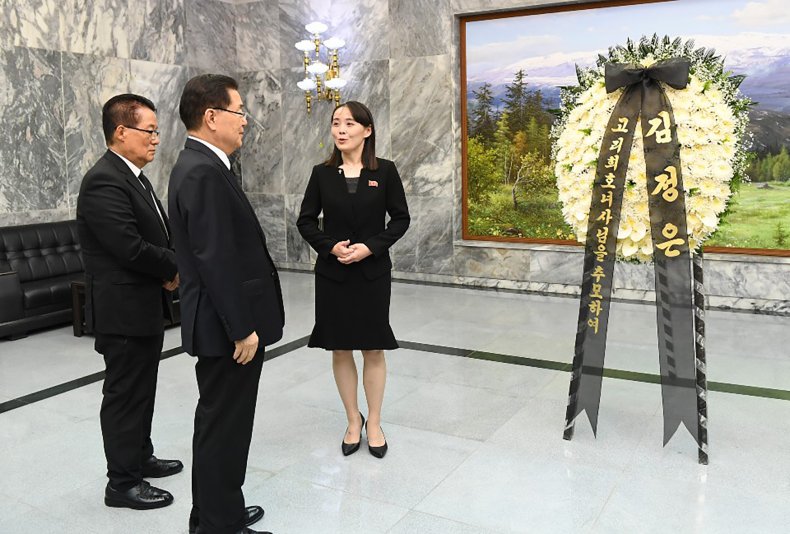 Trump's decision to walk out early from his latest summit with Kim Jong Un in the Vietnamese capital of Hanoi had a fallout in inter-Korean talks as well, with North Korea apparently hardening its position. Still, the young ruler had not completely cut ties, as evidenced by a letter of condolences and flowers offered Wednesday during a border meeting via his sister, Kim Yo Jong, to mark the recent death of former South Korean First Lady Lee Hee-ho, called Rui Hui Ho by North Korean state-run media.
Her husband, former South Korean President Kim Dae-jung, established the so-called "Sunshine Policy" that led to detente with North Korea, as well as the debut inter-Korean summit in 2000. Prior to last year, only one other such meeting took place, in 2007, and Kim Jong Un took the opportunity Wednesday to express hope for further efforts toward the uniting the rival neighbors.
"The dedication and efforts made by Ri Hui Ho for the reconciliation and unity of the nation and the peace and reunification of the country while going through all trials and hardships together with ex-President Kim Dae Jung serve as a valuable foundation for the present trend of the north-south relations toward the independent reunification, peace and prosperity, and all the fellow countrymen will always cherish it, the message said," as reported by the official Korean Central News Agency.